The shift towards the future of mobility – connected, electric, autonomous – can be both empowering and overwhelming. The prospect of offering your customers the latest and greatest is thrilling but living up to those promises can leave you feeling less than 100%. Performance is the key to the success of these next-generation vehicles, bringing about change; change in workflows, in communication between teams, and in how we need to connect the dots in order to get it right. We hear you, we understand your struggle, and we have dedicated our resources to help you innovate, design, and build with confidence to deliver on customer expectations.
Development And Virtual Testing

of Electrified Vehicle Prototypes
Discover what a powerful and reliable solution for EV cabin and battery development looks like and what you need to create a truly smart cabin experience.
Design your EV at the system level at the very early stage
From thermal management and battery design to energy management and powertrain - dimension all components of the electrical machine, battery, and transmission elements, including field-oriented control and rectifiers. With advanced multi-domain system modeling of the EV, main components engineers understand and master complex mechatronic correlations.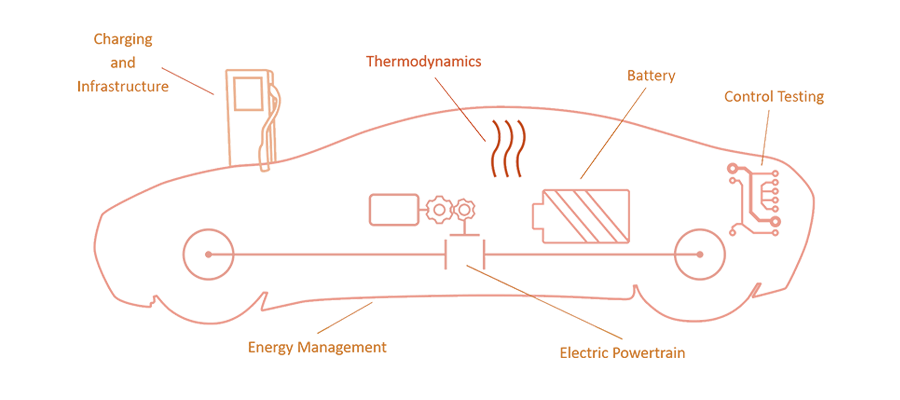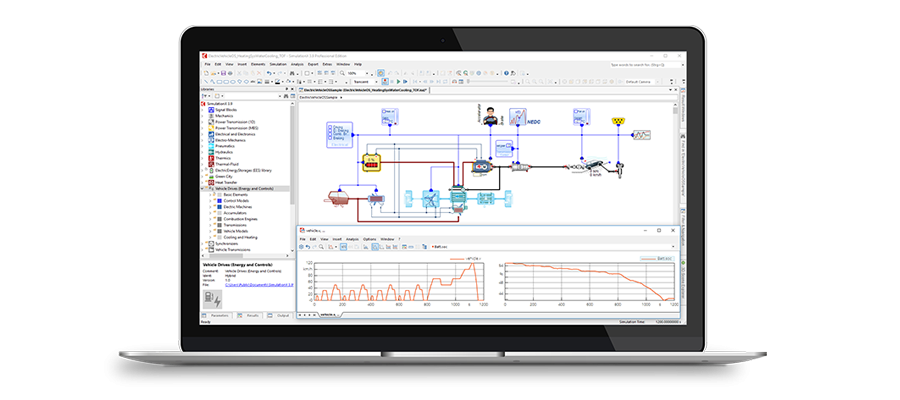 Start creating your immersive, individual, and mobile driving experience.
Meanwhile, several research projects are dedicated to exact subject, providing inspiration and initial approaches to EV engineers. Let's take a closer look into one of these projects: OPTEMUS. ESI had the pleasure of actively contributing to this work by lending our expertise in material physics and combining established 1D and 3D simulation methodologies with our latest Hybrid Twin™ technologies. The results are tremendous: Together we achieved up to 40% range increase for electrical vehicles, while at the same time offering the highest cabin comfort and safety.
Would you like to get a personal demonstration and learn more about the capabilities of this technology? Exchange with an expert from ESI's Innovation & Discovery Department.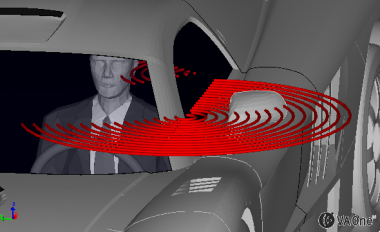 Remove any undesired noises from the vehicle's interior and propose local sound zones
Because the engine in an electric vehicle is not the main source of excitation, as it is in a traditional combustion engine, noises and vibrations in other parts of the drivetrain (e.g. in the transmission) become more noticeable. From excitation to sound radiation, and through different transmission paths, virtually test the acoustic performance of your car's design. Detect undesired noises in the vehicle's interior, early, and optimize individualized sound zones for a truly enjoyable auditory experience.
Optimize thermal comfort while managing range
ESI's Virtual Interior Solution integrates multi physics, which represent all the thermal interactions between the human model (including thermoregulation), the seat (including conduction and convection) and the HVAC in the cabin. Test different design variants and evaluate their impact on thermal comfort thanks to human model thermal sensation and comfort indexes. Additionally, accurately predict the impact of cabin (passenger) occupancy on battery levels for a variety of preconditioning settings.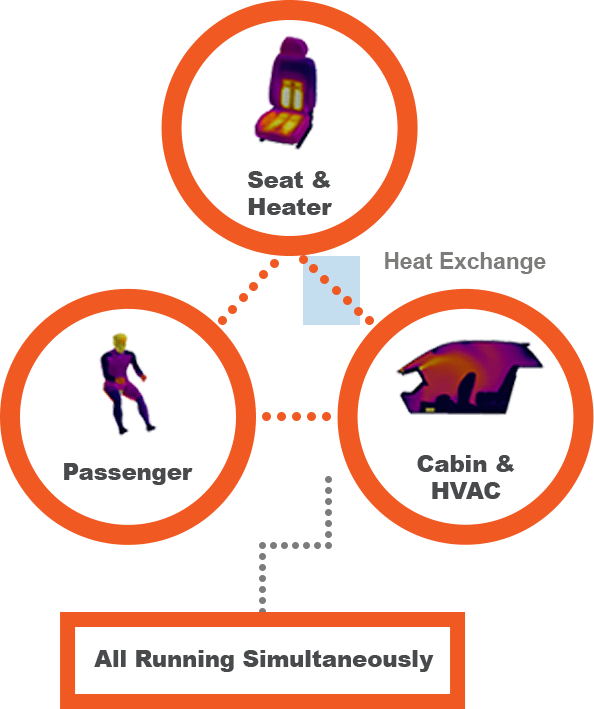 Get ready for the future: Design a reliable, optimized thermal energy flow control to ensure cabin comfort, safety, and maximum range
Provide a holistic view of the energy flows exchanged by the main components of the system (heating, ventilation and air conditioning (HVA), battery, engine, etc.). Also, account for the interactions of the vehicle with its environment (road, traffic and weather conditions). Here at ESI, we are working towards collecting all the various comfort parameters virtually, in real-time, to predict the impact on battery range. Some crucial input parameters are:
Preconditioning of the cabin comfort like (e.g. heated seats, heated steering wheel) upon the driver's arrival
Cabin temperature, usage of air conditioning, cabin and smart seat heating systems
Selected route (integrating Eco Routing technology)
Driving style (integrating Eco Driving technology)
Cabin occupancy and the passenger's specific characteristics.
EV Smart Cabin Comfort & Safety for Maximum range

- The Hybrid Twin™ Makes the Difference
What exactly is a Hybrid Twin™? It's the freedom to assess the aging of a product at any stage and in any situation in throughout its lifetime. It is what the industry commonly refers to as a 'Digital Twin'. At ESI, we go the extra mile in creating a new virtual paradigm. Equipped with smart sensor data collected from real-life operations, our Virtual Prototype becomes artificially intelligent to predict, for instance, maintenance needs based on its current condition – and that is the Hybrid Twin™.
Automotive OEMs and suppliers rely on the powerful combination of virtual prototyping, testing, and increasingly smart data from real-life operations during the design and constant improvement of next generation vehicles. The Hybrid Twin™ helps OEMs and suppliers on their development journey towards smart EV cabins. And how does this translate into driving experience and mobility for the consumer?
This technology will help OEMs design the next generation of vehicles so that drivers and passengers feel confident and safe behind the wheel. We can imagine that the Hybrid Twin™ of a smart EV cabin would:
support the car design, which, with real-time alerts, can advise the driver on how to adjust the controls related to in-car comfort to maximize driving rang or propose an alternative journey depending on traffic and weather forecasts, all the while ensuring the driver and his passengers are aware of degraded driving conditions that could impact their safety
In the event of a failure in the sensor system, initiate a pre-defined emergency sequence, stopping the car safely on the side of the roadway, and remotely arrange for assistance.
Would you like to get a personal demonstration and learn more about the capabilities of this technology? Exchange with an expert from ESI's Innovation & Discovery Department.