How can you be certain you are delivering products on time and within budget? How do you ensure desired levels of process ergonomics, safety, efficiency, and feasibility?
ESI IC.IDO enables Immersive Product Integration while powering virtual workspaces for experiencing and validating human-centric processes like final assembly, service, and maintenance processes. This immersive solution empowers multi-disciplinary teams to evaluate and resolve the challenges that new products and processes bring to the factory of the future. It allows individuals and teams to collaborate in-person or remotely, to explore and interact with digital designs to identify potential risks and evaluate improvements and corrections before work starts on tooling for the manufacturing plants.
With Virtual Reality, engineering teams can experience, validate, and communicate on assembly & maintenance requirements taking into consideration the human-centric process interactions. Ultimately, enabling experience-based evaluations of proposed designs in their complete context allows for a significant reduction of future assembly risk, increasing efficiency toward production ramp-up that meets key product targets."
What are the benefits

of Human-Centric Process Validation & Product Integration?
Delivering "true-to-life" human interactions with products and resources, our software solution enables engineering teams to evaluate decisions early in product development when design changes can still be made without incurring dramatic costs or delays. This way, automotive OEMs support their sustainability goals by freeing themselves from costly physical prototypes, while avoiding late-stage production surprises. In addition, the immersive virtual environment also enables collaborative engineering and a way to experience, validate and communicate on design decisions throughout every step of product development.
Think of the roadblocks you can avoid if you want to reduce design iterations!
Visibility | Find out early if designs create blind spots for operators
Reachability | Will diverse operators be able to reach controls? Or replace parts?
Accessibility | How easy will it be for your operator to access what they need?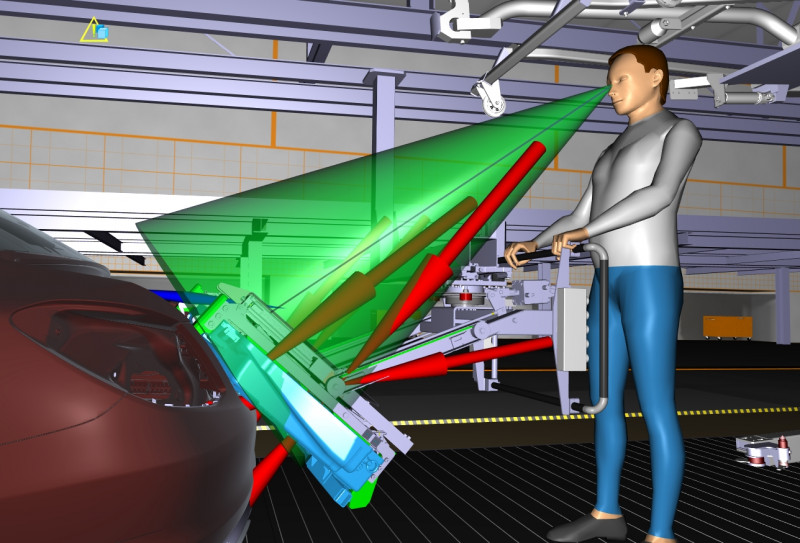 What are the Key Applications of Virtual Reality Software in the Automotive Industry that Push your Engineering Workflows by Months Ahead of Production?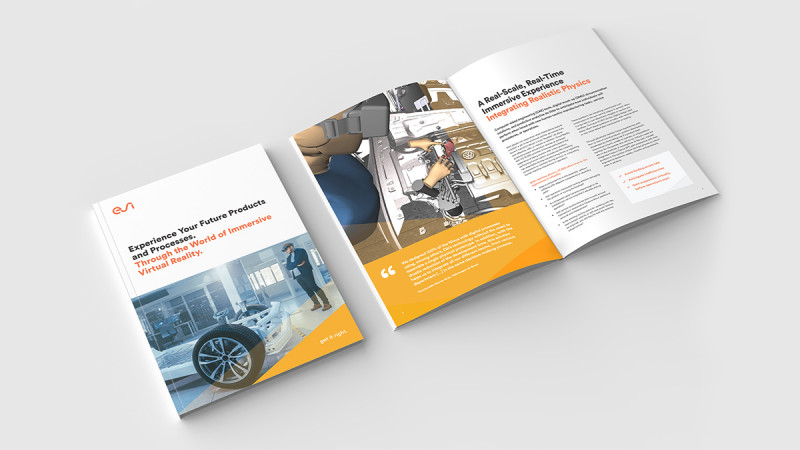 In the race to bring electric, autonomous and connected vehicles to the marketplace, OEMs are facing a difficult puzzle: increasing the efficiency of the existing transportation paradigm and getting their next-generation concepts to market faster. Automakers understand they must leverage digital solutions to accelerate the delivery of innovative automobiles, keep costs down, and avoid the late discovery of inefficiencies. OEMs like FCA, Volvo GTT, Volkswagen Brazil, and Toyota – and their extended enterprises - rely on Virtual Reality software.
How does VR software allow the connected enterprise to immersively visualize their future products and components, analyze product integration, and synthesize human-centric processes to advance their product development timelines? Let's take a look at some concrete examples from leading automotive companies.
Ensure Smooth Product Integration
Whether you are pushing for disruptive innovation or making a shift from Internal Combustion Engine (ICE) to Electric Vehicles (EV), the fact is that you cannot rely on experience. When can you effectively validate decisions related to product integration? Where can you experience products before you commit to building them? How do you know your product is properly designed for assembly, service, and operations?
Today, innovative companies, like our customers Fiat Chrysler Automobiles or MAN Trucks, have multi-disciplinary engineering teams validate their product integration strategies early on before any physical mock-ups are constructed, so they can define their designs agilely, with minimum impact on cost and delays. They can collaborate remotely, even during unforeseen circumstances, like a global pandemic
Our Virtual Reality solution supports the digital evaluation of packaging and space claim, mechanism design, and interaction, whether for the product in operation or to evaluate assembly, service, and maintenance processes. Reaping the benefits of an immersive simulation with realistic physics, engineers also simulate the behavior of wiring, cabling, and hoses, on a real scale and in real-time, empowering teams to discover issues with tangling, binding, or pinching of hoses and wires to avoid interference, collision, or abrasion in operation.
Validate Assembly Line & Assembly Cell Processes with Confidence
Before you ramp up for production, how can you evaluate how many operators are required for a given operation? How do you verify how much space is needed? How do you evaluate the required process time?
Our customer Volkswagen do Brasil not only managed to develop the new Nivus in just 10 months, but they also anticipated assembly steps well ahead of production by using IC.IDO.  
Plan your assembly operations early and safely, without waiting for physical mock-ups: digital human models, or mannequins, representing diverse anthropometry let you evaluate ergonomics, operator visibility, reachability, and accessibility to ensure safe and efficient assembly processes, well ahead of production.
Engineering teams validate tooling with early confidence, benefiting from realistic physics in the virtual workspace; They anticipate cell layout and optimization and make sure they reach their deadlines ahead of the start of production and ramp-up phases.
Anticipate Maintenance and Service Processes
As sustainability remains the focus for today's automotive manufacturers, developments around electric vehicles (EV), battery-powered electric vehicles (BEV), hybrid electric vehicles, and plug-in hybrid electric vehicles (PHEV) are bringing about new challenges for maintenance and service. Extending product and battery life and making sure maintenance and servicing operations will be safe and productive have become a priority for automotive OEMs.
How can you make sure to deliver on this front before your cars hit the road?
Leading automotive companies rely on our immersive virtual reality capabilities to evaluate and validate maintenance and servicing processes, well ahead of production, when it is still possible to make design changes without jeopardizing the whole ROI of their product development project.
With our solution, you will be able to evaluate all aspects of operator comfort, safety, and efficiency. Once a scene exists, it will take almost no time to put on your VR glasses to validate procedures and processes with physically realistic handling of collisions between parts and obstructed installation/removal paths.
Learn more about our Immersive Virtual Reality Software

to Validate Human-Machine Interaction