ProCAST


Simulate Investment Casting Processes
ProCAST is a best-in-class casting simulation software, enabling foundries to evaluate, validate and master their casting processes, down to fine-tuning multiple process variations. Leading OEMs like MTU AeroEngines, Rolls-Royce, and Safran, as well as the most technologically advanced foundries have chosen ESI's casting simulation solution to develop their process from natal stages and hence minimize trials, improve yields and maximize their margins. 
ProCAST integrates advanced physics to deliver accurate results cutting down the product & process development phase
Extensive Material Database spanning most alloys (Ni, Co, Ti, TiAl, Al, Steel,​ and other alloys) to best support the specific needs of aero and cross-industry part suppliers.
Intuitive User Environment with Foundry Application Oriented Workflows. The UI also allows setting up of Vacuum, Tilt, Rotacast & Centrifugal processes.
For producing exterior parts (doors), engine parts (airfoils, blades, impellers, heat shields, burners, bearing housings, exhaust manifolds, radial pins, transmission parts), and frames (supports, airframes, and structural components).
Get Ready for the Next Step! 
Do you feel well-informed about ProCAST's features for sand casting process simulation? Great! Let's get equipped with pricing and licensing details.  
PCC Airfoils uses ProCAST for investment casting to resolve defects in production parts, and to decrease time and dollars for new part introduction.  Let's see together how, you too, could do this with ProCAST.   
Deliver Parts

That Can Withstand Stringent Requirements to Face Extreme Conditions
Here's an overview of the benefits and solutions that our casting simulation software brings to manufacturing process engineers, production managers, and quality managers of investment casting & related processes:   
Estimate castability risks early by facilitating Design for Manufacturing and bridging the gap between OEMs and their suppliers​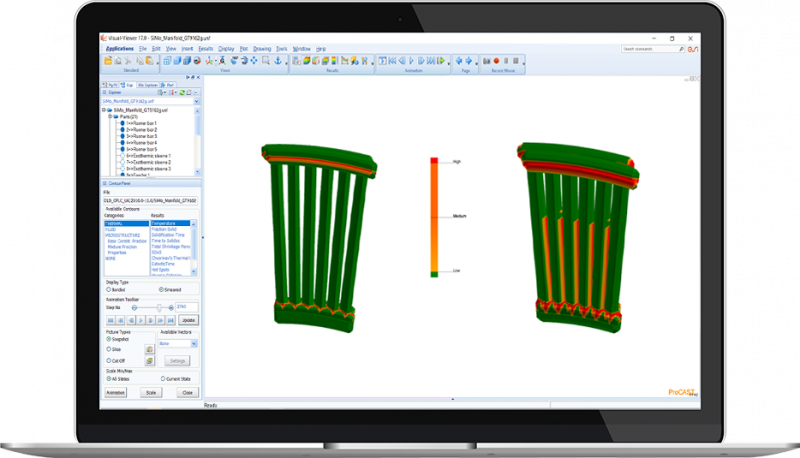 Enable Co-Design to achieve the best castability
Evaluate numerous design alternatives at an early stage (including materials influencing quality specification) 
Assess critical areas to achieve specific mechanical characteristics 
Reduce process development time to produce sound casting with optimal costs and lead-time
As shown in the image, ProCAST offers a "shell bridge indicator" to quickly compare different shell thicknesses, leading to defect risks in specific regions
Eliminate Defects to Meet Stringent Quality Requirements
Are you producing engine parts that must withstand intense heat and extended periods of operations, like our customer PCC Airfoils, or any other precision cast part for aero or related applications? 
ProCAST will support you in meeting technical specifications such as mechanical properties and dimensional tolerances while eliminating defects without cumbersome trial-and-error methods, all virtually: 
Filling defects: Turbulences, air entrapment, oxides, inclusions, cold shuts, misruns, surface defects, and core gases
Solidification defects: hot spots, piping defects, macro-porosity, micro-porosity, gas porosity
Stresses: residual stresses, hot tears, cold cracks, distortion
Metallurgy defects: grain structure defects including stray grain, freckles, and segregation.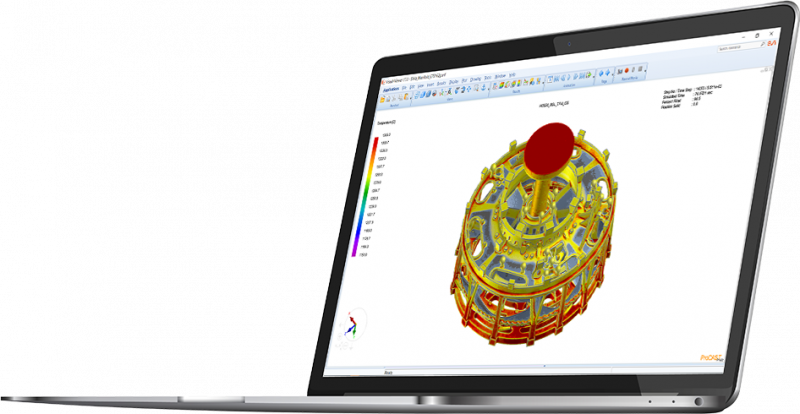 Predict Grain Structure with ProCAST's CAFÉ module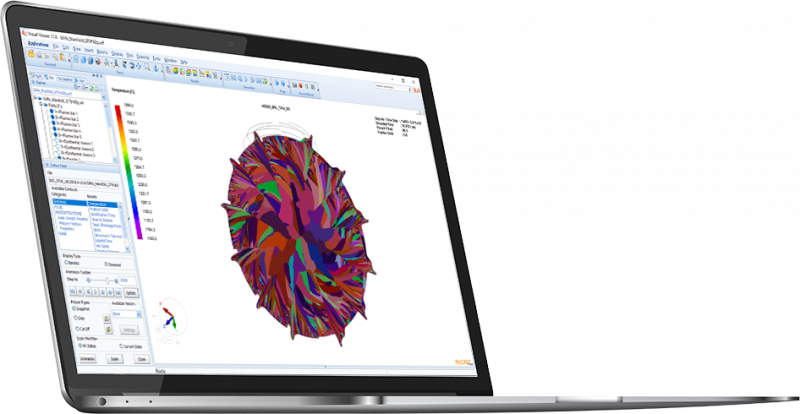 To specifically address some of the metallurgical aspects, ProCAST couples Cellular Automation (CA) with Finite Element (FE) heat flow computations. This dedicated grain structure model of ProCAST is therefore called the CAFÉ module. CAFÉ was developed several years back in collaboration with ABB, AETC & PCC, EPFL, Howmet (now Arconic), Rolls-Royce, and Snecma (now Safran). 
Foundries must predict the impact of casting process conditions & the effects of manufacturing on grain structure. Precisely predicting the grain structure of components "as cast" is important for controlling those process conditions and optimizing part performance.  Achieving the right grain structure helps OEMs to achieve the right mechanical properties to sustain the high temperatures and required loads for specific applications, not to mention that parts may also last longer.
ProCAST computes grain structure including columnar to equiaxed transitions, for any dendritic alloy. It allows the control of process conditions to develop a directionally solidified columnar structure or a more complex single crystal grain structure required for the High-Pressure Turbine Blades.  
MTU Aero Engines uses ProCAST

to detect critical size defects in nickel-based superalloys
In the long-term, pore clusters can translate into reduced fatigue life for nickel-base superalloys, with lower-quality parts offering less durability. To guarantee component life in the context of highly stressed aero-engine components, MTU Aero Engines, UES Robomet and ESI Group joined forces to develop a threefold methodology that uses automation and simulation to assess representative pore dimension, their interconnectivity, and the porosity position.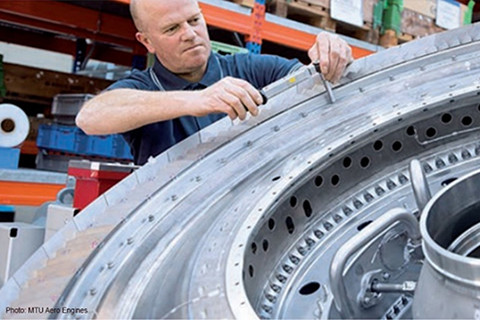 Dive Deeper into ProCAST

Applications for Investment Casting