VIRTUAL SEAT

SOLUTION
Seat Design & Simulation Software
Design, Develop, and Engineer the Safest, Lightest, Most Comfortable and Revolutionary Seat on the Market – Virtually
From conception to production, the goal is to build your seat with as few roadblocks as possible. Unfortunately, that is rarely the case. During development, you probably encounter issues but are unable to make changes, test new innovative ideas, or reach expected performances because of time and cost constraints. Likewise, during verification, you may realize that your seat doesn't meet your weight or comfort targets, but there is nothing you can do because you have already passed the design freeze. Or maybe your challenges are related to working in silos, which leads to miscommunication between departments and missed opportunities to design and build the most innovative seat on the market.
Avoid these issues altogether and build the safest, most innovative, and reliable seat on the market without the worry of costs and lead times related to physical prototypes.
ESI Virtual Seat Solution is a proven solution validated by industry leaders because of its ability to assess all performances, even very early in the development process, with dedicated and user-friendly tools. The tool's ability to combine all necessary seat performance tests into one solution, using a single core model of the seat, engineering teams, and their supply chain, can virtually test occupant comfort (static, dynamic, and thermal) safety scenarios. From design to pre-certification, they can virtually test more designs, decrease costs, anticipate potential issues, ensure robustness, and manage all performances simultaneously to make the right trade-offs, ending up with the perfect seat – before ever even building it.

Benefits of Virtual Seat Solution
Reduce cost and time-to-market by limiting the number of physical prototypes through an integrated Single Core model assessing all performances, early in the development process, avoiding countermeasures

Improve efficiency thanks to a dedicated and user-friendly process for FE & non-FE experts

Improve synergy and robustness within teams, which leads to early management of conflicting seat design requirements

Ensure the accuracy of your results by taking into account manufacturing effects

Access to a dedicated human library for comfort evaluation embedded in the software

Accounts for high accuracy, linked to trim-manufacturing, for performances tests
Virtual Seat Solution for Automotive
Electric and autonomous vehicles have revolutionized how vehicle interiors are designed and operated. Engineering teams face a difficult challenge as they are called on to reinvent seat and cabin design while maintaining occupant safety and comfort for delivering high-performance vehicles. To overcome these challenges, they must iterate quickly on different scenarios without impacting the final delivery schedule. If using real prototypes to evaluate specific performances, issues may be discovered late in the development cycle, too late to make significant changes to the seat and interior design, or, if corrected, leads to costly countermeasures.
Benefits of Virtual Seat Solution for Automotive
Design, manufacture, and test your seat through to pre-certification

Meet the regulation requirement for Euro NCAP, Japan NCAP, China-NCAP and IIHS 

Ensure the right occupant posture by predicting the H-Point as well as the inclusion of whiplash and comfort simulation

Predict the comfort of your innovative seat using a library of human models containing mechanical and thermal behavior

Guarantee on-time delivery by anticipating manufacturing issues (including on trim parts)
Virtual Seat Solution for Aerospace

For the aerospace industry, innovations center around comfort, aircraft capacity, space optimization, and weight. However, due to strict aeronautic certifications and standards, gaps can occur between concept design and seat development. Crash dummies are changing, new materials, like composites, are being used in the structural part of the seat, and simulation is requested more often due to the exorbitant costs of real tests. These changes involve modifications of the seat regulation and make the seat certification even more challenging that is now.
With Virtual Seat Solution, aircraft seat engineers can create virtual aeronautic seat prototypes and pass stringent seat performance evaluations, such as HIC and comfort, right from the start. It empowers seat specialists to quickly explore different innovative aeronautic seat designs at an affordable cost, and ultimately pre-certify their designs before producing any physical prototype before manufacture.
When you design and engineer a disruptive seating solution in the aeronautic industry, ensuring the 16G EASA and FAA certification is one of the main challenges. Using ESI Virtual Seat Solution is a powerful way for us to evaluate our seat's performance and anticipate the issues at a lower cost and much faster than any usual time-consuming test with expensive prototypes. We can virtually test different designs and material alternatives and iterate as many times as necessary to succeed in the seat's virtual pre-certification. By avoiding the time loss and the associated cost of correcting an unsuccessful real test, we have managed to drastically reduce the time to market our TiSeat.

Benjamin Saada
Chief Executive Officer
Expliseat
Benefits of Virtual Seat Solution for Aerospace
Virtually pre-certify your seat to ensure successful certification at first try-out

Predict seat occupant and pilot comfort

Ensure occupant safety by virtually testing seat belts and airbag deployment

Predict living space, considering real seat deformation

Virtually test the seat performance for different passenger anthropometries and postures
Aero Seat Certification (HIC) and Whiplash
Certification requirements drive the engineering of aeronautic and automotive components, like seats, as they play a key role in the protection and safety of occupants. Most of these tests are done with the use of some physical prototypes. But if any issues are discovered during the physical testing phase, fixing them becomes tedious, time-consuming and expensive. A better option is to use virtual prototypes as they are accurate enough to avoid fine-tuning when you get to the real prototype stage.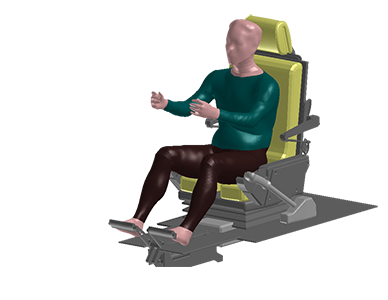 With ESI Virtual Seat Solution, engineers can virtually pre-certify the seat design on the first try out. By accounting for trim manufacturing effects, seating dummies are precise, and this accurately predicted position ensures the global accuracy of the certification results.
With its dedicated and user-friendly interface, ESI Virtual Seat Solution proposes embedded regulation protocols. All results are captured in an end-to-end virtual process, making the virtual certification of each design iteration easy and affordable.
For an aircraft, seat and restraint system design must protect each occupant during emergency landing conditions. One of the certification tests is based on the loads transferred to the occupant during a downward deceleration. The other is related to the deformation of the floor "pitch & roll" with a 16 G sideward deceleration. Finally, Head Injury Criteria (HIC) is also accounted for to ensure passenger and pilot safety. With ESI VSS, engineers can virtually test any certification protocols, including safety equipment, like belts and airbags, and be sure that the seat complies with crash safety regulations (SAE AS8049B or FAR25.256) for "emergency landing dynamic conditions".
For automobiles, whiplash tests are performed to assess the occupant's safety in case of a rear car crash. With ESI Virtual Seat Solution (VSS), standard testing protocols like Euro NCAP, Japan NCAP, China-NCAP and IIHS are fully embedded making the virtual certification of each design iteration not only completely reliable, thanks to accurate seat modeling and realistic seating of the dummies, but also easy and affordable.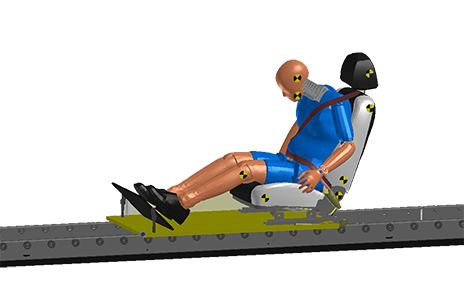 Seat crash performance must be evaluated with the occupant seated in a realistic position. Being able to predict the exact sitting posture of the dummy with ESI's Virtual Seat Solution, has improved the accuracy of crash and safety prediction. It is a big step towards decreasing the number of real prototypes we have to build and test.

Mr. Okano
Manager of CAE Evaluation Section
Test Engineering Department
TACHI-S
H-Point and Seating Comfort
Before designing initial seat drafts, interior designers define an ergonomic point called H-Point. When it's in an optimal position, it should facilitate good reachability of the car's equipment. Seat engineers' goal is to hit this target. Measuring the H-Point is usually done with real dummies (HPM1 or HRMD). However, this traditional process has several drawbacks.
Before the design freeze, engineers have limited opportunities to iterate on real prototypes because of the related costs and time delays. In turn, this leads to sticking with traditional methods instead of trying something innovative and risking the consequences. It's only after the design freeze that issues regarding H-Point location or lack of comfort (static seating comfort or dynamic comfort) are typically discovered. Because this happens late in the development process, modifying the design requires costly countermeasures with associated delays.
How can you answer these questions, continue to innovate, and be on time with your designs? Simulation.
ESI Virtual Seat Solution allows engineers to virtually check all these things out before any real prototypes are built. ESI VSS reproduces real seating protocols with HPM1 or HRMD dummy and accounts for manufacturing effects to ensure accurate seating. Several international standards, like the SAEJ826 for H-Point location, are fully embedded in VSS for easy set-up and analysis. Other posture measurements like backset value and lumbar comfort evaluation with HPM2 dummy are also embedded in the software.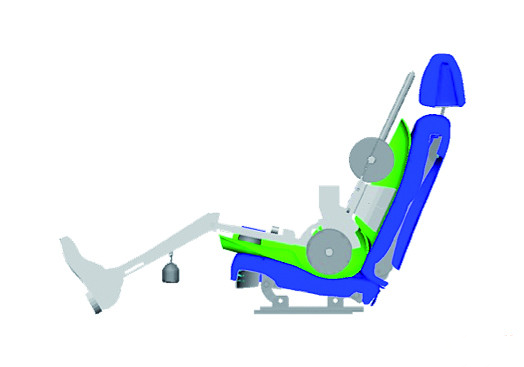 Once you virtually reach the H-Point target, you can evaluate seating comfort. Scalable and fully articulated human models are included with VSS (5th, 50th, 95th percentile, elderly, overweight, disabled). Using different human models, users can estimate the seat comfort performance through pressure mapping with integrated and customizable comfort criteria. Additionally, dynamic comfort (how the seat absorbs road vibration) can be also measured to improve long haul comfort, as well thermal comfort.
Trim and Foam Manufacturing
"The sewing and wrapping processes of a FORD seat under development have been simulated. Some craftsmanship issues - wrinkles of the cover and a bridging gap - have been predicted and confirmed by the physical prototype."
FORD Publication "Visual Seat Prototyping Application for Craftsmanship, Comfort and Safety", NAFEMS 2011
Virtually testing trim and foam manufacturing is essential as it greatly impacts occupant position in the seat, in turn impacting comfort and H-Point prediction. Thanks to the quick trim manufacturing prediction tool, which accounts for seat trim manufacturing and assembly, engineers can predict the human model or dummies' seating posture accurately and virtually without the need of any real seat prototype. 
With ESI VSS trim manufacturing tools, you can predict seat trim manufacturing and assembly at different stages of the seat development process:
Quick trim manufacturing prediction tool provides seat engineers with a quick estimation of the stresses and strains in seat cover and foams for an accurate prediction of seat performance early in the development process.

Detailed sewing and assembly process accounting for the actual physics – assembly sequences and the spring and attachment tools deformation – enables the detection of quality issues, such as covering wrinkles or bridging gaps before production. Manufacturing issues can be anticipated, and information, such as STO, cover pattern, and foam overbuild, can be shared with the production department.
Adapted seat design iteration tools can then be used to test several variants, modify the trim patterns, the sewing lines, the materials, and so on.
The foam manufacturing process can similarly be predicted thanks to FPM (Finite Point Method), enabling the improvement and optimization of the foaming processes.