VA ONE

Exterior Acoustics Simulation Software
Automotive and heavy machinery OEMs are faced with numerous challenges when it comes to exterior acoustics. On the one hand, road users all wish for a quiet environment. International noise regulations impose strict limitations on the levels of noise a car or truck can generate, and specific regulations protect the hearing of heavy machinery operators. On the other hand, as more sustainable electric and hybrid variants are becoming available, some new regulations on Acoustic Vehicle Alerting Systems (AVAS) are here to ensure pedestrian safety.
Test managers, acoustic trim designers, and EV program managers do not only need to comply with those regulations, but they also need to control the cost of vehicle development programs, while contributing to weight reduction targets.
VA One enables engineers to precisely predict exterior acoustic performance including powertrain noise, from the earliest stages of product design. This way they can develop the most cost-effective countermeasures to make sure they not only meet acoustics goals but also respect budgets and deadlines – all while avoiding costly physical prototypes.
VA One provides engineers with an all-in-one solution, and a unique software environment, to understand the impact of design and material choices on final acoustic performance.
Full library of material models, physical properties & subsystems provides highly accurate noise predictions ensuring early confidence in compliance with noise regulation standards.
Single development environment for product validation reduces the training need for multiple tools.
Single vibroacoustic software to address environmental regulations across industries
VA One provides engineers the ability to assess vibroacoustic performance across the full-frequency spectrum using Finite Element (FEM), Boundary Element (BEM), or Statistical Energy Analysis (SEA) for both structure-borne and airborne noise. Here are a few examples showing how engineering teams can successfully perform exterior noise predictions with VA One:
Meet Pass-by-Noise & Acoustic Vehicle Alerting Systems (AVAS) regulations for Electric Vehicles Right the First Time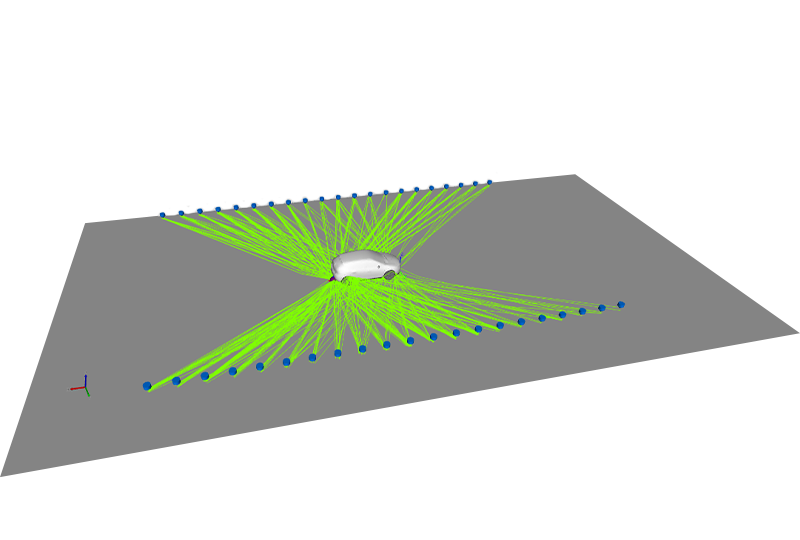 Electric Vehicles (EV) represent new acoustic challenges to automotive designers, with pedestrian safety being a central issue. Leading automotive OEMs and their suppliers use VA One to evaluate design options as early as possible in the product development cycle, as a way to meet Pass-by-Noise (PBN) regulations effectively, and at a controlled cost.
Engineering teams use the VA One simulation software to: 
Improve vehicle acoustic design performance
Enable virtual regulation testing and qualification
Reduce design & verification cycles
Understand the impact of vehicle speed, tires, and powertrain contributions on exterior noise
Chose effective AVAS location strategies to ensure regulatory compliance 
Designing a Quiet eVTOL Aircraft
eVTOL, or electric Vertical Take-Off and Landing, is an innovative aircraft that utilizes electrically powered systems to achieve vertical hovering, takeoff, and landing capabilities. While research and development efforts are gaining momentum worldwide, there are still several significant barriers to the widespread adoption of Urban Air Mobility (UAM) solutions. Notably, noise reduction plays a crucial role in increasing the social acceptance, with leading OEMs making remarkable strides in achieving noise levels well below those of conventional aircraft and helicopters.
Vibro-acoustic simulation with VA-One assist engineers in meeting their vibroacoustic objectives and obtaining noise certification for new eVTOL righthte first time by:
enabling a holistic, fully digital verification and validation process
ensuring compliance with community noise regulations
assessing the exterior noise impact in urban areas
achieve noise-related goals right from the initial stages, avoiding unnecessary iterations and reducing the need for costly fly-over tests
Effectively Reduce Engine and Exhaust Noise to Meet Exterior Noise Regulations of Heavy Machinery
Construction equipment typically emits noise ranging from 80 to 120 dB(A), which can damage the hearing of construction workers operating in the vicinity of the machine. Powertrain noise and exhaust noise can affect the overall acoustic performance of construction equipment and end-user perception. Besides, high-frequency equipment such as hydraulic pumps requires specific countermeasures during the development phase.
VA One facilitates the:
Assessment of new designs and reduced iterations to save cost and time
Prediction of sound power levels according to regulations such as ISO6393
Use of techniques including Boundary Elements, Ray Tracing or Statistical Energy Analysis
Identification of noise contributors to virtually determine acoustic performance rather than performing expensive post-design tests
Testing of different noise control treatments and countermeasures to reach acoustic performance goals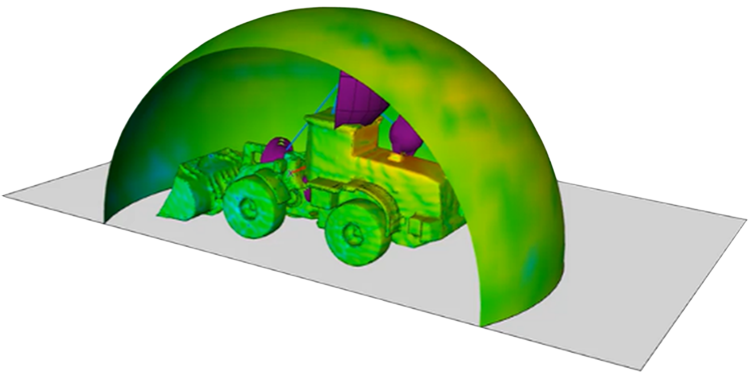 Epiroc accurately models the acoustic performance of mining equipment using VA One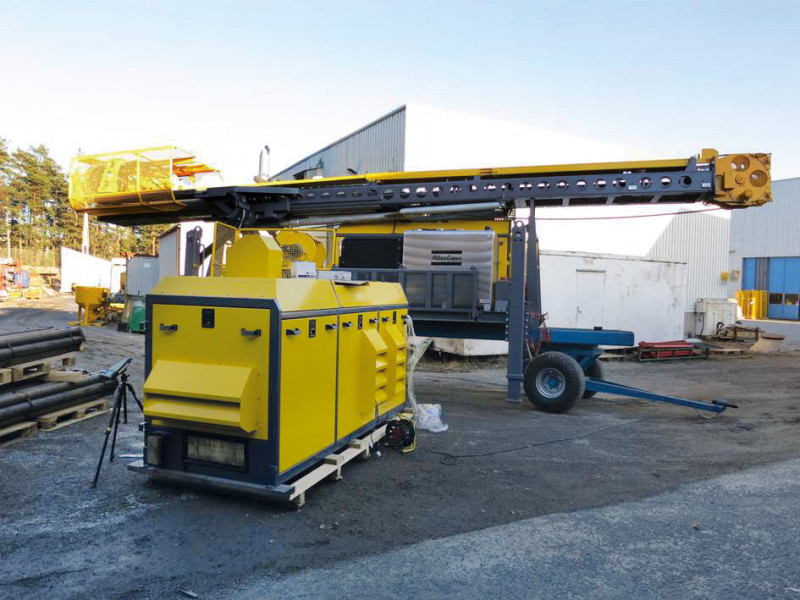 The project proved that ESI's VA One is capable of accurately predicting the vibro-acoustic performance of complex designs allowing design engineers to refine proposals before committing to expensive prototypes."

Renny Rantakokko

M.Sc. Noise and Vibration Specialist / Epiroc Rock Drills AB

Read the Full Story