Just like in many industrial sectors, the actors in the automotive industry are also increasingly held to a result, an "outcome" that they offer to operators and passengers: the service that their electric vehicle offers, such as hours of charged and maintenance-free mobility, making them accountable for environmental and societal impact and for the passengers' experience "in service". This entails being able to anticipate the way their industrial product or asset operates in numerous and uncertain use-conditions, thus shifting the standards of success to performance in use rather than standard product development efficacy. 
Here at ESI, our mission is to enable industrialists in the automotive sector to commit to these outcomes. Read on to find out more about the main value propositions that we offer in the fields of smart manufacturing, pre-certification, man-machine-interaction (Human-centric), and pre-experience:   
Virtual Prototyping is Mission-critical

to Gaining Early Confidence in the Right Manufacturing Process and Meeting the Design Intent
From structural parts, Class A panels, doors, and closures, and from part fabrication through to joining of assemblies and sub-assemblies - boost productivity by achieving manufacturability, dimensional accuracy, and operational excellence. The smart way of manufacturing vehicles is about gaining early confidence in the right production process to meet your product's performance indicators. With ESI's virtual manufacturing solutions, OEMs bridge the silos in car manufacturing and throughout the entire supply chain.
Line Die Stamping Process Validation for Major Panels in BiW
Enhance design efficiency, meet design & perceived quality targets by relying on highly accurate digital analysis of exterior Class A panels, doors, and closures.
Assembly Distortion Engineering
Reduce unforeseen try-out and production cost in sheet metal forming by validating the optimum lightweight material mix and virtually manage distortion effects early.
Die Casting Process Validation
From powertrains, electric drive systems, to bodywork, deliver premium quality castings in high production volumes, develop thin-walled & lightweight parts virtually, and easily handle geometry of any complexity.
Composite Process Validation
Quickly find the most cost-effective solution for mass production of composite material.
Virtual Prototyping is Key

for Getting Pre-Certification of New, Complex Technology Right the First Time and Reducing Real Tests
Virtual pre-certification is your path towards zero real tests. The goal is getting design validation right the first-time and increasing productivity from predictive models and process automation. Meet the highest quality standards for your new CASE technologies by exploring an unlimited number of variations and making the right trade-offs.
Accelerate Your Vehicle Development to Achieve Sustainable Mobility & Meet Mission Zero Goals
Industries are placing sustainability at the top of their agenda – and automakers are at the forefront, driven by increasing pressure from governments, cities, and consumers to meet zero-emission goals. Today's citizen wants sustainable mobility solutions from companies who act in a conscious, responsible way. In a nutshell: It's all about sustainability. This is what industries call "Mission Zero".
Virtual Prototyping makes it possible for you to operate 100% virtual in an end-to-end fashion, with one single source of truth. This method of working is truly sustainable and the key to realizing Mission Zero with the speed and confidence to be credible in the eyes of consumers.
Download our eBook on safe, sustainable mobility and find out how the success of customers like Honda, Renault, Volkswagen do Brazil and Farasis demonstrate the value that Virtual Prototyping brings them.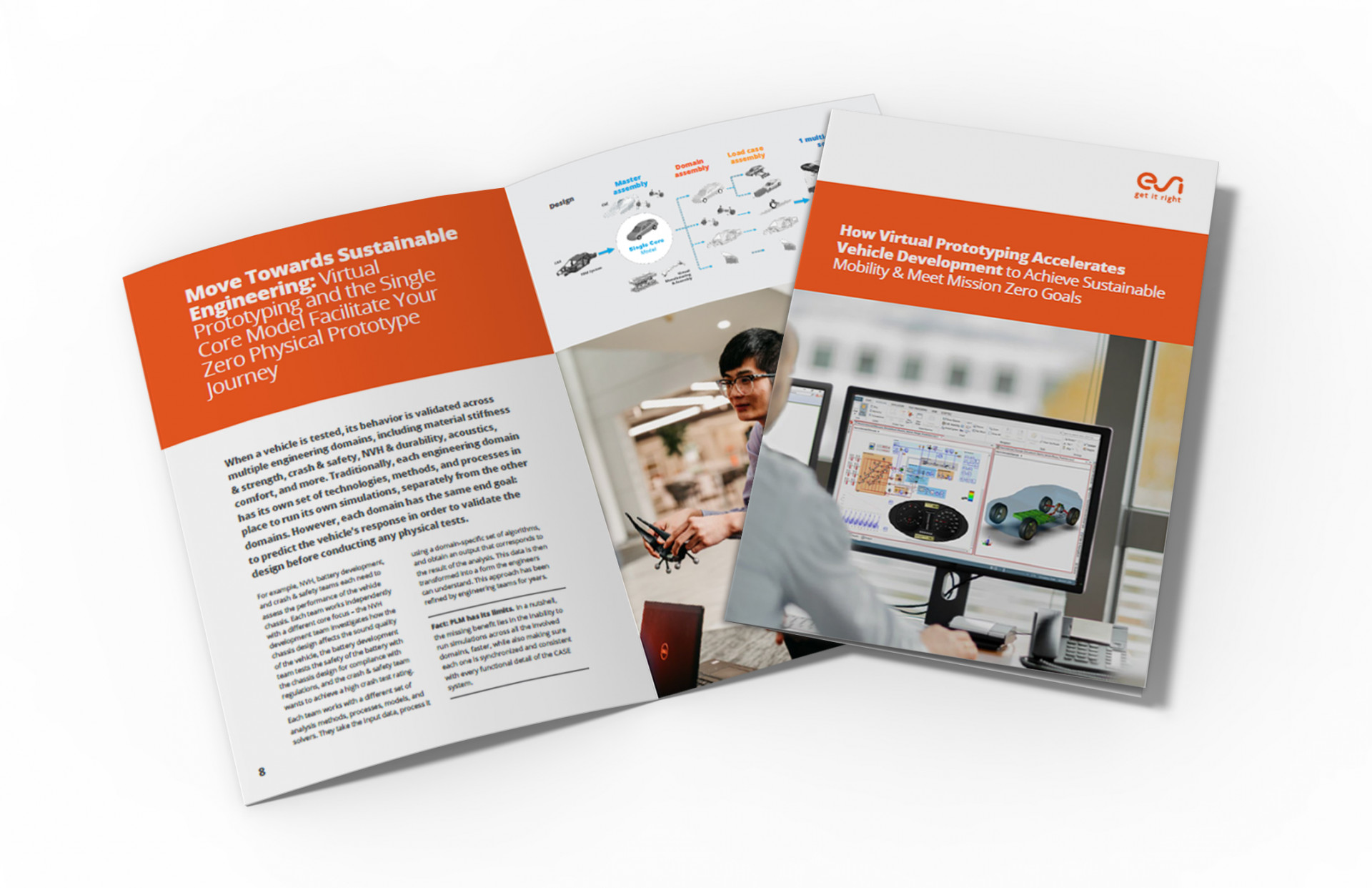 Integrate and Build Your Next Vehicle 100% As Planned In A Human-Centric Way

Powered by Virtual Reality
Today it is possible to integrate and build your next vehicle 100% as planned and achieve an ROI in as little as eight months. Virtual Reality enables manufacturers to address the ergonomic, education, efficiency, and effectiveness of human-centric assembly and service processes. Customers have implemented and operator-centric approach to ensure the efficiency of assembly and maintenance operations while facilitating the early identification of issues and ways to improve production processes.
Human-Centric Product Integration & Validation
Boost efficiency, fidelity and coverage by predicting the downstream impact of design decisions, validating ad-hoc design changes, and enabling cross-functional teams to visualize cause and effect relationships.
Human-Centric Assembly Process Validation
Validate worker ergonomics and tooling requirements at early design stages quickly with confidence and enables teams to experience, validate and communicate the impact of production requirements & service procedures without construction of physical prototypes.
Human-Centric Service Validation
Generating Tangible Savings on Warranty and Maintenance Costs by reviewing, testing and communicating assembly and disassembly procedures early in the development cycle.
Virtually Pre-Experience New Vehicle Technology

and Validate Business Models Early With Your Hybrid Twin
Being #1 in the future mobility market means understanding the performance of current vehicles and build trust with customers for the next-generation vehicle, both prior to market launch and throughout the lifecycle.
Pre-experience is all about supporting industrial leaders in their transformation towards the outcome economy – where consumers value the vehicle performance and ecological footprint over sophisticated features. In order to efficiently manage the complexity of new vehicle concepts and business models, OEMs must be able to involve end-users and operators early in the development process and allow all stakeholders to virtually experience and assess the performance of the final vehicle in real life. Pre-experience is about rapid learning and gaining experience for both end-users and operators in various uncertain situations to ensure that the customer's experience of the product is exceptional.
Improving Vehicle Performance with Hybrid Twin™ and Virtual Prototyping
Today it is possible to release a new vehicle onto the market with only one physical crash test. And today it is possible that half-way through a bidding process, a German OEM decides to remove the physical prototype step – they would evaluate the performance of the battery inside the vehicle system entirely virtually and make their decision based on the virtual prototype. For us collectively to be able to embark on incredible ambitious scenarios in the development of next generation vehicles we know that we need to go very fast. And we know that we need to be able to project ourselves into a world that does not exist today and that did not exist into the past. We need to emancipate from real test.
Explore Our

Virtual Prototyping Solutions For Automotive and Ground Transportation