Like in many industrial sectors, the players in the aerospace industry are held to a result, an "outcome" that they offer to operators and passengers. The service that their aircraft or part offers, such as mobility, hours of maintenance-free flight, or the number of landing events, making them accountable for environmental and societal impact and for the experience "in service". Therefore they must anticipate the way their industrial product or asset operates in numerous and uncertain use-conditions, thus shifting the standards of success to performance, in use, rather than standard product development efficacy.
Here at ESI, our mission is to enable industrialists in the aerospace sector to commit to these outcomes. Read on to find out more about the main value propositions that we offer in the fields of pre-certification, pre-experience, smart manufacturing, and man-machine-interaction (Human-Centric).
Integrate and Build Your Next Aircraft

100% as Planned

in a Human-Centric Way
As factories become increasingly efficient, aircraft manufacturers ensure that their assembly sequences are proficient by debugging design errors and process inefficiencies right from the development stage. Human-centric fabrication provides a full-scale experience in which you can simulate assembly and service operations without building any physical prototypes and validate and optimize new interactions in production scenarios. This is how you accelerate and automate the production of an aircraft and ensure serviceability upfront during development.
Human-Centric Assembly Process Validation
Overcome the challenge of meeting your direct maintenance cost targets, managing the massive number of late change requests, and achieve the RAMS KPIs for your program by providing the product development with accurate information before launching in order to validate the 'Design for Assembly' and 'Design for Service'.
Human-Centric Product Integration & Validation
Boost fidelity, efficiency, and coverage by predicting the downstream impact of design decisions, validating ad-hoc design changes, and enabling cross-functional teams to visualize cause and effect relationships.
Human-Centric Service Validation
Generate tangible savings on warranty and maintenance costs by reviewing, testing, and communicating assembly and disassembly procedures early in the development cycle.
Pre-Experience a New Aircraft's Performance with its Hybrid Twin

and Sell Productive Hours of Maintenance-Free Flight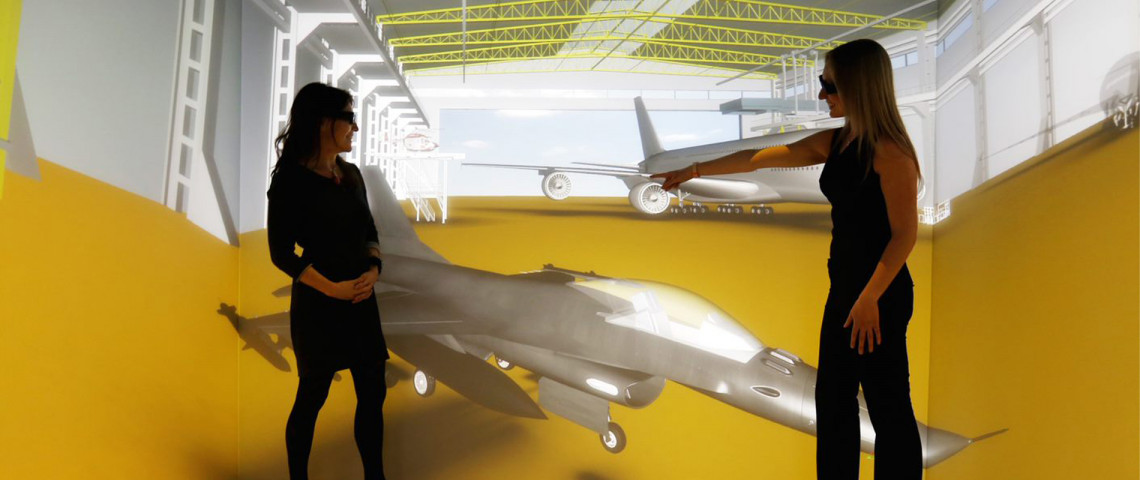 Assess the aging and behavior of the entire aircraft, subsystem, and component at any stage and in any situation based on machine learning, artificial intelligence, and smart sensor data from real-life operations.
Imagine empowering maintenance teams to predict any maintenance needs based on the current fleet condition. They will advise you on how to adjust single operations to prevent unexpected downtime, and they will also make sure all real-life, performance-related data is fed back to the aircraft engineers when developing your next-generation machines.
Visualize the boost in program efficiency if you got new components right the first time. The aircraft engineers could test complex deformable mechanical systems overnight by simulating 1,000 aircraft landing scenarios in real-time. Our Hybrid Twin™, combined with a unique ability in model order reduction, can do this while bringing aircraft operators productive hours of maintenance-free flight.
Virtual Prototyping for Smart Manufacturing

: Confidently Sign-off on the Right Production Process
From fabrication & joining to assembly and service, predict and improve KPIs like quality, delivery, cost, and safety across your production lifecycle and spread innovation along the supply chain. With ESI's manufacturing solutions, OEMs gain early confidence in the right fabrication and assembly process and achieve clarity about in-service performance, manufacturability, accessibility, as well as material and dimensional quality. This confidence happens upfront in the development cycle and with a steady focus on employee health. These are the key success factors in beating the ramp-up challenge and keeping pace with the surge of orders.
For airframe structures and complex engine components - Virtual Manufacturing accelerates the development and validation of key manufacturing and joining processes to fabricate complex and light-weight components with the specified quality.
Virtual Prototyping for Getting Pre-Certification

of New Materials & Structures Right the First Time
Unleash innovation by reducing lead time and cost while improving passenger experience and regulation responsiveness thanks to the progressive omission of real tests and real prototypes. Adjust to the rhythm of technology and satisfy airlines: market planes with today's technology faster, while designing tomorrow's aircraft. ESI's cross-functional engineering solutions bridge the worlds of high-tech and performance, empowering OEMs to create an attractive, lightweight, energy-efficient aircraft while also reducing maintenance requirements. Break free from physical prototypes!
Would You Like to Know More About Our

Virtual Prototyping Solutions For Aerospace & Defense?