Lightweight has become the new must-have in body and chassis design. Multi-material assemblies are key to producing vehicle bodies with the best cost/lightweight ratio. However, it is a complex task to find the right material mix, apply the right material at the right place, optimize geometries and thicknesses, define the various manufacturing processes and select the optimal joining technologies. All this is no longer efficiently achievable with single-point numerical simulations. Instead, automakers need to tightly couple the engineering world and the manufacturing in order to make the right choice as early as possible.
From frontloaded manufacturing feasibility assessment for design, over predictive performance analysis considering the manufacturing impact, through to the complete simulation and validation of the manufacturing journey early in the development – Virtual Prototyping is an established approach to chain the workflow for conventional steel-steel assemblies in an end-to-end fashion. It allows OEMs to achieve confidence in the optimum design earlier and reduce vehicle lead times drastically by predicting physics and processes accurately. The goal that we strive for is to empower you to get the first physical prototype right the first time, so the second one leaving the line is sales-ready.
Predict manufacturing processes at the engineering level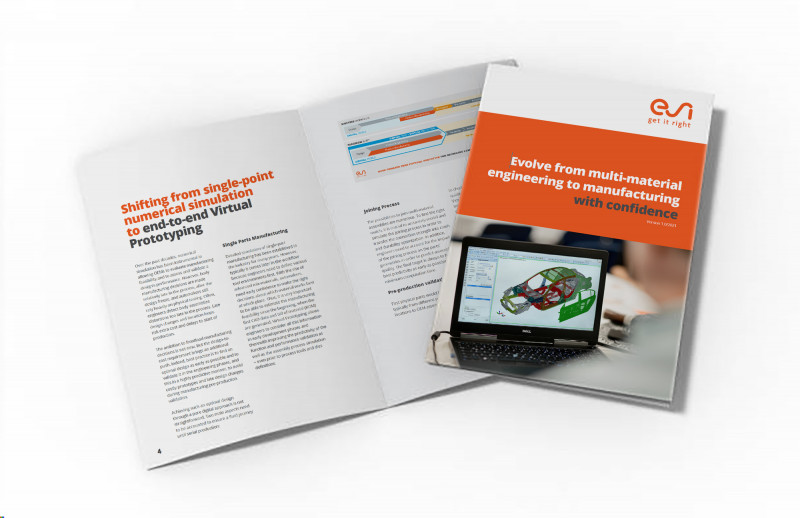 Achieve an optimum design earlier and faster, minimize the need for physical prototypes. Learn more about OEM workflows shifting from single-point numerical simulation to end-to-end Virtual Prototyping.
Design and Manufacture Mix-Material

Technologies and Processes Right the First Time With Virtual Prototyping
The joining and assembly of mixed materials is an iterative, complex engineering process that requires a solid base of expertise about diverse material properties and factors (e.g. material strength and elongation capabilities, formability, thermo-mechanical influence of joining, crash, NVH and Durability). Virtual Prototyping empowers you to effectively validate all light-weighting material candidates for vehicle structure safety-critical components and to associate and optimize the best manufacturing processes to achieve assemblies at best performance/cost/quality ratio. This is your way to ultimately reduce the overall product development cycle, cost, and time to start of production (SOP).
Early Manufacturing Analysis Coupled with Body and Chassis Engineering for Earlier Convergence
You are a product engineer developing new multi-material parts? You need to ensure directly their feasibility without long and costly iterations with manufacturing teams? Then, Virtual Prototyping is your way to move forward: Optimize and validate body or chassis performances in crash and durability with confidence in the predicted results. Select the appropriate modeling coupled with manufacturing process simulation. With this chained Virtual Prototyping approach, you easily create new and robust designs and styles right the first time - even prior to process tools and dies definition – thanks to full clarity about manufacturing impact on product performances.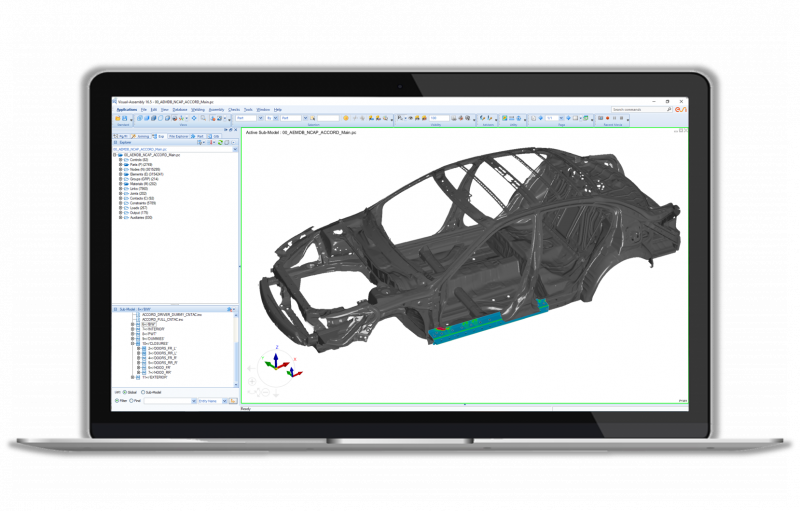 Early Manufacturing Feasibility Analysis as a Starting Point
Assess and optimize the feasibility of a new design at the beginning of a project without comprehensive manufacturing knowledge. Avoid endless loops between design, engineering and manufacturing. Evaluate the stamping operations and anticipate part costs without dies definition. Accurately estimate the forming history for stress/strain and springback behavior to feed highly predictive performances and assembly analysis.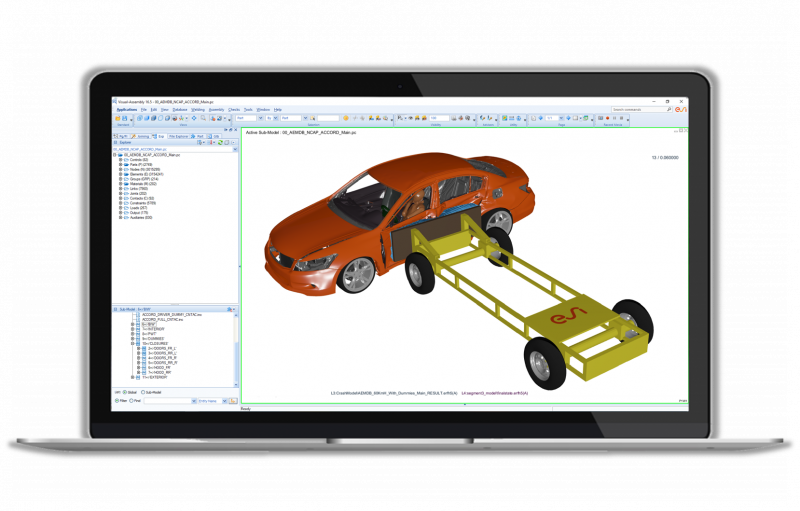 Predictive Body Assembly Design for Crash
Verify parts and assembly strength of newer mixed materials in safety-critical vehicle components early and adopt countermeasures. Gain confidence about their performance, including forming and joining history, as well as strength and failure behavior to avoid unforeseen cracks in late-stage prototypes.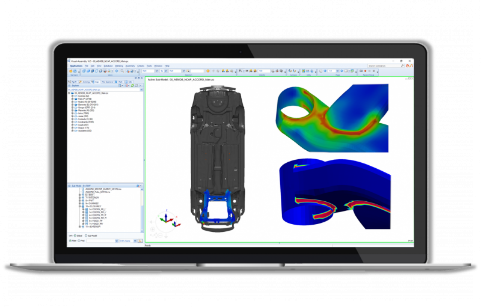 Predictive Chassis-Suspension Design for Durability
Ensure validated performances in durability of chassis and prevent failure in service life. Gain a detailed understanding of the impact of the manufacturing processes by analyzing stresses, like forming history and joining heat effects. Replace costly, redundant, and time-consuming destructive test procedures of lightweight, safety-critical parts with a virtual prototype that empowers you to develop the optimal product accounting for the mechanical and thermal properties of the joined parts in less time.

Manufacture innovative single parts
Accurately predict manufacturing feasibility to make sure your innovations are production ready. Find out how to meet OEM performance and quality criteria on the first try – aiming for zero physical prototype and zero physical test.
Reach for Quality 4.0 and Prevent Distortions in Manufacturing Assemblies
The possibilities of joining multi-material assemblies are endless. As a manufacturing engineer, it is your task to find the right match by accurately modeling and simulating the joining process to anticipate parts and assembly tolerances. However, you aim at avoiding the costly trial-and-error phase? With Virtual Prototyping, you exploit the ability to accurately run dimensional inspection of the body and chassis, optimize your manufacturing processes and make quality compliance control – all fully virtual in a fluid journey through production.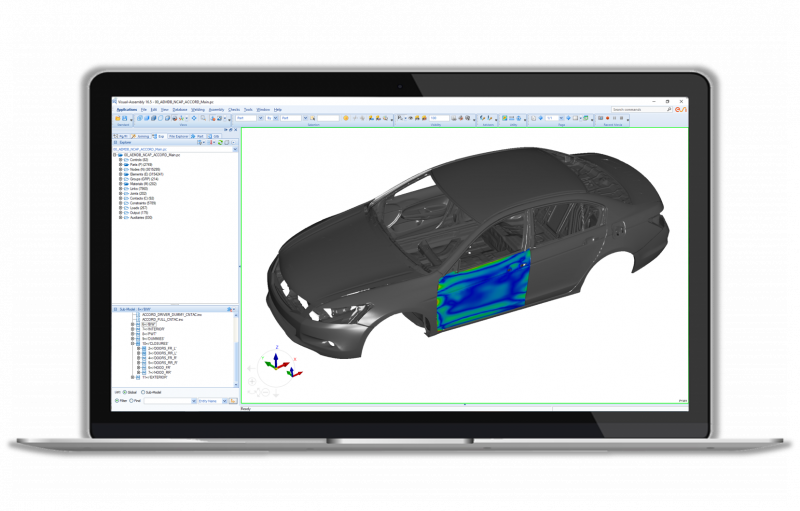 Predict Dimension and Perceived Quality for External Class-A Surfaces
From single part stamp, cast or composite simulation and joining processes validation through to the surface quality check-up in the virtual light room, capture all relevant data to build an effective process chain, test heat treatment and thermal expansion phenomena and adjust your designs quickly in order to prevent distortion in single part and multi-material assemblies.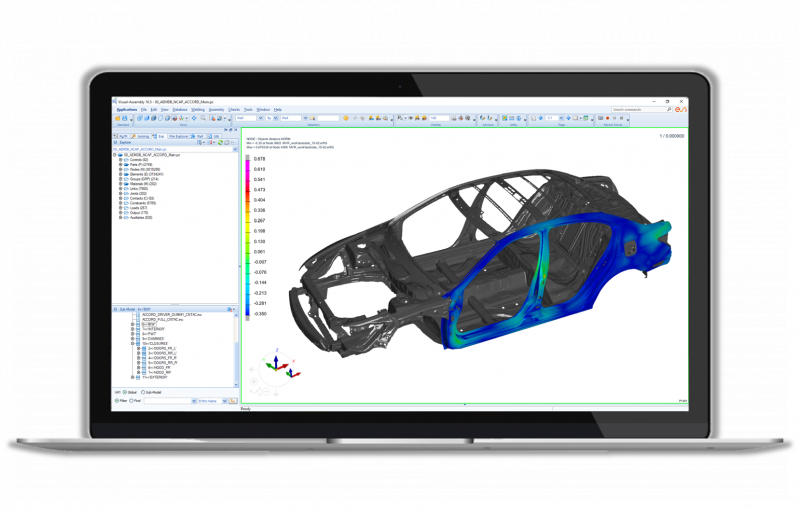 Achieve Dimension Accuracy of Body-in-White Assemblies
Rely on Virtual Prototyping upfront in body manufacturing engineering to decide on the best joining and assembly process and optimize the proposed tooling and work-cell layout from a shop floor perspective. Being able to identify and improve critical parts and joints early to designing the BIW fixture with full clarity about the assembly manufacturing effects will reduce manual, costly rework loops. Looking at the downstream impact, the Virtual Prototype minimizes destructive testing of physical prototypes to only one in the pre-series stages – thus tremendously reducing vehicle-to-market lead times.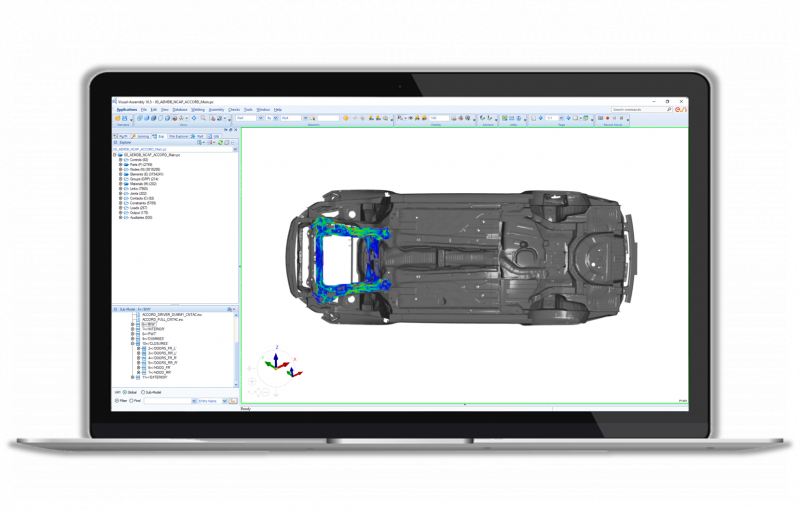 Meet dimensional accuracy targets in chassis and suspension manufacturing
With Virtual Prototyping, you control the dimensional accuracy of your chassis components while accounting for the thermal welding effects. Ensure geometrical quality of your components and find the optimum fit and tolerance margins to get your chassis-suspension assemblies right the first time.
Let's Get Multi-Material Joining

Issues Right Together
ESI has been working together with OEMs and suppliers in creating an end-to-end digital thread that ties together all the different stakeholders and activities in design, engineering, manufacturing, series production and maintenance. We accompany our customers in shifting their processes from single-point, purely numerical simulations towards end-to-end Virtual Prototyping, making sure they get single part design, assembly design and manufacturing right the first time. This is a great foundation to move forward with designing and manufacturing multi-material solutions for sustainable mobility devices.
From crash analysis and full-vehicle testing to manufacturing processes like stamping, casting, welding - we are combining the strength of our proven technologies from both worlds, the body engineering and manufacturing engineering, and are creating a powerful, reliable resource for any upcoming sustainable mobility program.
We invite you to walk this path together and engage with us. Challenge our expertise and knowledge in the physics of materials. Together with ESIs experienced manufacturing and joining experts you will quickly develop confidence in new material and manufacturing technologies.
Are you ready?