How can you explore your future industrial processes for manufacturing, assembly, maintenance, and servicing? How can you gain a realistic, human-centric experience to evaluate the future interactions between operators with their working environment, to ensure safe and easy operations? 
Delivering "true-to-life" real-time, real-scale process validations and product integration, our Virtual Reality software solution IC.IDO enables engineering teams to evaluate options early in product or process development when design changes can still be made without incurring dramatic costs or delays.  
Our fully digital solution helps aerospace & defense companies lower their environmental footprint by freeing themselves from physical mock-ups, while avoiding late discovery of inefficiencies at the start of production or maintenance.  
How to Use Virtual Reality to Speed up Product Development

and Design the Best Possible Industrial Processes?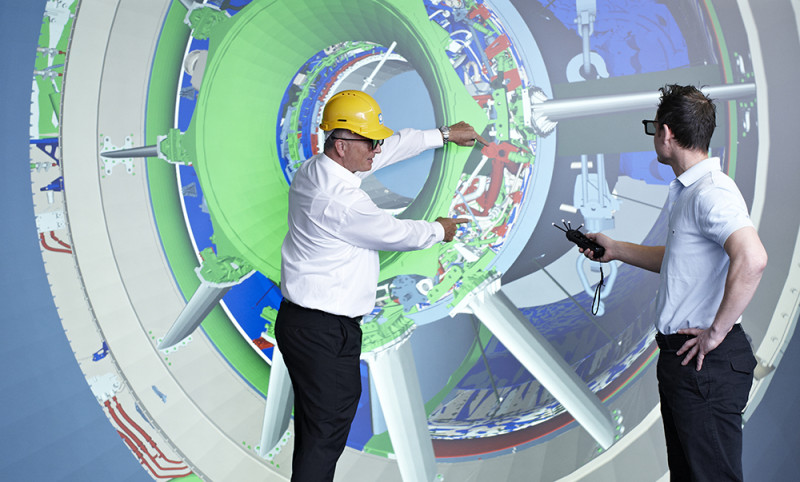 ESI's Virtual Reality software IC.IDO provides a realistic virtual try-out environment allowing your multi-disciplinary teams – including suppliers – to efficiently experience, improve and validate assembly & maintenance requirements taking into consideration the human-centric process interactions. Experience-based evaluations of proposed designs in their complete context allowing for significant reduction of future assembly risk and increasing efficiency toward production ramp-up that meets key product targets. 
Product integration and design for ergonomic human operation can also be tested early, safely, and fully virtually using ESI's Virtual Reality solution to ensure product operation will be both safe and productive. IC.IDO provides a fully digital solution for remote teams to collaborate efficiently, to ensure desired levels of process feasibility, ergonomics, worker safety, accessibility, visibility, and operability. 
Watch our Webinar on Human Centric Operator & Service Validation for the Space Industry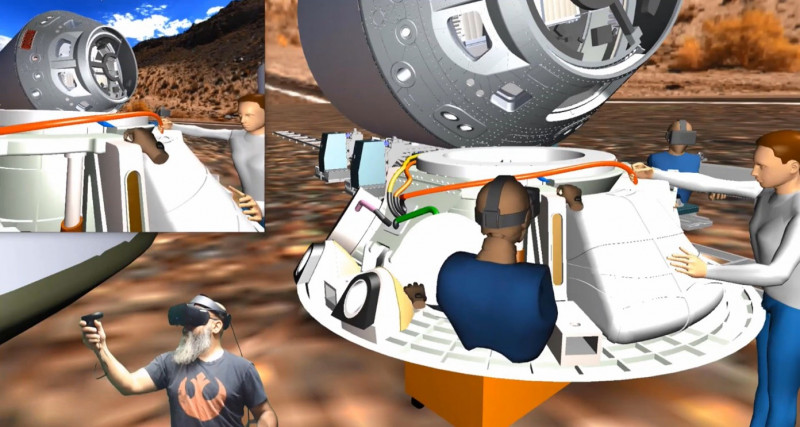 Without our Virtual Reality software IC.IDO, project teams cannot experience their products until physical construction is completed. And physical mock-ups and pre-production prototypes are not only costly, they always come too late. Today, all stakeholders have the opportunity to validate their future products in the context of the proposed processes through a first-hand immersive experience, and they can do this much earlier in the product development cycle. Human-centric process validation and product reviews are here for Product Integration Managers, Manufacturing Engineering Managers, and Global Service & Parts Managers to validate procedures, tooling, and workers required for assembly & installation processes, service & maintenance, as well as the operation and use of new or novel products.
Listen to our Virtual Reality experts to understand how your colleagues in the Space Industry is applying human-centric immersive simulation for improving maintenance processes
"Design for X":

Ensure Smooth Product Integration
How do you know your product is properly designed for assembly, maintenance/ servicing, and operations? Using ESI's Virtual Reality software enables OEMs like Safran Nacelles to speed up product development. Teams in charge of Product Engineering use it to validate their product integration strategies early on, so they can define their designs agilely, fully digitally, with minimum impact on cost and delays.
Our Virtual Reality simulation software supports the digital evaluation of packaging, clearances and space claim, mechanism design and interaction, whether for product in operation or to anticipate issues and bottlenecks for assembly, maintenance, and servicing operations. Thanks to realistic physics, engineers simulate the behavior of wiring, cabling, and hoses, in real-scale and in real-time, empowering teams to discover issues that can arise from tangling, binding, or pinching of hoses and wires, to avoid interference, collision or abrasion in operation.
Rely on our Immersive Virtual Reality Software

to Validate Assembly Processes with Confidence
How to evaluate different assembly scenarios early enough to accelerate the start of production?
Plan your assembly operations early and safely, without requiring any physical mock-up. ESI's digital human models (or manikins) representing the anthropometry of your choice will let you evaluate ergonomics, operator visibility, reachability, and accessibility to ensure safe and efficient assembly processes, well ahead of production.
ESI's Virtual Reality software IC.IDO offers realistic physics immersed in a virtual world, enabling leading aerospace and defense OEMs and their suppliers to validate tooling early, and with confidence. They anticipate assembly cell layout and optimization and make sure they reach their deadlines for the start of production and ramp-up phases.
Engineer Safe and Efficient Maintenance Processes

with our Virtual Reality Software
How can manufacturing engineers realistically evaluate their maintenance processes before products are manufactured? When will they actually find out if an operation is hard or dangerous to perform as designed?
Using ESI's Virtual Reality solution enables aerospace and defense OEMs to evaluate and validate maintenance processes well ahead of production when problems are least costly to fix. The immersive, real-time, real-scale experience gained using IC.IDO helps manufacturers integrate human interactions as early as possible to achieve maximum process efficiency.
For Maintenance, Repair and Overhaul (MRO) companies or OEMs providing on-site repair, IC.IDO also helps prepare maintenance interventions taking account of local constraints, helping them define safe and efficient ad-hoc processes.