Available On-Demand - Opening & Keynotes
An open, global forum for exceptional times
2020 brought many sudden changes in our collective professional and personal lives. We'll make it through together!
Listen to Cristel de Rouvray, Chief Executive Officer, ESI Group share how we can accelerate that learning through exchanges across industries, across geographies, across companies. Plus give a little insight about our guest speakers, who will share key examples of their digital transformation journey throughout the day.
Special Guest
Listen to Atsushi Mizutani, Expert leader, Production Engineering R&D Center at Nissan Motor Corporation introducing their latest breakthrough in carbon fiber parts production and the role of Virtual Prototyping in this great achievement.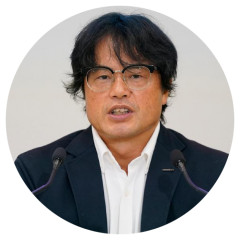 Atsushi Mizutani
Expert leader, Production Engineering R&D Center, Nissan Motor Corporation
Did you say Simulation? From the Art of Modelling to the Art of Decision Making – the unique advantages of Virtual Prototyping
Professor Francisco Chinesta, Scientific Director of ESI Group and globally renowned innovator in Computer Modelling Science, invites you on a journey towards augmented performance. What place will human-beings have, how will our societies and industries resemble in a near-future where Artificial Intelligence and engineering automation has peaked?
Bonus Panel Session -

Now On-Demand! 
Cristel de Rourvray, CEO, ESI Group, kicked-off a special Bonus Session to offer a unique experience for our attendees in the Americas. Hear directly on what she learned from the November 5th ESI Live, with reflections from the stories shared by our featured guest panelists and key industry presentations.
Mike Salari, EVP Engineering Services, along with special guests from Nissan North America, Pryer Aerospace and FCA LATAM, lead a special Industry Leadership Discussion on what it takes to survive in the current environment while moving ahead with long-term thinking in industry and business transformation.
Follow along as they discuss the idea generation path ​​​​essential to improve industrial resilience and new technology processes to continue to be agile and responsive to market demands - virtually.
Register now to access all our On-Demand Sessions!
Access your dedicated Industry Track
Industry sessions with roundtables and presentations to see how leading companies have embarked on profound transformation leveraging virtual prototyping and Hybrid Twin™. They will share their journey to connect design, manufacturing, certification and operations in-service to commit to socially ambitious "outcomes".
Thought Leadership Panel
Cristel de Rouvray, Chief Executive Officer of ESI Group, along with Vincent Champain, SEVP Digital & IT of Framatome Group and Ignacio Martín González, BIW R&D General Director of Gestamp curates a conversation with other leaders, on long-term thinking in Industry and Business transformation, with an emphasis on cross-industry learning and the organizational and human values that enable courageous, long-term endeavors.
On-Demand Virtual Reality Demo
Collaborative Virtual Assembly Review 
The introduction of new & emerging products, like E-mobility, brings new unknowns to manufacturing environments. We are now preparing to make things never previously built, in ways that have yet to be tried. Planning the launch of novel products, with advanced methods into greenfield and pre-existing plants requires enterprises to predict and mitigate risk to assure delivery of Safe, Reliable, and Sustainable mobility solutions.
A Human-Centric Process Validation Demo to understand: 
When Virtual Reality can be applied to discover Human-Centric Product & Process concerns
What immersive virtual collaboration between distributed teams & suppliers can mean to your enterprise
How to achieve cost, lead time, and downtime reduction targets for new product launches using immersive technologies