Join us for a Transformative Digital Event
Hear from thought leaders from around the globe
ESI Live features forward thinking innovation leaders from various industries, who speak about their transformative journey.
Get inspiration from peers in your industry
Generate ideas to improve industrial resilience and new technology processes and become more agile and responsive to market demands.
Flexible digital live format
Live Panel discussions, Q&A sessions, Industry presentations tracks - carefully curated to be brief and authentic. Bite-size sessions to make the most of your time.
Opening & Keynote Address
November 5 - 09:00 - 09:40 am CET
Did you say Simulation? From the Art of Modelling to the Art of Decision Making – the unique advantages of Virtual Prototyping
Professor Francisco Chinesta, Scientific Director of ESI Group and globally renowned innovator in Computer Modelling Science, invites you on a journey towards augmented performance. What place will human-beings have, how will our societies and industries resemble in a near-future where Artificial Intelligence and engineering automation has peaked?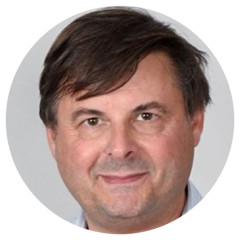 Prof. Francisco Chinesta
Scientific Director, ESI Group
Thought Leadership Panel
November 5 - 3:00 - 04:00 pm CET
Host Cristel de Rouvray, Chief Executive Officer of ESI Group, along with Vincent Champain, SEVP Digital & IT of Framatome Group and Ignacio Martín González, BIW R&D General Director of Gestamp will curate a conversation with other leaders, on long-term thinking in Industry and Business transformation, with an emphasis on cross-industry learning and the organizational and human values that enable courageous, long-term endeavors.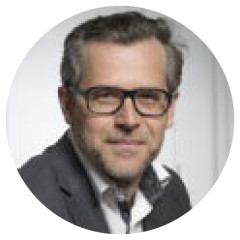 Vincent Champain
Senior Executive Vice President Digital and IT, Framatome Group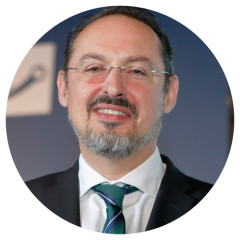 Ignacio Martín Gonzalez
BIW R&D General Director, Gestamp
Dr. Cristel de Rouvray
Chief Executive Officer, ESI Group
Live Virtual Reality Demo
Collaborative Virtual Assembly Review 
The introduction of new & emerging products, like E-mobility, brings new unknowns to manufacturing environments. We are now preparing to make things never previously built, in ways that have yet to be tried. Planning the launch of novel products, with advanced methods into greenfield and pre-existing plants requires enterprises to predict and mitigate risk to assure delivery of Safe, Reliable, and Sustainable mobility solutions.
Join our live Human-Centric Demo to understand: 
When Virtual Reality can be applied to discover Human-Centric Product & Process concerns
What immersive virtual collaboration between distributed teams & suppliers can mean to your enterprise
How to achieve cost, lead time, and downtime reduction targets for new product launches using immersive technologies
Flexible Agenda & Registration
Welcome - 9am CET
Panel Discussion
Industry Tracks ​​​​​​- In-depth Sessions with Presentations and Interactive Panel Discussions
Automotive Session - Reinventing Mobility for a Safer, Sustainable and Connected World - 10am CET
Aerospace Session - Transforming the Industry with Smart Manufacturing and Design - 12:15pm CET
Energy & Heavy Machinery Session - Design reliable products for the most challenging environments - 12:15pm CET
Select your dedicated Industry Track and Register for the full event
Join our industry sessions with roundtables and presentations to see how leading companies have embarked on profound transformation leveraging virtual prototyping and Hybrid Twin™. They will share their journey to connect design, manufacturing, certification and operations in-service to commit to socially ambitious "outcomes".
Who Should Attend?
Executives, Managers, Decision-makers
Key contributors in Product and Program development, manufacturing, quality, innovation
R&D who have mission critical needs to reduce development time & cost
Key Companies in major industrial sectors who need to realign their strategy and product development around digital transformations to address their customer outcomes, from asset performance to safety or manufacturability