2023 marks
50 years since
ESI Group's story began
That's five decades of pioneering a virtual-first approach, taking bold steps to create a better world and pushing the limits of what's possible.
With half a century of achievements, milestones, and success stories to reflect on, we're celebrating this special anniversary by spotlighting the incredible progress that our people and customers have made over the past 50 years.
Let's bring
ESI's story

to life
Play on to discover new facts
and test your knowledge.
Question:
Who is ESI's Chief Executive Officer ?
Choice:
Liam Neeson
Cristel de Rouvray
Question:
What's the percentage of women currently working in ESI's management team?
Choice:
40%
45%
50%
Question:
Which OEM reduced their engineering lead times by 50% using ESI software?
Choice:
Nissan
Liebherr
General Motors
Question:
Who won the bidding process of a German automaker in just 8 months by only using virtual prototypes?
Choice:
Farasis
Ironcastings
Kirchhoff Polska
Question:
Which ESI software use automakers to accurately simulate and test water impact?
Choice:
Virtual Performance Solution
IC.IDO
Question:
Does ESI's Virtual Performance Solution enable engineers to predict crash and safety performance for out-of-position (OOP) scenarios?
Choice:
Yes
No
Question:
The Women-led Tech leaders segment is part of which stock exchange?
Choice:
Euronext
Nasdaq
Question:
Which company uses ProCAST's co-design functionality to make sure their designs are fully castable?
Choice:
Safran Nacelles
Rolls-Royce
Question:
Which ESI customer uses VR technologies to achieve yokoten (= horizontal deployment) in order to complete kaizen?
Choice:
MAN Bus
Toyota
Question:
Which ESI software do OEMs like Joby Aviation use to holistically validate community noise of their next generation air mobility vehicles?
Choice:
VA One for vibro-acoustic simulation
VPS for virtual performance studies
Question:
How much total tooling budget did Safran Nacelles save by reviewing manfuacturing process designs in immersive virtual reality?
Choice:
5%
10%
15%
Question:
By how many months could Volkswagen do Brazil shorten the development of the Nivus by using ESI's Virtual Reality software IC.IDO?
Choice:
5 months
10 months
15 months
Question:
Which OEM built a 1-to1 scale truck model featuring all 12 000 parts to validate new designs, assembly, and maintenance processes in Virtual Reality?
Choice:
Volvo GTT
MAN Bus
CaetanoBus
Question:
How many spot welds does a typical car body roughly contain?
Choice:
3,000
4,000
5,000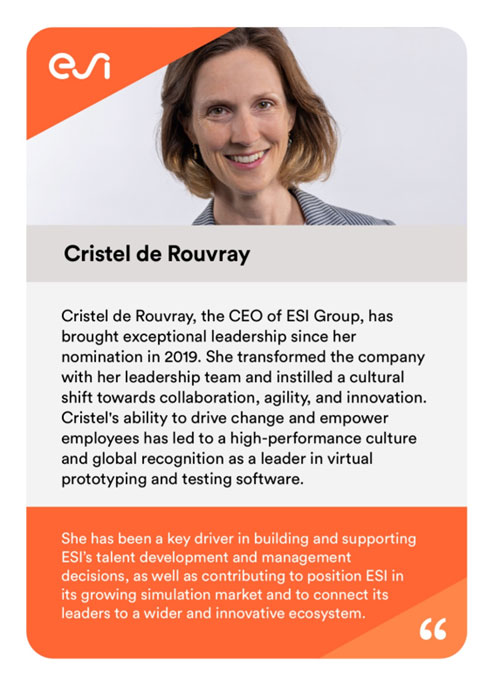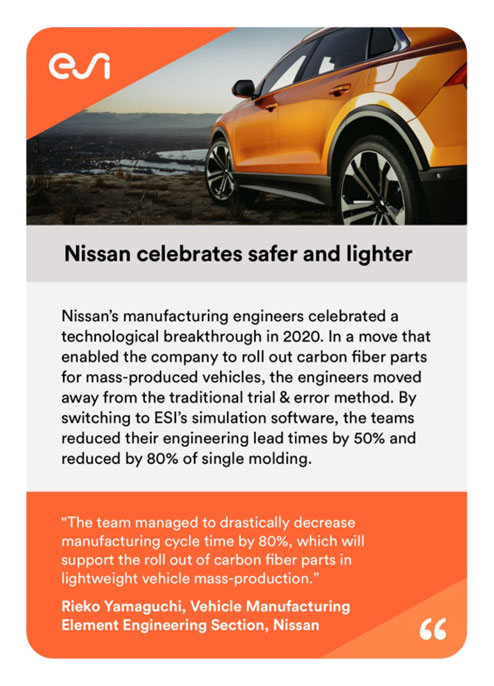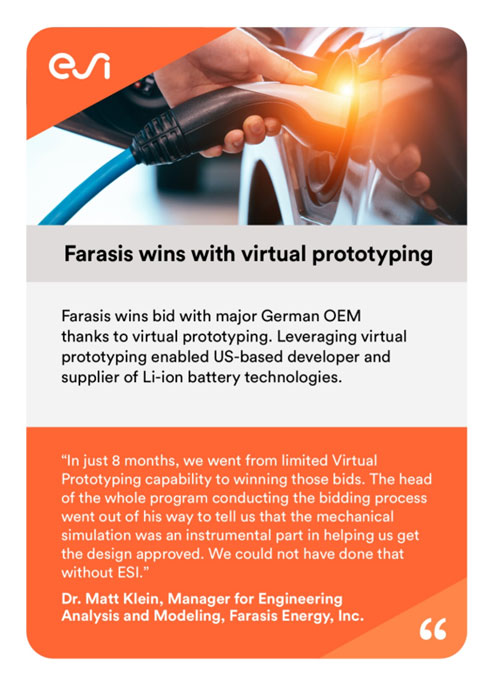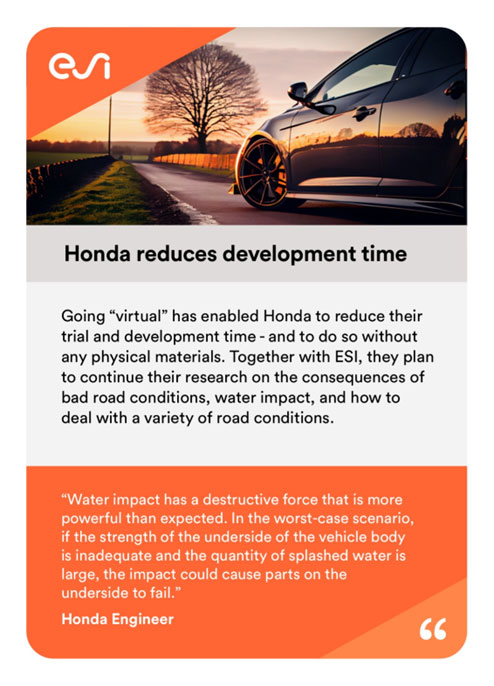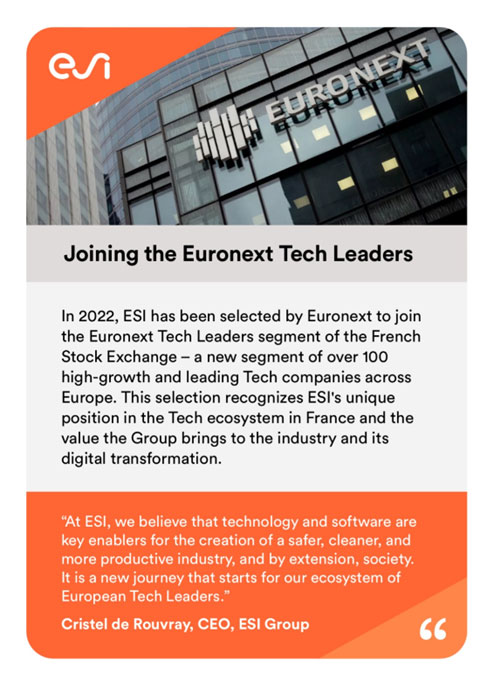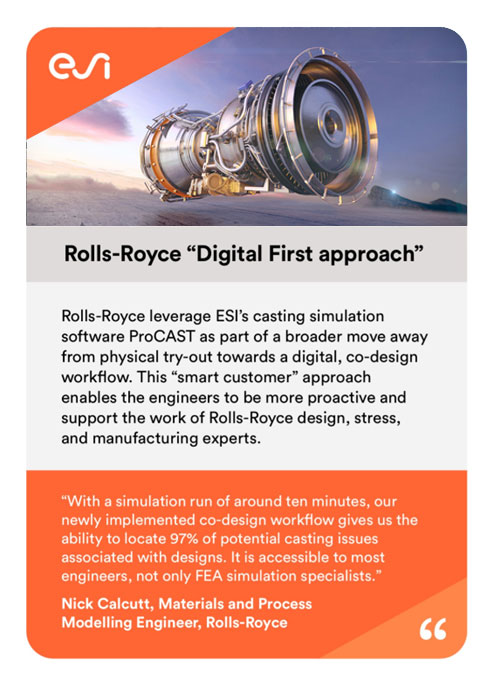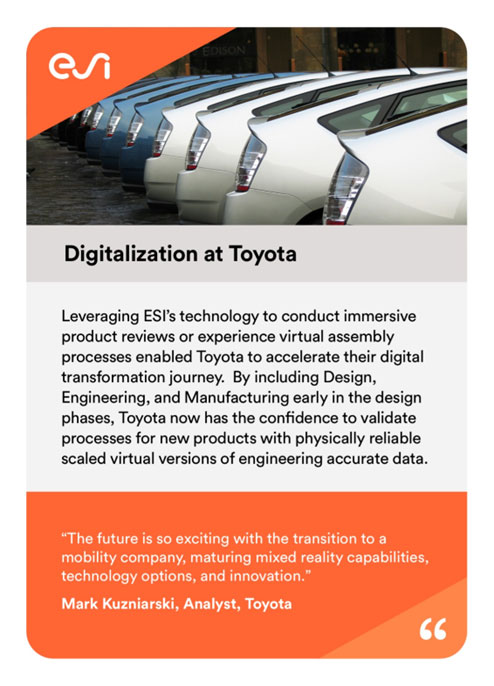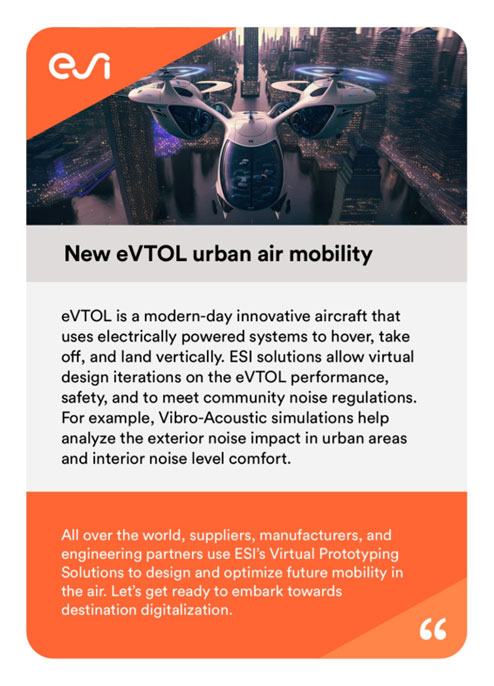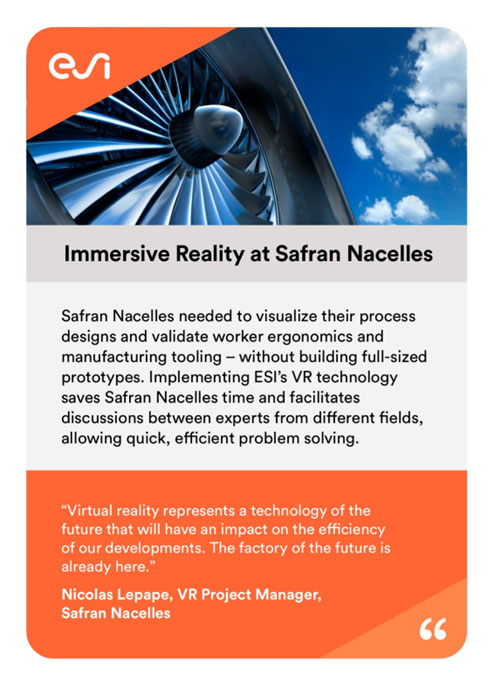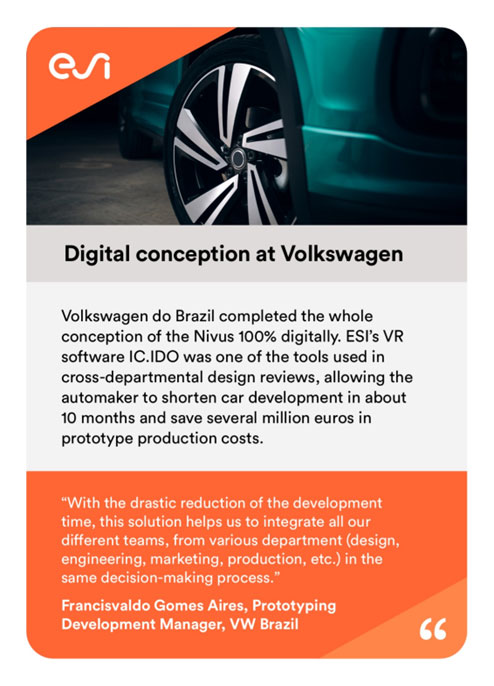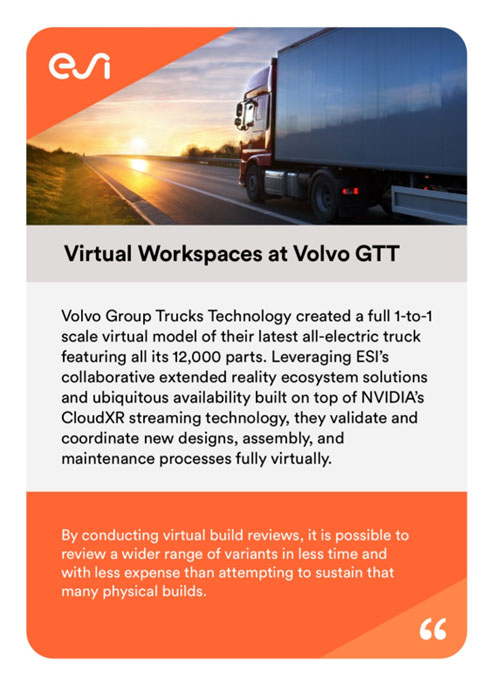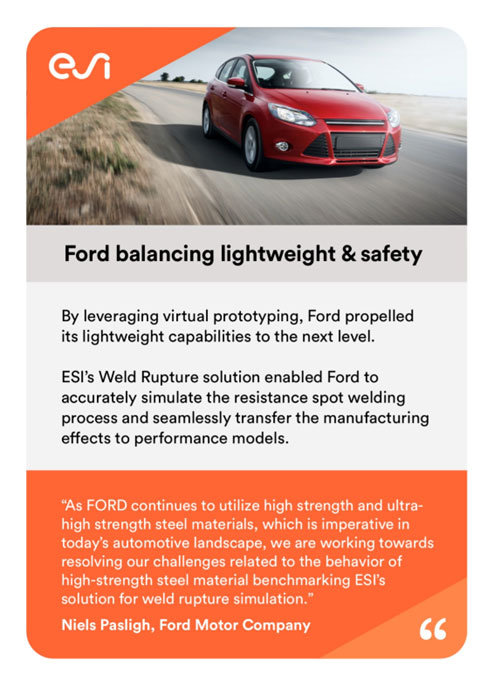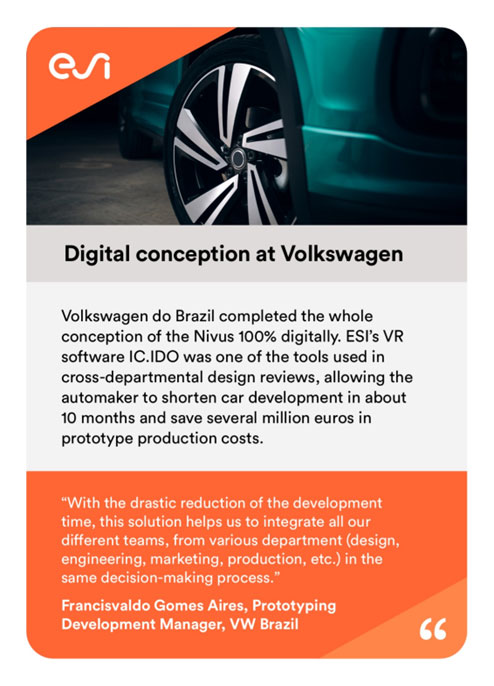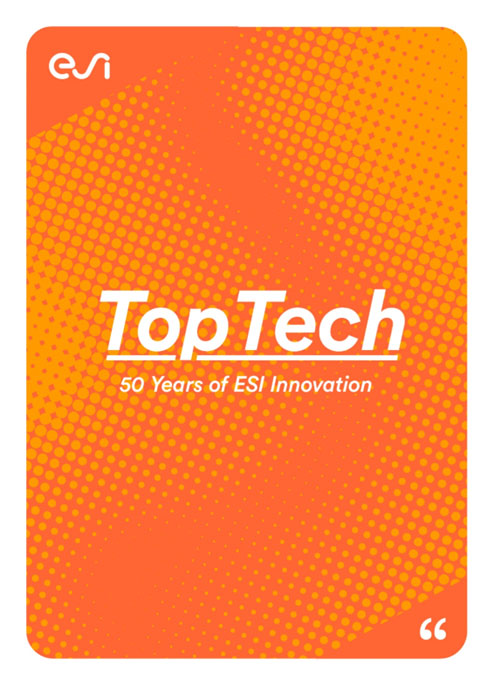 Subscribe Now
Don't miss the next release
We'll be launching new cards regularly throughout our anniversary year, shining a light on our people,
customers, and industries.
Sign-up to be notified of the next round's release.
Our

vision
The world of industry has been forever transformed, and it's an exciting time of innovation and responsibility.
Consumers are demanding more than ever before, and businesses are racing to keep up with the speed of change while being good stewards of the earth and its people. Technology is pushing the boundaries of what's possible and revolutionizing the way we work and live. At ESI, we have always been passionate about taking bold steps to create a better world. We are pioneers of a virtual-first approach to solving the most complex and critical problems with simulation. Our legacy of innovation dates to our first predictive simulated automotive crash test in 1985, and we continue to lead the way with product assembly reviews in the industrial metaverse.
Over the last five decades, we have been pushing the limits of what's possible. We believe that the diversity of people, perspectives, and experiences is our superpower, and we strive to set an example in an industry that has traditionally been dominated by men. When our international teams come together, we unleash our creative potential to protect what matters most – our people and our planet.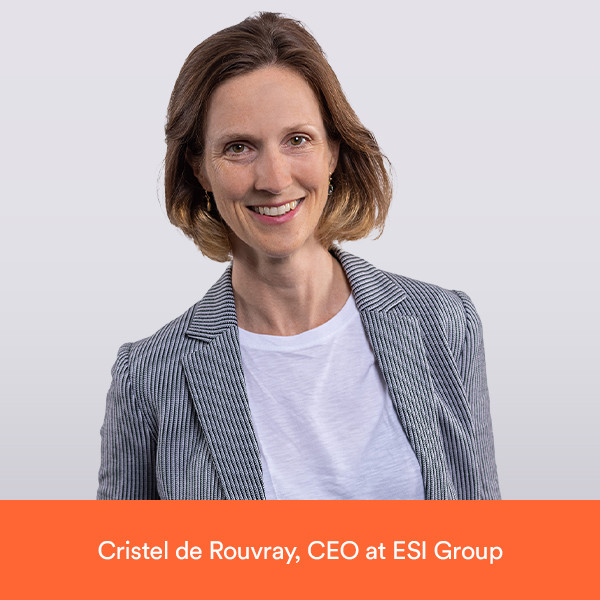 Innovate

without Compromise
Harness the power of virtual simulation technology.
ESI's intelligent technology is revolutionizing decision-making to power phenomenal transformation
and drive safer, cleaner, and more productive outcomes for our customers.
Discover why industry leaders rely on our virtual prototyping software to counterbalance
the risks associated with innovation.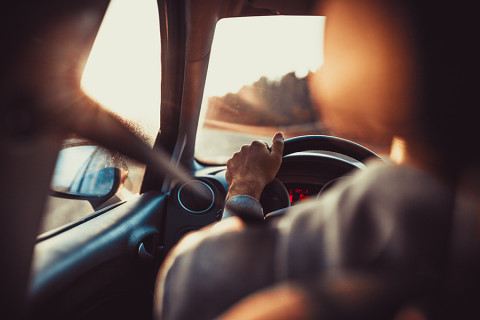 VW wants to eliminate prototypes from crash testing: Learn about the OEM's aim to go fully digital in crash testing, and how the latest developments in simulation will facilitate this.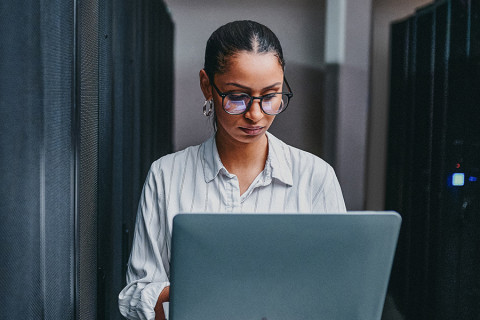 Meet industrial digital transformation challenges with virtual prototyping software: Read CIMdata's commentary on how ESI's predictive, real-time, & immersive virtual testing supports the democratization of product & process simulation.