ESI to Unveil New Virtual Reality Developments at GPU Technology Conference 2017
Upcoming version ESI IC.IDO 11.1 benefits from NVIDIA VRWorks software development kit (SDK)
Paris, France – May 2, 2017 – ESI Group, leading innovator in Virtual Prototyping software and services for manufacturing industries, will present its latest Virtual Reality (VR) developments at the upcoming GPU Technology Conference (GTC) (booth 708), scheduled May 8-11 in the Silicon Valley, California. Working with NVIDIA, ESI has greatly improved its VR solution tailored for industrial use. The latest release, ESI IC.IDO 11.1, benefits from this action and will be unveiled at GTC 2017; providing visitors with opportunity to experience the new release and learn about proposed future innovations.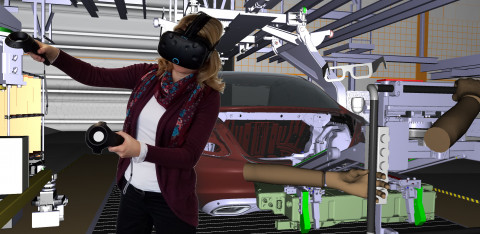 NVIDIA VRWorks enables ESI IC.IDO users to nimbly scale individual immersive desktop HMD evaluations to drive CAVE or Powerwall reviews
In February, ESI announced ESI IC.IDO 11, developed using aspects of the NVIDIA VRWorks SDK. This past release featured an NVIDIA Quadro-enabled rendering framework, making it compatible with consumer and enterprise Head-Mounted Displays (HMDs).
"This improvement is a real breakthrough for engineers developing innovative products," says Eric Kam, Product Marketing Manager at ESI Group. "They can now benefit from independent product-process evaluations in a natural and immersive manner without necessarily needing more elaborate infrastructure such as a VR CAVE or powerwall. At the same time, IC.IDO 11 offers great interoperability, so HMD users can perform in-process integration validations and collaborate on product/process design reviews with remote teams who may use existing VR infrastructures."  
ESI will introduce its upcoming release, ESI IC.IDO 11.1, at GTC 2017. Benefiting from VRWorks integration, ESI IC.IDO 11.1 raises the bar in Geometry-to-VR engineering solutions through support of VR-SLI (Virtual Reality-Scalable Link Interface), the NVIDIA Pascal GPU architecture, and single-pass stereo — together providing superb performance for the immersive exploration of complex geometry. Behaviors such as solid mechanics, collision detection, and elastic and kinematic physics are simulated in real-time for interactive exploration of complete digital prototypes and human-centric processes. Other significant improvements in ESI IC.IDO 11.1 include additional collaborative modes, increased performance, and an innovative natural interaction mode in VR with simulated hands, forearms, and upper arms, controlled by handheld devices that leave the user unencumbered by complex tracking requirements. 
During the GTC 2017, ESI and NVIDIA will co-present technical papers outlining their current progress in bringing geometry models to HMDs, and vision for novel concepts on the future of GPU-enabled virtualization of immersive experiences, and in defining methods for the rendering of complex physically based materials thanks to NVIDIA's Material Definition Language.
In his technical presentation, "Delivering Immersive Experiences Through GPU Virtualization and Streaming", Jan Wurster, Virtual Reality Solution and Technology Expert at ESI Group, will explain how IC.IDO proposes new horizons for further innovation for industrial manufacturers. Eric Kam adds:
Our goal for the future is to accelerate immersive engineering so that on-premise cloud-based NVIDIA GRID servers can deliver more than virtual GPU (vGPU)-enabled desktops. More specifically, we envision virtualized workspaces via HMD for greater scalability and portability of virtual integration workflows. Engineers will no longer need to be tethered to their workstations to design, test and collaborate in VR. They will virtualize immersive experiences using a thin client, making valuable interactions sharable easily, faster, and even earlier in the product development process." 
Join ESI and NVIDIA for live presentations on Monday, May 8th:
Meet ESI at GTC 2017 in booth 708 to experience Virtual Reality with IC.IDO!
For more information about ESI IC.IDO, please visit www.esi-group.com/products/ic-ido
Join ESI's customer portal myESI to get continuously updated product information, tips & tricks,
view the online training schedule, and access selected software downloads: https://myesi.esi-group.com.
For more ESI news, visit: www.esi-group.com/company/news.
---