ESI minimizes the cost and time of manufacturing try-outs with PAM-STAMP 2018
End-to-end solution helping engineers realize lightweight designs using innovative materials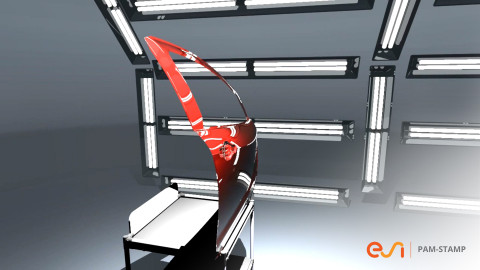 Component quality assessment in ESI PAM-STAMP 2018's Virtual Light Room, based on simulation results
Who? ESI Group is a leading innovator in Virtual Prototyping software and services for manufacturing industries. Specialist in material physics, ESI has developed a unique proficiency in helping industrial manufacturers replace physical prototypes with virtual prototypes, allowing them to virtually manufacture, assemble, test and pre-certify their future products.
What? ESI releases a new version of ESI PAM-STAMP; a solution focused on minimizing try-out time and cost of sheet metal forming manufacturing. This 2018 release offers an innovative tool to help engineers eliminate the last uncertainties before entering the physical try-out. It also predicts the perceived quality after the assembly process of the full component. PAM-STAMP provides users with the possibility to effectively incorporate the full behavior of the press and die system during the forming process and to derive automatically the material parameters for the most accurate material models. New features of this version also enable review of the final part quality in ESI's Virtual Light Room.  
With the latest release of PAM-STAMP, automotive OEMs benefit from a solution that enables complete virtual try-out and thus eliminate the last uncertainties before physical try-out.
The main challenge for OEMs and tier-suppliers in the automotive industry today is to produce lightweight cars with high perceived quality and excellent crash-worthiness, in the shortest possible time span and at lowest development cost. To support those objectives, numerous stamping simulations are carried out. However, one or more iteration loops are still required during physical try-out to achieve all specifications. Even if the individual parts are manufactured within tolerances, after assembly the components can still fall outside of specifications as a result of joining processes (e.g. thermal effects of spot-welding) or non-ideal setup of (roll-) hemming. In severe cases, late discovery of manufacturing quality difficulties can lead to delay in production.
To make sure the final assembled component is within tolerances, not only individual parts can now be managed, but also the full assembly process for doors and closures. PAM-STAMP 2018 addresses thermal joining effects due to spot-welding and intermediate distortion analysis (i.e. springback). And the new capabilities are also available for (roll-) hemming, with or without gluing of the components. Final dimensional control is enabled and the quality of assembled panels can be reviewed in a Virtual Light Room.
To reach the highest possible simulation accuracy, the ESI team worked on an efficient material characterization wizard that enables engineers to work with the most advanced material models at no additional cost or effort. All material parameters are automatically obtained from standard uni-axial tensile test data.
Differences between simulation and physical prototypes can often be explained by a deformation of the entire press equipment during the forming process. In standard simulations, tools are usually considered fully rigid. With this latest release, ESI introduces a very effective method which couples in real-time the stamping simulation and tool deformation simulation, to replicate tool shape changes during the entire forming process. The method enables users to achieve ultimate accuracy for springback prediction and cosmetic defects analysis.
To fully benefit from all recent developments and run simulations with the highest accuracy, ESI has improved the HPC capabilities of the sheet metal forming solver significantly. Now excellent scalability is available up to 128 cores, which means that even for the largest panels a minimum of 2 iterations of high quality forming simulation can be completed during working hours.
PAM-STAMP 2018 delivers major efficiency improvements and offers users the ability to upgrade their designs. The solution supports engineers in their day-to-day challenges to meet ambitious requirements by supplying ultimate accuracy throughout all stages of the design process and for all sheet metal forming processes; from individual part analysis to full component assembly.
For more info, please visit: www.esi-group.com/products/pam-stamp
For more ESI news, visit: www.esi-group.com/company/news
For additional information, please contact: ­
ESI Group – Media Relations
Celine.Gallerne [at] esi-group.com (Céline Gallerne)
+33 1 41 73 58 46
---