Workshop Air Quality lessons learned from COVID-19
Workshop: Air Quality lessons learned from COVID-19 - Smart ventilation supported by CFD and sensor data
Date: October 21, 2021
Time: 1 - 4 pm CET
Free of charge
Content
We have learned recently how indoor air quality affects our well-being, performance, and ability to concentrate. The past 18 months of the global COVID-19 pandemic has taught us the importance of fresh air circulation in mitigating airborne transmission of viruses. Nevertheless, the removal of harmful aerosols remains a challenge to manage and to control in our everyday environments. This fact still leads to high uncertainties in the setup of suitable mitigation concepts and in the decision about appropriate ventilation systems or risk-minimizing office occupancy rates.
Although CO2 or other IAQ sensors (PM2.5, VOC, humidity, temperature) provide information about the air quality present at the checkpoint, it remains unclear as to whether and to what extent this also applies to the rest of the enclosed volume. The sole use of sensors does not provide answers to the questions
Where to place sensors to get robust and meaningful data? - How to adjust the ventilation system to achieve the expected air quality in all areas of the respective space? - How effective is the ventilation system under various occupancies or seasonal climate conditions?
Where to place interventions to maximize clean air circulation
In this workshop, we will illustrate how results from CFD simulation with OpenFOAM can be used to answer these uncertainties, in correlation and verification with measured values from sensors and how this can be used to inform decision making in enclosures. We will discuss to what extent this approach is suitable to address the need for effective ventilation configurations for the highest air quality in closed spaces and under various conditions.


This mini-workshop is aimed at the importance and practical value of CFD simulations
Presenting stakeholder studies on the correlation of sensor data with CFD simulations
Consideration of ventilation, occupancy, and people's activity in an enclosure
Identify end-users (stakeholder case studies) who will benefit from combining sensor data and digital simulation to make better informed choices for ventilation configuration and management in enclosed spaces
Demonstrating a cloud-based Application for non-CFD experts
Presentations
1:00-1:20pm (CET)
CFD modeling of IAQ and ventilation effectiveness assessment in an open plan office
The project aimed at continuously monitor IAQ parameters in the open plan office, use the data to validate the CFD modeling tool, simulate different ventilation strategies and assess ventilation effectiveness. It was paramount for us to identify hot-spots of stale/aged air, learn and understand air movement and aerosol transport within the occupied space under different breathing cycles, whilst maintaining good IAQ, tempered temperatures for occupant wellbeing and comfort.
1:20-1:40pm (CET)
CFD modelling for Internal Air Quality
We present the key modelling assumptions and validations which form the bases of simulation of Air Quality in the enclosed environment:
breathing cycles and associated net exhalation
the effects of mask-wearing in the near field
controlled experiments verifying CFD modelling of exhaled CO2 during normal breathing and talking
modelling of particulates emitted during aerosol generating procedures (AGPs), their airborne transportation, surface deposition or subsequent evacuation from the enclosure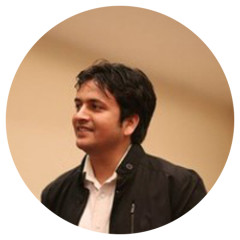 Pawan Ghildiyal
Senior Engineer, ESI Group
1:40-2:00pm (CET)
Engineering infection controls
In this talk, the presenters consider
how UVC kills bacteria and deactivates viruses at the RNA-level, airborne risks, and Aerosol Generating Procedures
UVC purification, device verification (Physics and Engineering) and Bio-validation (estimation using a bacterial surrogate for C-19 SARS COV-2)
Working towards Standards to support Regulation
Some design studies put together by the UK-based health-care team (mainly towards dentistry/endoscopy)
Practical insights for buildings under the current systems of regulations 
2:00-2:30pm (CET) Moderated discussion and interaction with attendees and all keynote speakers.
2:30-4:00pm (CET)
Hands-on to the environmental simulation with a prepared example ventilation (individual login to Cloud and remote applications)
(Interested simulation engineers please request App access after receipt of the workshop registration confirmation email! You will receive your individual login information via mail prior to the workshop.)
Who should attend?
Operators and managers of industrial facilities (offices, assembly plants, production lines, etc. …)
Operators and managers of public facilities (hospitals & health services, public transportation services, community centers, trade shows, theaters, etc.)
Equipment manufacturers of air scrubbers for airborne particles
Simulation professionals and engineering service organizations who want to engage in ventilation management and containment of airborne aerosol transmission for infection-proof environments