Virtual Reality Debuts at the Opera
ESI Group takes the public behind the scenes of the Opéra de Rennes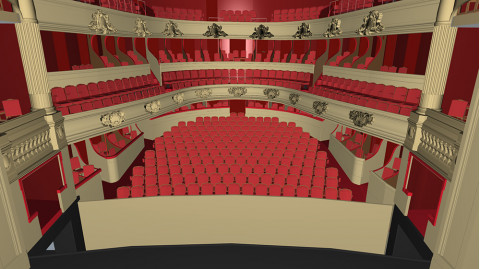 The Opéra de Rennes as an immersive 3D environment using ESI IC.IDO
Who? ESI Group is a leading innovator in Virtual Prototyping software and services for manufacturing industries. Specialist in material physics, ESI has developed a unique proficiency in helping industrial manufacturers replace physical prototypes by virtual prototypes, allowing them to virtually manufacture, assemble, test and pre-certify their future products. ESI's virtual reality solution ESI IC.IDO offers engineers an interactive and immersive 3D experience of their products or projects before they even exist.
What? On June 8, ESI Group will team up with the Opéra de Rennes, to offer a new kind of immersive experience to the public. The theatre located in Rennes, France will premiere a version of the famous "Carmen" from French composer Georges Bizet. A few hours before the show, ESI will offer interactive Virtual Reality (VR) sessions in a showroom using Head Mounted Displays (HMDs). The project was developed in collaboration with local competitiveness pole Excelcar.
Visitors will be able to immerse themselves into a 3D mock-up of the Opera, using ESI's cutting-edge technology IC.IDO. Interacting with their environment in real time and real scale, they will be able to visit the Opera hidden parts, discover the backstage, the arcade, sit in any chair or look at the stage from the performers' point of view. The power of VR will give the public the opportunity to see the Opera like never before.
When? 8 June, 2017
Where? Opéra de Rennes, Rennes, France.
For more info, please visit: www.esi-group.com/products/ic-ido
For additional information, please contact: ­
Media Relations
Celine.Gallerne [at] esi-group.com (Céline Gallerne)
+33 1 41 73 58 46
---