The Czech Automotive Industry Association awards MECAS ESI "Company of the Year 2016"
AutoSAP choses ESI for the 2nd time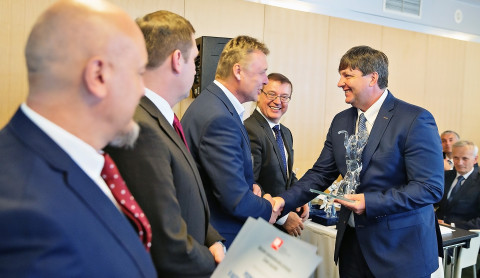 Karel Luňáček, COO of MECAS ESI, receives the award in Prague, from top representatives of AIA: Bohdan Wojnar, ŠKODA HR Director and AIA President; and Pavel Juricek, owner of Brano Group and Vice President of AIA.
Who? ESI Group is a leading innovator in Virtual Prototyping software and services for manufacturing industries. Specialist in material physics, ESI has developed a unique proficiency in helping industrial manufacturers replace physical prototypes with virtual prototypes, allowing them to virtually manufacture, assemble, test and pre-certify their future products.

What? ESI is proud to announce that MECAS ESI, the Czech subsidiary of the group, has been recognized for the 2nd time as "Company of the Year" by the Automotive Industry Association (AIA or AutoSAP). Based in Pilsen, Czech Republic, MECAS ESI has been leading ESI's development in Eastern Europe since 2001. Its efforts and commitment to its customers have been rewarded again by its peers of the Czech automotive association. 
The Automotive Industry Association (AIA), also called AutoSAP, was founded in 1989 and now represents more than a hundred Czech vehicle manufacturers, suppliers and other companies and institutions in the national automotive industry. The AIA's main mission is to emphasize the importance the move towards Industry 4.0 in the Czech automotive industry.
As a member of the AIA since 2004, MECAS ESI has long supported the development of the Eastern European automotive industry. The expertise of ESI's Czech subsidiary ranges from Virtual Manufacturing, such as sheet metal forming simulation, to Virtual Performance, such as crash simulation, taking into account material properties and the chained effects of manufacturing processes; and also offering advanced Fluid Dynamics (CFD) simulation services.
Since receiving its 1st award from the AIA in 2012, MECAS ESI never stopped expanding the scope of its work in the region. It now helps the AIA raise awareness on the importance of the Internet of Things in the automotive industry, in connection with the smart factory, Advanced Driver-Assistance Systems (ADAS), autonomous cars and mobility.
When? The award was received on 6 June, 2017.

Where? Prague, Czech Republic.
---