Shaping the Way towards Sustainable Mobility with Virtual Prototyping
Experts in Electric and Autonomous Vehicle Development will meet in San Jose, CA
San Jose, CA, USA – June 18, 2018 – ESI Group, leading innovator in Virtual Prototyping software and services for manufacturing industries, invites professionals overseeing manufacturing and engineering developments in the automotive sector to a one-day interactive meeting with industry peers and a team of Electric Vehicle (EV) experts. Hosted on June 27, 2018 at ESI's Bay Area Office in San Jose, CA, the event will introduce trends in mobility and autonomous driving, and address the complex challenges surrounding EV development.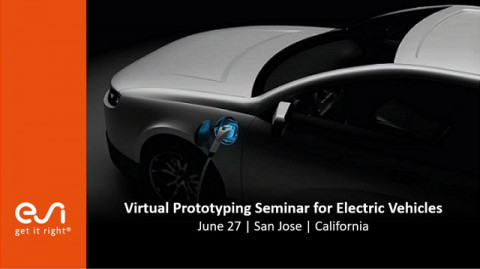 Future mobility trends such as vehicle electrification and autonomous/assisted driving are reshaping the automobile in ways that require fundamental re-thinking of engineering methods and design philosophies. The assumptions regarding powertrain and performance, occupant comfort and safety, vehicle architecture and manufacturing have shifted so much that historical experience and previous criteria are barely relevant. ​
This is the overarching message carried by Dr. Stephen Zoepf, Executive Director of the Center for Automotive Research at Stanford (CARS), who will open ESI's EV Seminar on June 27 with a keynote presentation on "Trends in Mobility & Autonomous Driving".  CARS supports this transition by linking industry, academia and government to enable human-centered mobility, providing a portal for automotive companies and other industrial partners into auto-mobility research at Stanford University. As Dr. Zoepf points out: "The traditional automotive industry is rapidly evolving into a personal mobility industry as shared access begins to replace private sales, electric vehicles begin to replace gasoline, and automation begins to replace human driving ability. As these trends begin to shape the industry, the way that we use vehicles is also evolving, and traditional benchmarks and measures of success no longer apply. In this talk, we will discuss specific ways in which the automotive fleet is changing and specific questions which automakers and suppliers should take into account in the next decade."​
On June 27, the morning session will be dedicated to EV Program Management, centered on achieving early and predictive Design to meet safety, performance, range, cost, and time-to-market targets. The afternoon session will focus on EV Program Realization: validating a tool / process design as "promised" for Manufacturing within cost constraints and quality targets. The event will close with discussions and demos around the Future of Mobility, addressing autonomous driving design for safe and reliable vehicles.
Throughout the day, there will be ample opportunities for discussion and networking, as well as interactive demos of Virtual Reality and ADAS solutions. ​
For more info and to save your seat for the event, please click here.
ESI Group – Media Relations
Global
Celine.Gallerne [at] esi-group.com (Celine Gallerne)
+33 1 41 73 58 46
United States
Leah.Charters [at] esi-group.com (Leah Charters)
+1 (248) 381 8231
---