Meet ESI at the NAFEMS World Congress 2017
Silver sponsor, ESI will present 7 papers and chair the Session on Manufacturing Process Simulation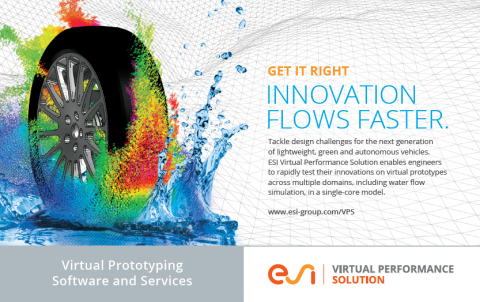 Among ESI's many software solutions, Virtual Performance Solution enables the Virtual Prototyping of vehicles in a realistic driving environment. (Topic presented on Jun 13 at 3:45 pm in Session 6A Particle Methods)
Who? ESI Group is a leading innovator in Virtual Prototyping software and services for manufacturing industries. Specialist in material physics, ESI has developed a unique proficiency in helping industrial manufacturers replace physical prototypes by virtual prototypes, allowing them to virtually manufacture, assemble, test and pre-certify their future products. 
What? From June 11 to 14, 2017, ESI will join the NAFEMS World Congress 2017, the world's only independent, international conference dedicated to every professional involved in engineering analysis, simulation, modelling, and systems engineering. This year, the congress will host the 3rd International Conference on Simulation Process and Data Management (SPDM), and a dedicated symposium on Manufacturing Process Simulation & Additive Manufacturing, covering all virtual manufacturing solutions within the product design and manufacturing cycle.
We hope you will join ESI at the event and visit us on booth 34.
ESI teams also invite you to attend their numerous presentations, as listed below:
The Journey from Simulation and Virtual Prototyping Towards the Hybrid Digital Twin and Product Performance Lifecycle
By Rajab Said, Academic and R&D Collaboration Manager, ESI Group
On June 13 at 1:35 pm in Session 5B
Integration of Machine Learning and Visualization for effective Design Exploration
By Suzana Djurcilov, Software Development Engineer, ESI Group
On June 13 at 1:45 pm in Session 6D Robust Design
Virtual Car Prototyping in Realistic Driving Environment: Examples of deep water crossing and heavy rain management
By Alain Tramecon, Composites Performance/FPM Solution Manager, Manager Virtual Prototyping COEs, VPS / Product Modeling Department, ESI Group
On June 13 at 3:45 pm in Session 6A Particle Methods
Development of a Simulation Based Solution for the Design and Manufacture of 3D Woven Composites
By Rajab Said, Academic and R&D Collaboration Manager, ESI Group
On June 13 at 3:45 pm in Session 6H Manufacturing Process Simulation - Composites Manufacture
Capturing, Integrating & Automating CAE Workflow
By Roshan Nataraj, Project Manager, ESI Group
On June 14 at 11:10 am in Session 7J Democratisation 2
Adaptive local weld models in Advanced High-Strength Steels for use in full-vehicle crash simulation
By Alexandre Dumon, Engineer for Multi Material Assemblies
On June 14 at 11:10 am in Session 7F Crash / Impact
When? 11-14 June, 2017
Where? Stockholm, Sweden
---