ESI Shares its Engineering Solutions for the Future of Mobility at SAE WCX 18
ESI will showcase its engineering solutions for the Future of Mobility at both SAE WCX and during a seminar in Farmington Hills, MI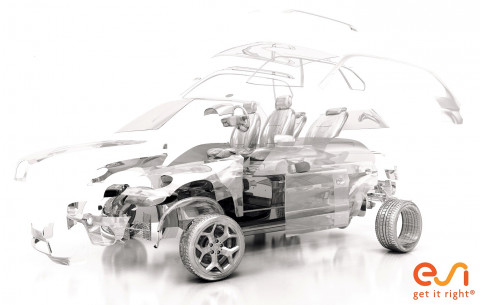 Who? ESI Group is a leading innovator in Virtual Prototyping software and services for manufacturing industries. Specialist in material physics, ESI has developed a unique proficiency in helping industrial manufacturers replace physical prototypes with virtual prototypes, allowing them to virtually manufacture, assemble, test and pre-certify their future products. ESI's software solutions are used by the world's top 10 automotive OEMs and many of their tier-1 and tier-2 suppliers.
What? ESI will attend this year's SAE's World Congress Experience (WCX) in Detroit, Michigan on April 10-12, 2018, demonstrating its commitment to enabling the transformation of the automotive industry. From the advent of self-driving cars to electric vehicles, transportation has begun a fundamental mutation into the next era, reinventing the very function of vehicles. At SAE WCX 2018, ESI will showcase how its engineering solutions support this disruption in the way vehicles are designed, manufactured, and managed throughout their lifecycle.
ESI will present multiple papers during the technical session of this three-day conference:
"Virtual Temperature Controlled Seat Performance Test" - Joint presentation with Ford (Session: Human Factors in Seating Comfort);
"From design data to reliable noise radiation prediction – a holistic simulation approach demonstrated on a gearbox" - Joint Work with ESI VA One and ESI's SimulationX (Session: Multi-Discipline Interaction and Special CAE Applications);
"Hybrid energy storages for electric vehicles: A comparison of different setups through system simulation including a highly realistic vehicle model" - Joint work with the Austrian Institute of Technology (Session: Advanced Battery Technologies);
"Modeling frequency dependent behavior of vibration dampers for dynamic NVH powertrain simulations based on Modelica" (Session: Driveline Modeling);
"Integrating SimulationX into the product's Model Based Systems Engineering (MBSE) lifecycle" (Session: CAD/CAM/CAE Technology);
"Virtual Car Prototyping in Realistic Driving Environment: Examples of deep water crossing and heavy rain management" (Session: Multi-Discipline Interaction and Special CAE Applications);
"Acoustic Simulation of Multilayered Noise Control Treatment with Porous Material" (Session: NVH CAE Analysis & Testing Correlations);
"Correlation and verification of a tractor cab model using statistical energy analysis" (Session: NVH CAE Analysis & Testing Correlations).
Live demonstrations of Virtual Reality solution ESI IC.IDO will provide insights into manufacturing challenges: visitors will experience how actual automotive suppliers virtually installed pieces of their machines in an immersive and interactive way, to complete the build and validation process prior to design phase.
Following the event, on April 17, ESI will host a seminar on System Modeling for Powertrain with SimulationX, at its nearby office in Farmington Hills, MI. Participants will learn how to use system simulation early in the development process to help reduce the energy consumption of vehicles and optimize performance while reducing cost. Designing a powertrain that meets the growing demands of internal combustion engine, hybrid and electric vehicles remains one of the key topics for hybrid and electric vehicles.
When? 10-12 April 2018
Where? Detroit, MI, United States – Booth #12003
For more ESI news, visit: www.esi-group.com/company/news
For additional information, please contact: ­
Media Relations
LCT [at] esi-group.com?subject=SAE%20WCX%202018%20Conference%20and%20Seminar%20in%20Farmington%20Hills">Leah Charters
+1 248-381-8231
---