ESI Presents Virtual Performance Solution, the Latest Version of its Flagship Software
Supporting more than ever the disruptive changes in the Automotive industry
Paris, France – November 27, 2017 – ESI Group, leading innovator in Virtual Prototyping software and services for manufacturing industries, announces the latest release of ESI Virtual Performance Solution (VPS). ESI's flagship software uniquely addresses the needs of an automotive industry being reshaped by new paradigms. The new generation of thermal engine and electric/hybrid vehicles rely on light-weight multi-material assemblies, including light metals and composites. VPS offers innovative ways to accurately validate the performance of such structures in an expanding set of domains; including crash, durability, vibro-acoustics and exploiting the benefits of using a single core model. Furthermore, models can readily account for the effects of manufacturing processes and benefit from multi-scale solution schemes. VPS empowers design and simulation experts to rapidly test their innovations on virtual rather than real prototypes.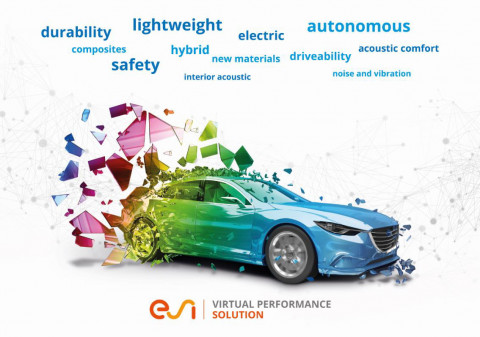 The latest version of ESI Virtual Performance Solution was designed to meet the biggest challenges of the automotive industry
Today, the selection of advanced lightweight materials, such as high strength steel or composites, requires a precise understanding, and an early prediction, of material behavior once assembled.
Lightweight programs are now pushing for the adoption of innovative steels, among them hot-formed and increasingly high-grade dual-phase (DP) steels. These stronger grades may exhibit degraded properties around welds due to hot joining, with consequent and important effect on crash performance and occupant safety.
Introducing new materials and new car designs also increases the need for enhanced approaches to durability assessment. To address that topic, interaction between road and tire is key to predicting loads on the structure and thus durability, VPS 2017 introduces new tire models through co-simulation with Cosin's flagship software, FTire (Flexible Structure Tire Model), a physics-based, 3D nonlinear tire simulation model.
The 2017 version of VPS offers a DMP scaling up to 256 processors. This opens the way to the crash simulation of most full car models, including the deployment of side and curtain airbags with a precise FPM method (Finite Pointset Method) for gas modeling, in less than 5 hours. This represents a reduction in CPU time up to 60% compared to last versions of VPS.
The extended scalability offered in VPS 2017 for efficient High-Performance Computing (HPC) is key to investigating multiple design options, virtually testing the performance of the car around a single core model, and performing iterations before design freeze.
For Miloslav Pašek, ŠKODA AUTO Support Team Leader at MECAS ESI s.r.o:"Virtual Performance Solution (VPS) exhibits continuously improving performance in High-Performance Computing (HPC). Numerical robustness and outstanding stability are mandatory. Scalability and parallel processing techniques have been key items to speed-up solving complex computational problems, making it practical to run the thousands of structural crash and occupant safety simulations needed in car development to achieve best ratings in Euro NCAP test procedures". The story "ESI Virtual Performance Solution helped ŠKODA score 5 star rating from Euro NCAP", describes how such capability can support automotive engineers.
For more information about ESI Virtual Performance Solution, please visit: www.esi-group.com/products/virtual-performance-solution
For more ESI news, visit: www.esi-group.com/company/news
ESI Group – Media Relations
Delphine.AvomoEvouna [at] esi-group.com (Delphine Avomo Evouna)
+33 1 41 73 58 46
---