ESI Group Joins Dassault Systèmes' PLM MarketPlace
ESI Group extends sales network for its CATIA-based simulation applications
ESI Group (ESIN FR0004110310), a leading supplier of simulation software for prototyping and manufacturing processes, today announces its acceptance to the PLM MarketPlace after successfully completing the technical and business requirements. Dassault Systèmes' PLM MarketPlace is an online community that connects software development and business partners.  Through PLM Marketplace, resellers can easily search and find complementary solutions provided by Dassault Systèmes software partner community, on-demand, in order to present customers with a holistic PLM solution.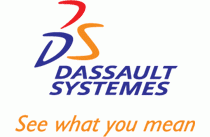 Dassault Systèmes
"We are delighted that ESI Group has joined the PLM MarketPlace. This program creates business synergy and is an integral part of our company strategy to facilitate value channel network selling," says Thierry Collet, Vice President, Global Field Marketing at Dassault Systèmes. "Referenced on the PLM MarketPlace, ESI Group's specialized simulation applications built on top of our CATIA platform solutions are well positioned and directly accessible by Dassault Systèmes' worldwide reseller network."
ESI Group today provides diverse applications for CATIA users. In the composites field, PAM-QUIKFORM for CATIA enables composites designers to get fast feasibility assessment of manufacturability inside the CATIA Composites application; and PAM-RTM for CATIA offers a unique injection simulation software for composites manufacturing integrated in CATIA. ESI Group's portfolio of applications also includes two metal forming solutions, part feasibility check and rapid die creation with PAM-TFA for CATIA and PAM-DIEMAKER for CATIA.
"The PLM MarketPlace allows ESI Group to offer our CATIA-based solutions to composites and stamped parts designers and manufacturers, through sales professionals familiar with the traditional CATIA market," says Vincent Chaillou, President Product Operations and COO, ESI Group. "We are sure that it will successfully complement the existing ESI Group's worldwide sales network to further develop our CATIA-based applications business."
---