ESI Group, Ecotre and Colosio Receive the METEF 2017 Innovation Award
Recognizing foundry software ESI ProCAST for its innovation, performance and reliability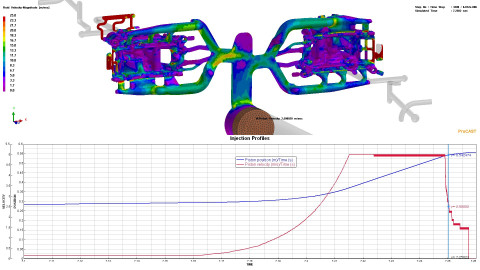 Integration of Colosio Machine database & ESI ProCAST solver to achieve Real Time Piston Control
Who? ESI Group is a leading innovator in Virtual Prototyping software and services for manufacturing industries. Specialist in material physics, ESI has developed a unique proficiency in helping industrial manufacturers replace physical prototypes with virtual prototypes, allowing them to virtually manufacture, assemble, test and pre-certify their future products.
What? ESI is proud to announce that it has received the 4th METEF 2017 Innovation Award in the "Machinery" category jointly with its partners: Colosio S.r.l, an Italian High Pressure Die Casting (HPDC) machine manufacturer, and Ecotre Valente S.r.l, ESI's local agent. Their work on the development of an integrated simulation software / press configuration was rewarded by the METEF team in Verona, Italy a few days ago.
The METEF Innovation award celebrates originality and innovation in various topics such as production, transformation, machining and use of metal products or components. It emphasizes the performance features and the competitive advantages that companies can offer. It focuses on energy savings, eco-sustainability and protection of the resources in numerous areas: foundry, die casting and extrusion as well as technologies, production processes, machines, and systems.
The project involving ESI, Ecotre and Colosio was celebrated for its innovation, performance and reliability. Today casting simulation is widely used in several foundry applications and it is a core activity in manufacturing as it reduces time, developments costs and cycle-time of the product. ProCAST, the casting simulation software developed by ESI Group and based on the finite elements technology (FEM) is at the core of this project. Ecotre and ESI partnered to develop a configuration integrated within the software simulation and the press that achieves cost and quality requirements for a specific cast, making the choice of the press no longer empirical and approximate but objective and precise by aligning it with the actual press.  "Finally, a die casting machine and a simulation software are able to communicate properly to facilitate the lives of foundries. Transforming reality into virtual and vice versa is no longer just a project, but a reality for all our customers," says Davide Colosio, CEO of Colosio S.r.l.
This project and this award are another proof that the industry 4.0 will not occur in a faraway future but that it is happening now.
When? 21 June 2017

Where? Verona, Italy
For more information about ESI ProCAST: www.esi-group.com/products/procast
For additional information, please contact: ­
Media Relations
delphine.avomoevouna [at] esi-group.com (Delphine Avomo Evouna)
+33 1 41 73 58 46
---