Mercedes-Benz Digital Product Forum 2022
Christina Theuerkauf
Christina.Theuerkauf

[at]

esi-group.com
+49 6102 2067 178
Event:

 Mercedes-Benz Digital Product Forum
Date:

 July 20 to 21, 2022
Next July, ESI will take part in the Mercedes-Benz Digital Product Forum, a key meeting for the EDM and CAE community of Mercedes-Benz and its partners.
This year, the ESI team will demonstrate the benefits of Human Centric Assembly and Product Validation using IC.IDO, its an interactive and collaborative Virtual Reality Solution. In this immersive Virtual Reality, you will be able to walk around your product in a true-to-life environment at a 1:1 scale, look at it, reach for needed tools, and interact with your new product concepts as you, or your customers, would in real life. We will also present how end-to-end virtual prototyping is the best way to reduce your overall product development cycle, cost, and time to start of production (SOP) by getting your sustainable vehicle engineering, manufacturing, and assembly processes right.
Reach out to us to schedule a dedicated meeting and demo.
Human-Centric Validation in Action
Discover if the real product or finished assembly has inconsistencies, flaws, or errors that are not evident in concepts or designs until you experienced the build
Mitigate risk of unobserved production and assembly issues
Ensure new products are appropriately modeled during the design and commissioning of the production tools, processes, and facilities
Validate all the leading lightweight material candidates for vehicle structures' safety-critical components
Optimum joining processes to achieve assemblies at the best performance/cost/quality ratio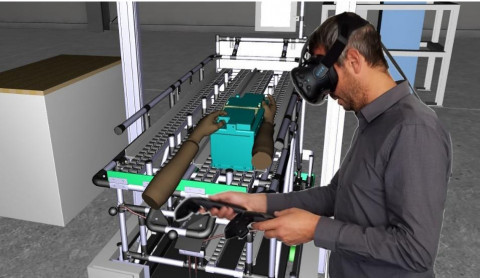 Multi-Material Joining & Assembly in Action
Predicting manufacturing, assembly, and performance through accurate representation of physics and applied processes
Validation of all lightweight materials (standard steel, high-strength steels, aluminum, composites) regardless of what process they have been manufactured through (standard stamping, hot-forming, casting)
Unlimited try-outs to find the most efficient manufacturing processes and achieve  optimal cost/quality ratio 
Reduction of expensive physical prototypes and time-consuming try-out iterations
Presentations
July 20 – 12:30 pm C7.2+3
Virtual Manufacturing and Assembly of Body structures over the complete development cycle
Abstract:
From frontloaded manufacturing feasibility assessment for design, over predictive performance analysis considering the manufacturing impact, to the complete simulation and validation of the manufacturing processes early in the development – this presentation will explain how to get the assembly right the first time. Improve dimensional accuracy of body and chassis assemblies, optimize your manufacturing processes and make quality compliance control –  in a fluid and virtual journey through production.
Multi-material assemblies are key to producing vehicle bodies with the best cost-lightweight ratio. However, higher investments on the powertrain side currently translate into more conservative investments on the body and chassis side. This increases the pressure to achieve better cost efficiency in engineering and manufacturing, especially for electric vehicles.
July 20 – 3:30 pm C7.2+3
How XR Collaborative Workspaces create new Opportunities for Virtual Pilothall Workflows
Abstract:
Seamless digital product development processes allow for eliminating the need for physical prototypes generating proven cost and lead-time benefits. However, transforming the entire process from product design validation to manufacturing planning and optimization into digital requires virtual methodologies that are reliable, robust, and accepted by the engineers with the technical expertise and process know-how. In short: digital trust is a critical factor of success for digital transformation.
Addressing the requirements introduced by these transformative challenges ESI is co-creating a collaborative extended reality (XR) solution with several partners from automotive and other manufacturing industries. Built on top of NVIDIA's CloudXR streaming technology, teams work in shared, easy-to-use XR environments. These virtual collaborative workspaces allow for cross-functional communication, immediate solution identification, and decision making. We are exploring enterprise deployment scenarios with seamless workflows between XR experts and manufacturing engineering stakeholders running lean virtual workshops.