Human-Centric Product & Process Validation Day
13 December 2022
Germany, ZAL Zentrum für Angewandte Luftfahrtforschung, Hamburg
visit website
9am - 12pm
New concepts in airframe and propulsion engineering challenge previous assumptions in aircraft design and may require brand-new architectures. What worked for the first century of powered human flight might not be appropriate for the future of air transportation. To accelerate the development of first-of-their-kind products, enterprises are leaning toward digital transformation and virtual prototyping. Unfortunately, human interactions with products in key processes, like assembly or maintenance, are often left until later in the development process when physical mock-ups and operable prototypes are available.
With Human-Centric Engineering: 
Ensure Smooth Product Integration

Rely on our Immersive Virtual Reality Software to Validate Assembly Processes with Confidence

Engineer Safe and Efficient Maintenance Processes with our Virtual Reality Software
How does Virtual Reality software allow the connected enterprise to immersively visualize their future products and components, analyze product integration, and synthesize human-centric processes for high-fidelity Virtual Mock-ups, that they can rely on to advance their product development timelines? Join us to find out at ZAL on December 13th.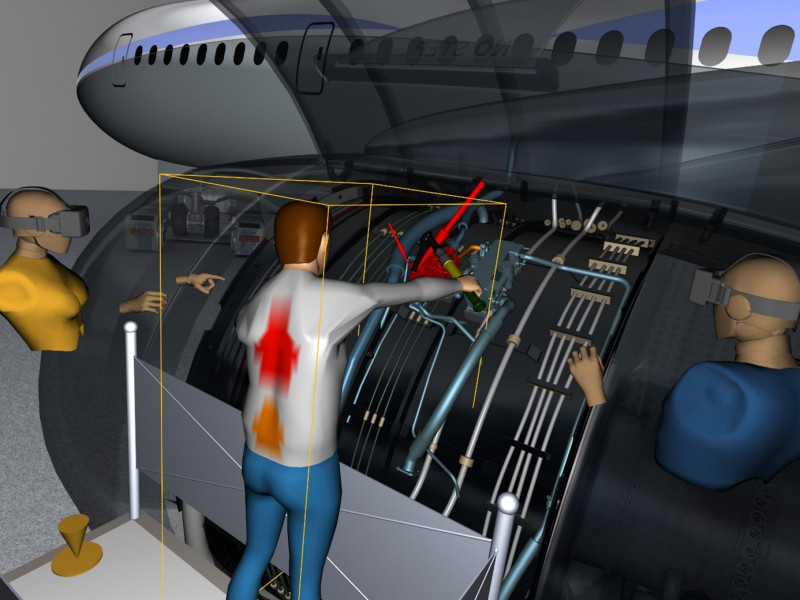 Agenda
9h00 – 9h15
 
I Reception Coffee 
9h15 – 9h20  
 
I Welcome
9h20 – 9h40
 

I IC.IDO in Aerospace - The proven way for Human Centric Process Validation and Product Reviews 

9h40 – 10h20 
 

I IC.IDO customer value presentation, ROI and testimonials (Boeing, Latecoere & Safran Nacelles for A330 Neo)

10h20 – 10h40 
 
I Break 
10h40 – 10h55   
 

I Focus on how IC.IDO is providing engineering decisions with confidence about the right Cable & Hose routing and length

10h55 – 11h10 
 

I Democratizing immersive process and product validation with IC.IDO CoLab (a Collaborative Virtual Workspace) 

11h10 – 11h55 
 

I Hands-on experience of collaboration with IC.IDO using Varjo XR-3 for seamlessly mixing virtual objects with one's own body and surroundings

11h55 – 12h00 
 
I Closing
 
 

Private Sessions (on registration only) - Specific cases and requests in interactive live sessions

If you would like to participate, please send an email to Achim.Ehrhard [at] esi-group.com
The Venue: AI Aviation Lab - ZAL, Hamburg
ZAL (Zentrum für angewandte Luftfahrtechnik)
AI Aviation Lab
Hein-Saß-Weg 22
21129 Hamburg
Germany
Please use "Park & Ride" for your journey whenever possible.