ESI PAM-COMPOSITES Helps Kotobukiya Fronte Manufacture High-Quality Sound Absorbing Automotive Carpets
Composites
Ground Transportation

ESI PAM-COMPOSITES is equipped with the features and parameters necessary for carpet analysis. The analysis accuracy and the usability are excellent, and graphical display of analysis results is easy to understand, which is why we rate it highly. We consult with ESI daily about various matters such as how to reduce calculation time or what kind of modeling is necessary. ESI Japan is also actively and frequently providing information. We recognize that the early practical application of simulation of sound absorption type carpet is largely owed to support from ESI Japan.

Mr. Takumi Fujino

Acoustic & Simulation Group R&D Department/ KOTOBUKIYA FRONTE CO., LTD
Around 2010, the main function of floor carpets for automobiles changed from sound insulation to sound absorption. This evolution was made possible by using synthetic fiber materials in place of high-density rubber based materials. Because of the positive environmental impact of synthetic fiber material (lightweight, hence less fuel consumption) and its dual function (sound absorption + insulation), sound absorptive floor carpeting has become the new standard in cars. Their only downfall is that they are difficult to form and require new manufacturing processes.
Today, synthetic floor carpets represent 70% of Kotobukiya Fronte's shipped products. To achieve press forming of synthetic fiber materials, the company has had to overcome several obstacles not encountered when working with rubber materials. First, the initial thickness of the synthetic fiber materials is usually 10 to 20 mm, as opposed to 2 to 3 mm for rubber materials. And, the thicker the base material is, the harder it is to form.
The second issue is managing the thickness variation in the part. The objective is to highly compress the material where strength is required, while pressing lightly in areas where sound absorption is needed. Multiple iterations from the manufacturing department are usually required to optimize these thickness variations and also to avoid the wrinkling that can be associated with such variations.
Finally, the multilayered structure of synthetic fiber floor carpets (three layers instead of two for rubber carpet) increases the complexity of forming. Also, the knowledge base for manufacturing such absorptive materials is more limited than for existing insulations materials that have been in use for many years.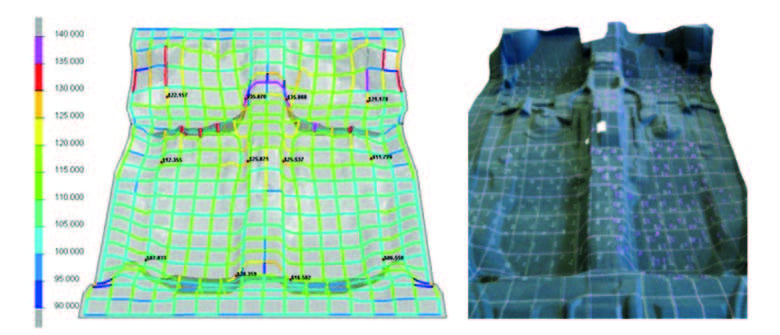 For Kotobukiya Fronte, ESI PAM-COMPOSITES proved to be a time and money saving simulation tool to overcome forming difficulties. It allowed them to optimize their manufacturing process in order to meet expected product quality and minimize waste. In addition, simulation allowed the company to specifically evaluate different materials. It also helped their process engineers determine the proper gripping system and kinematic of the tools. Simulation also helped them determine the proper loading method to guarantee a rapid and right positioning of the initial carpet sheet inside the tools.
Founded in 1945, Kotobukiya Fronte Co., is established as a pioneer of car interiors and provides parts for automobile interiors ranging from floor carpets and accessory mats to seat fabrics.
For more information visit Kotobukiya Fronte