Achieving Top Quality and Control Die Castings through Simulation
Date:
August 12th
Time:
2:00 PM EST
Driven by a highly competitive landscape, foundries must find the best strategies to meet OEMs' new manufacturing needs. As the Automotive industry is being reinvented (Innovative designs, E-mobility…), the manufacturing processes must in turn adapt to meet the new market demands.
Join our upcoming webinar to find out how Casting Simulation allows foundries to simulate the entire casting process and overcome the geometrical complexity and high production volumes challenges.
Ultimately allowing foundries to benefit from productivity gains and reduce their turn-around times during casting process development & validations, targeting prime quality castings.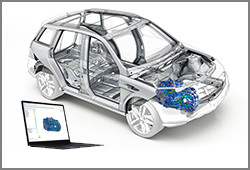 KEY TOPICS
Designing as castings complex parts such as battery housing, electric motors or power electronics
Casting High Quality Lightweight components with materials such as Aluminum and Magnesium
Maximize Profitability with Process Modelling for the Development of Automotive Die Casting Parts