The 35th Design & Manufacturing Solutions Expo | DMS2023
21 六月 2023 - 23 六月 2023
Japan, Tokyo Big Sight
11-41

Roger ROGERS
roger.rogers

[at]

esi-group.com

(roger[dot]rogers[at]esi-group[dot]com)
03-5331-3832
The 35th Design & Manufacturing Solutions Expo | DMS2023

Build your Industrial Metaverse to Power Collaborative Virtual Workflow
ESI Japan will exhibit at the 35th Design & Manufacturing Solutions Show (DMS), Japan's largest IT solutions exhibition for the manufacturing industry, to be held at Tokyo Big Sight from June 21 (Wed) to 23 (Fri), 2023. 
Under the concept of "Realization of Zero Prototype Development" using industrial VR, we will focus on the development of clean, safe, and highly productive electric vehicles through virtual simulation, which is of great interest to our customers. 
IC.IDO, a VR solution for the manufacturing industry, in a collaborative virtual workspace, we will introduce a case study of a product development process reform aiming for zero prototyping, including a demonstration. If you are in the design or manufacturing field, in charge of DX, or otherwise interested in industrial VR, please take this opportunity to stop by our booth. We look forward to seeing you!
Booth Location
Hall Name : East Hall 2
Booth # : 11-41
Visit us to experience a demo of DMU-xR and learn about our overseas success stories using ESI simulation! Hear from the experts on how to build an industrial metaverse and facilitate collaborative virtual workflows. 
Seminar Information
Our DMU-xR digital transformation lecture will be given three times.
Tadao Nakamura
East Hall 2, Booth No. : Near 11-41
June 21 (Wed) - 15:00-15:30
June 22 (Thursday) - 11:00-11:30
June 23 (Fri) - 11:00-11:30
Digital Transformation of DMU and xR will be explained with real world examples. It has become possible with DMU tools using lightweight 3D format for large assemblies such as automobiles and ships. Product evaluations can also be performed taking into account electrical characteristics.
Build your Industrial Metaverse to Power Collaborative Virtual Workflow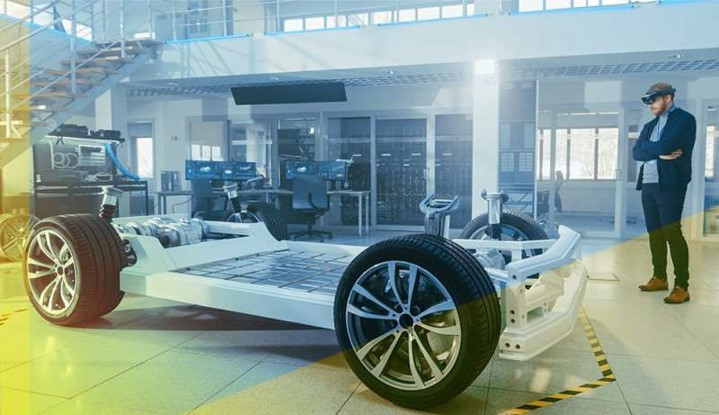 Create your own industrial metaverse to experience physical interactions with yet-to-be-realized vehicle designs without waiting for construction or traveling to a common site. Immersively explore new vehicle concepts from a worker and operator perspective and gain a hands-on experience of the processes required to make and maintain them. This is how you push engineering workflows months ahead of production. 
Come to our booth to learn more about our Virtual Reality Solutions for Automakers, and register with our form below so our experts can be expecting you.
We look forward to seeing you there!

ESI 製造業向けVRシステム IC.IDO
IC.IDOはHMDや多面スクリーンなどによる製造業向けのVRです。実機による製品や生産工程、組立作業などの検証を試作以前に仮想空間の中で実現します。1/1スケールの仮想製品による実物さながらの確認、移動、組付け作業の検証が可能となり、試作数の削減、試作レスを目指します。複数拠点からの関係者が同時没入することを可能にし技術的コミュニケーションのプラットフォームとなり得るメタバース環境を提供します。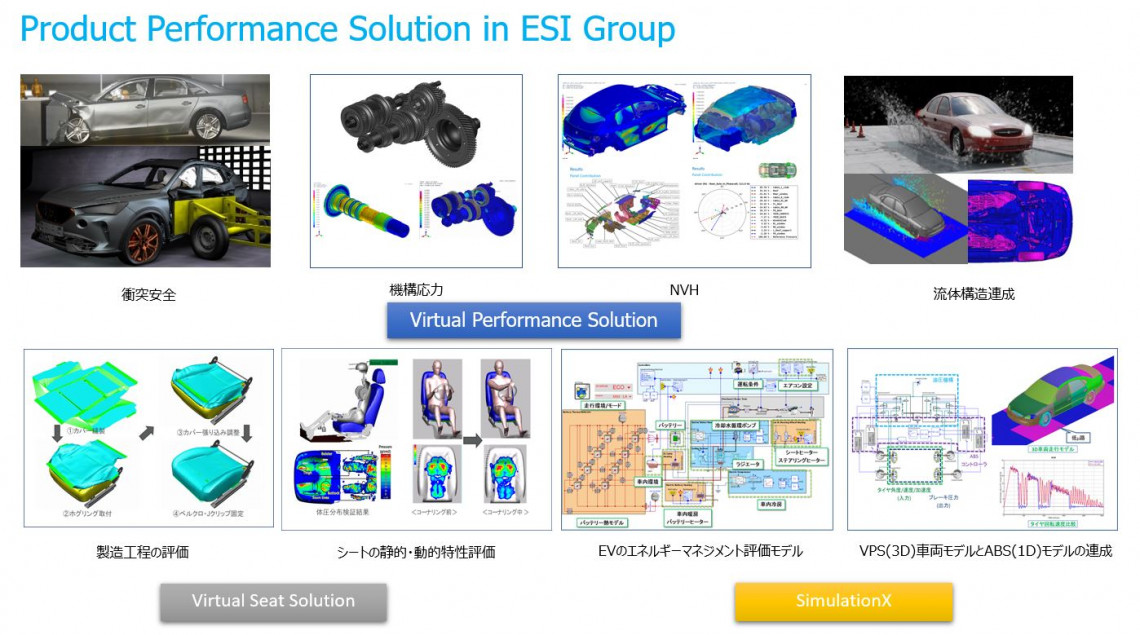 ESI 製品性能解析ソリューション
ESI Groupは自動車の設計開発に関する多領域な仮想設計・開発ソリューションをご提案します。設計初期段階での予測精度の高いモデルを作り、プロセスのを自動化することで生産性を高め、試作品を用いたテストを削減します。設計プロセスの無数のバリエーションを検討・評価し、最適なプロセスを確立することで最高の品質基準を満した開発を支援します。
ESI 製造プロセス解析ソリューション
板金のプレス成形や溶接、鋳造、樹脂や繊維強化複合材料の成形など自動車部品のあらゆる製品の製造プロセスをサポートするシミュレーションツールを提供しています。どのソリューションにおいても実務適用を想定した直感的なGUIや高精度なアウトプットが可能な高機能なSolverを用意しています。製造プロセスシミュレーションはESIの構造シミュレーションと連携し、製造プロセスを考慮した性能評価を可能とします。
XRを活用した革新的な自動車組立、サービスの作業性検証と安全性検証
XRを活用した製造性、サービス性の検証事例を紹介します。仮想空間に没入した自分が作業者となり、リアルタイムで組立作業、メンテナンス作業を体験することができます。今までのDMU(デジタルモックアップ)では発見できなかった人間中心の作業性、安全性に関する問題も、試作前に検出可能となり、QCDの劇的な改善が期待できます。
EV化に対応する衝突・強度シミュレーション
EVに搭載されるバッテリーは、精密部品でありながら衝撃や振動など、強度への要求の厳しい部品となりますが、ESIの提供するシミュレーション技術では、詳細なモデル化を実現しながら高い精度の解析を実現します。
自動車の軽量化とマルチマテリアル化に対応する製造プロセスシミュレーション
自動車の軽量化に向けた様々な動きに対応した、製造プロセスシミュレーションの紹介動画です。解析技術の向上やアプリケーション拡大だけではなく、プレス成形シミュレーションと溶接シミュレーションの連成のような製造プロセス全体をシミュレーションする技術や、製造プロセスの影響を性能評価に取り入れるといった取り組み行われています。