Lightweight Design Summit 2020
The top-level networking event for pioneers of lightweight design in automotive construction

On October 13th&14th, 2020 specialist lectures, sessions and live demonstrations are used to demonstrate the key role that is played by lightweight design. OEMs and suppliers will meet to exchange know-how on how "Lightweight design is undergoing a renaissance."
You can look forward to a lively exchange of ideas and discuss the essential importance of lightweight construction as a key technology for future mobility and for environmental and climate protection across all industries.
Due to Covid-19 this event will be hybrid.
ESI will support this year's summit as Gold sponsor and our specialist will present what is possible with ESI and our solutions for lightweight design in the SUPPLIER STRATEGY block at 2.50 pm:
Efficient CAE Technologies and Processes for the Functional Evaluation of Lightweight Designs
The application of time-shared and efficient CAE technologies and processes is essential to avoid expensive and time-consuming trial-and-error loops at the prototype level and to guide the design process according to the demanded technical and economical requirements.
For example, when focusing on the automotive industry, these Virtual Development Processes are one of the key enablers to the adoption of new technologies in serial production; such as electric powertrains, new material concepts, or new designs for autonomous driving. Furthermore, they also help to avoid re-call actions by legal or customer organizations shortly after product launch.
The presentation will highlight some recent CAE technologies and processes with a focus on reliable and on-time simulation results. For composite parts, we look at the process chains from manufacturing to assembly to performance tests. Additionally, for detailed components' models, we discuss the integration process into comprehensive models, the application of time-efficient simulation schemes, and the gained result quality. The presentation will close by a summary and conclusion section.
- ​Peter Ullrich, Technical Manager Virtual Performance/Team Lead Virtual Performance, Engineering System International GmbH
Virtual Performance Solution
ESI's flagship software is a unique solution allowing manufacturers to face emerging design challenges — including those related to lightweight, green and autonomous vehicles — while avoiding over-engineering. It enables design and simulation engineers to test rapidly their innovations on virtual prototypes, rather than real ones. Virtual Performance Solution (VPS) also offers a distinctive approach, allowing the virtual testing of product performance across multiple domains using a single core model.
Lightweight design with Virtual Performance Solution
If the potential of weight saving of advanced materials such as aluminum, high strength steels and composites is widely known, the production difficulties and costs prevent their unique usage in a complete vehicle structure. Utilizing the most appropriate material for each application and component reveals to be the most efficient lightweight strategy.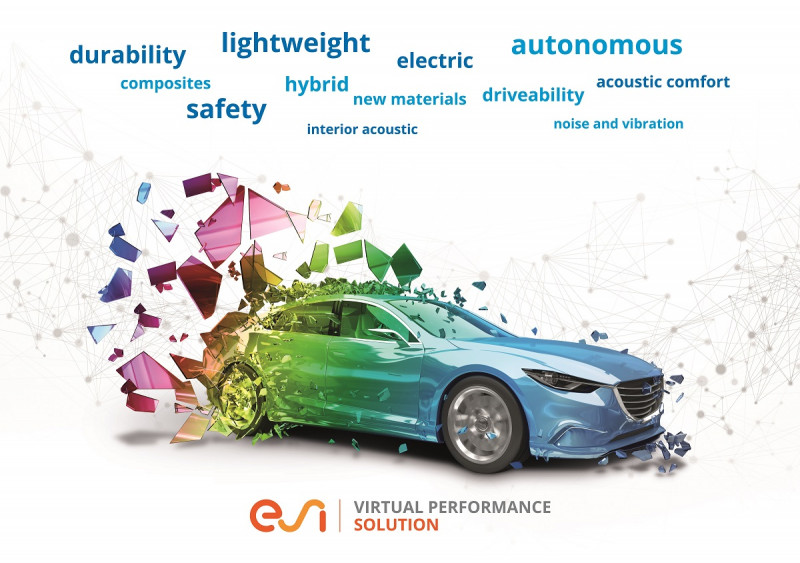 Composites
Confidently Build Lightweight Composite Products Free From Defects with Easy-to-Use Composite Simulation Software
Composite materials, because of their lightweight properties, strength, and durability, represent key facilitators in the race to reduce carbon emissions. However, when making the shift to industrial mass production, new challenges arise with these materials:
How to scale up production to respond to market needs?
How to swiftly adapt to new materials to keep up with the speed of innovation in composites?
How to price final products to meet market requirements?

Often, this calls for quick iteration and sometimes a new approach to material configuration and process parameters. Simulation allows for both.
With the unique capabilities of ESI PAM-COMPOSITES, you can study each step of the composites manufacturing chain through a process-oriented workflow. Material information and history (local shearing, local fiber content, and orientation, degree of cure, etc.), as well as geometrical properties (shape, thickness, etc.), are seamlessly transferred from one stage of the manufacturing chain to the next. This ensures maximum feedback accuracy when adjusting the process parameters to correct defects and reduce production cycle time.