ESI Represents Digital Transformation within the French Program "Industry of the Future"
Enabling Industrial Competitiveness Thanks to its Virtual Prototyping Software
Paris, France – September 5, 2016 – ESI Group, leading innovator in Virtual Prototyping software and services for manufacturing industries worldwide, announces its participation in the "Industry of the Future" program, led by the French government. ESI will provide its unique capabilities in support of the digitalization of the industry, virtualization, and the Internet of Things. Notably ESI's Virtual Reality solution, IC.IDO, perfectly illustrates how digital technologies can be used to increase industrial competitiveness from product design to product development, product marketing, maintenance, and to optimize production.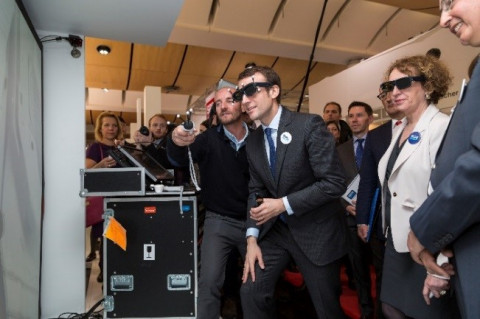 The French Minister of the Economy, Emmanuel Macron, accompanied by Muriel Pénicaud, Ambassador Delegate for International Investments, General Manager of Business France, experience the ESI IC.IDO Virtual Reality solution at the launch of the CREATIVE INDUSTRY campaign at the Hanover Fair on April 26, 2016.
On May 23, the French Minister of the Economy, Industry and Digital Affairs, Emmanuel Macron, celebrated the first anniversary of this program, a pillar of the broader New Industrial France project. The French government has allocated €1.9 billion in funding to support the development of a cutting-edge technological offering, with a focus on the following:
Digitization, virtualization and the Internet of Things
Man's place in the factory, robotics, enhanced reality
Additive manufacturing (3D printing)
Monitoring and control
Composites, new materials and assembly
Automated systems and robotics
The "Industry of the Future" program cites ESI, with its extended offering in Virtual Prototyping software, as an example of these technological developments. Founded in France in 1973, the company forged a unique expertise in material physics and simulation of manufacturing and assembly processes, including for composite materials which are now widely used to lighten the structural weight of transport on the road or in the skies. ESI offers Virtual Prototyping solutions that enable industrial manufacturers to test their products and manufacturing processes virtually and collaboratively. Allowing for more affordable and faster innovations, Virtual Prototyping gives ESI customers a major competitive advantage.
Over the years, ESI has succeeded in growing its technological offering based on the evolving needs of its clients, across various industrial sectors. Last year, for example, ESI opened a Center of Excellence to support the growing demand for simulation solutions specifically tailored for metal Additive Manufacturing. To support the development of 3D printed parts in the aeronautic sector, ESI recently joined forces with Airbus and numerous German industrialists to create the Aerospace Factory for Additive Manufacturing, which was inaugurated in April at the Ludwig Bölkow Campus (LBC) in Munich.
Today, ESI's digital innovations are at the forefront of the initiative "Industry of the Future"; especially ESI's Virtual Reality solution IC.IDO. That solution allows industrial manufacturers to give life to the virtual models of their products and to test them in immersive 3D, in real time and at full scale, before a single prototype is made. With this interactive and collaborative technology, industrialists can detect potential design problems very early in the development process and avoid errors that are costly in time and money. They can also make use of Virtual Reality for simulating assembly and disassembly sequences, in order to increase productivity, or for training purpose, as it's the case at Aerocampus, Europe's largest training center dedicated to aerospace maintenance. The benefits brought by digital technologies have become tangible and these fast evolving methods have been implemented by the best-in class industrial organizations.
Download the press kit (in French) on "la Nouvelle France Industrielle".
For more news on ESI, please visit: www.esi-group.com/company/news
Connect with ESI on LinkedIn, Twitter, Facebook, and YouTube.
ESI Group – Media Relations
celine.gallerne [at] esi-group.com (Celine Gallerne)
+33 1 41 73 58 46
---