Build and Deliver Products at the Edge of Innovation with Advanced CFD and High-Fidelity Multi-Physics Simulations
The CFD products consisting of CFD ACE+ Suite, VisCART, CFD-GEOM, CFD-View, CADAlyzer, CFD Topo, and CFD FASTRAN products have been sold to a global leader and customer of the group. 
For more information about this transaction or new licenses and renewals, please choose the appropriate button and your request will be directed appropriately.
Whether pre-certifying the aero-thermal performance of new land or space vehicles, designing multiphase cooling systems for equipment – ranging from nuclear reactors to electric vehicle batteries – or engineer materials at the atomic level, squeezing a world of novel technologies into a single pixel, being at the peak of innovation is key.
While working with ever-shortening development cycles, the need to deliver products and processes of the highest quality with a concrete understanding of the product's behavior – as designed and throughout its lifecycle – is a challenge faced by every design engineer, manufacturer, and service provider in the world.
ACE+ Suite is an advanced CFD and high-fidelity Multiphysics simulation software package supporting the automotive, semiconductor, energy, microfluidics, and biotech industries, amongst others. With ACE+ Suite, engineers can virtually test the performance and behavior of their designs before they are manufactured, for the most extreme innovation requirements.
This tool offers the broadest range of physics disciplines including flow, heat transfer, stress/deformation, chemical kinetics, electrochemistry, biochemistry, electrostatics, electromagnetics, hypersonics, plasma and more – in any combination from a single environment.
ACE+ Suite also includes Design Space Exploration, Optimization and Reduced Order Model modules allowing you to fully understand and fine-tune designs.

Reduce/eliminate physical prototypes
Minimize product development cycle time and cost
Efficiently explore design space and understand the relative importance and relationship between different parameters
Make physics-informed design/product support decisions
Capture expert knowledge, customize, automate and democratize
"Some High-Performance Computing (HPC) workloads rely on large data sets and complex calculations that are not easily distributed across large numbers of smaller servers. Intel® Xeon® processor 7500 series-based servers and their large shared memory capabilities are ideal for these demanding applications. This super HPC node delivers the necessary compute power, large memory capacity and memory bandwidth performance to solve big science faster."

 

 

 

Mr. Laurent Duhem

Software Engineer, EMEA High Performance Computing / Intel
The semiconductor sector is one of the fastest growing industry segments in the global economy today as more and more high-tech electronic devices are incorporated into products, ranging from cars to home appliances to military products.
ACE+ Suite provides the unique capacity to perform high fidelity, three-dimensional simulations of heat and mass transport with complex multi-step gas-phase and surface reactions for semiconductor applications. It supports design and optimizes equipment and processes like:
Chemical and Physical Vapor Deposition (CVD/PVD), Etching, Epitaxy, Thermal Oxidation, Electrodeposition / Electroplating, Photolithography and Crystal Growth Processes
Chip Processing
Feature Scale Evolution
Wafer Treatments
Clean Room / Clean Equipment
Products containing plasma represent one of the fastest-growing product groups in the market today, with applications ranging from lighting to display panels to televisions.  With a full line of software, R&D, and customized solutions for various plasma technologies, we make it easy for you to simulate the behavior of plasma accurately for a wide range of operating conditions. This includes semiconductor processing (ICP and CCP reactors), lighting, display panels, thermal plasmas (torches and arcs), and atmospheric plasma.
ACE+ Suite plasma solutions cover a wide range of applications including plasma-aided manufacturing, plasma display panels, plasma lighting, plasma in biomedical and plasma in the environment.
Benefits:
Model low temperature, non-equilibrium discharges
Optimize plasma generation equipment
Optimize plasma aided manufacturing processes
Semiconductor fabrication for processing and manufacture
Plasma display panels and lighting
Plasma in biomedical and environmental applications
For years, industries have been moving towards miniaturization of electronics – from cell phones to tablets and computers. The challenge becomes keeping these consumer devices at a temperature suitable for human use.
A complete CFD analysis solution for thermal management aids in the design of high-performance components and systems, while maintaining the lowest cost in the electronics industry.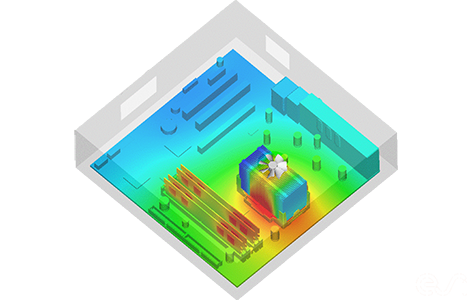 Benefits:
Save time with an easy-to-use GUI: build, set, run
Use CAD objects directly in simulation
Import PCB and substrate data for better accuracy
Rapidly evaluate effects of changes in design variables
Design Space Exploration
ACE+ Suite includes state-of-the-art, multiple moving body capability for simulating the most complex aerospace problems including missile launch, maneuvering, and staging, as well as aircraft flight dynamics and store separation. These challenging applications become accessible by coupling a density-based, compressible Euler and Navier-Stokes flow solver with moving multi-body dynamics, generalized finite rate chemistry, and thermal non-equilibrium modules.
Benefits:
State of the art numerical and physical models
Supports all grid technologies including multi-block structured, polyhedral unstructured, Chimera/overset and adaptive Cartesian
Works on all computer hardware/software systems
Designed for parallel computing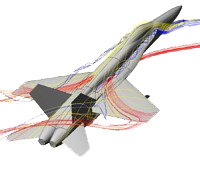 Design Exploration and Reduced Order Model
ACE+ Suite contains a built-in tool that allows you to effortlessly perform parametric analysis and optimization studies, while customizing and automating your specific design processes. Using its built-in GUIs and the Python script language, all users can easily create custom applications based on our CFD engineering analysis software.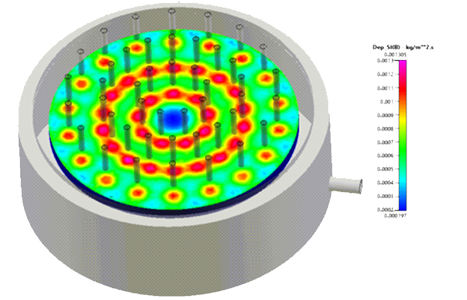 Benefits:
Standard wizards for parametric analysis (DOE) and optimization with geometric and simulation parameters, as well as boundary and volume conditions
Single and Multi-Parameter Optimization
Reduced Order Model
Embedded Python interpreter, allowing creation of your own scripts and processes