First-quarter 2017 sales stable at €27.3 million
Growth of the Licenses installed base
Cyclical downturn in Services
Growth in Europe and consolidation in Asia
Sales transformation phase
Commenting on the first-quarter results, Alain de Rouvray, Chairman and Chief Executive Officer of ESI Group, said: "First-quarter revenue figures, which are not generally much of an indicator for the rest of the year, came out stable, reflecting growth in recurring revenue from the installed base and a cyclical downturn in Services. The relative stability of the revenues must be viewed in the context of the challenging base effect due to exceptional performance of Japan in Q1 2016.

In accordance with Group strategy, operational efforts are currently focused on harnessing our sales and marketing resources to drive our disruptive "PPL" (Product Performance Lifecycle) approach and its Hybrid Twin concept, drawing upon recently-acquired technologies. This consolidation and transformation phase, which will impact the first half, will contribute to the mid and long-term value, by addressing the growing number of opportunities arising from the transition to the Smart Factory and democratization of Virtual Prototyping solutions."
Change in first-quarter 2017 sales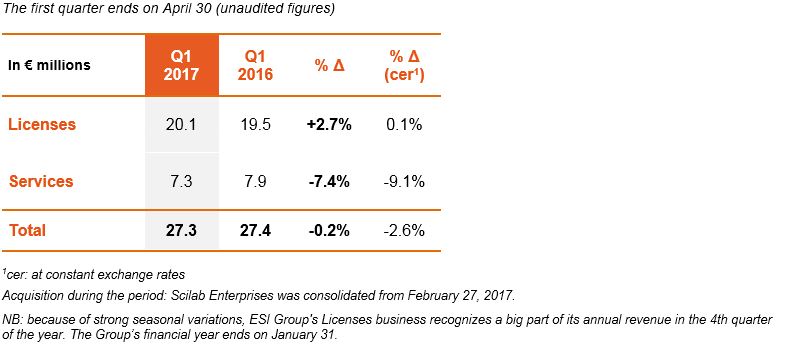 Revenue remained stable
First-quarter 2017 sales totaled €27.3 million, stable when compared with Q1 2016 which had registered 13.8% growth.
There was a positive currency effect of €0.7 million during the period, mostly related to the appreciation of the Yen and the US dollar against the Euro. The product mix shifted towards Licenses which contributed 73.4% of total sales, compared with 71.3% in Q1 2016.
Licenses: continued growth of the installed base
Revenue from Licensing activity amounted to €20.1 million, up 2.7% on Q1 2017 and stable at constant exchange rates. This figure was impacted by a challenging prior-period comparable which included 14.3% growth in Q1 2016.
The installed base remained strong and grew by 5.8%, driven by a very high repeat business rate of 86.7%.
New Business was down by 20.1% due to the very challenging base effect which included exceptional growth of 43.5% in Q1 2016.
Services: cyclical downturn in business 
Revenue from Services activity dropped 7.4% to €7.3 million in the wake of 12.4% growth in Q1 2016. Difficult prior-period comparability is very apparent, especially in engineering studies, which had grown by over 20% in the first-quarter of 2016.
Geographic sales mix: growth in Europe and consolidation in Asia
In Q1 2017, Asia contributed 44% of total sales (Q1 2016: 47%), Europe contributed 40% (Q1 2016: 37%) and the Americas contributed 16% (stable on Q1 2016). This breakdown reflects good growth in the European licensing business and consolidation in Asia following continued growth over several quarters.
The BRIC countries contributed 9.9% of Q1 2017 sales compared to 10.4% in Q1 2016. 
Today's Quotation
154.00 €
(
0.00%
)
01/12/2023 17:35:00
More
---