ESI Group is awarded first prize of the Gaïa campaign 2017 for the second year in a row
ESI Group (FR0004110310 – ESI), leader and pioneer in Virtual Prototyping solutions, has been awarded first prize in the Gaïa campaign 2017 for Midcaps with annual revenues under €150m. This is the second year in a row ESI has won first prize in this category and it keeps its place in the index which singles out the 70 top-rated companies in the CSR domain.
This award is a testimony to ESI's ongoing commitment to CSR (Corporate Social Responsibility) and to the progress it has made in deploying the very best social, societal, environmental and governance practices.
Commenting on this award, Vincent Chaillou, Chief Operating Officer of ESI Group said: "This affirmation of our CSR credentials for the second consecutive year is testimony both to our dedicated strategy in this area and the commitment of our employees who actually deploy the strategy in line with our values. The technologies of the future that are currently revolutionizing industrial manufacturing will have to be underpinned by greater corporate responsibility and companies will need to factor CSR criteria right across their entire value-creation strategy. We firmly believe that this sort of approach can lock ESI Group into a long-term development dynamic underpinned by environmentally- and human-friendly technological innovation."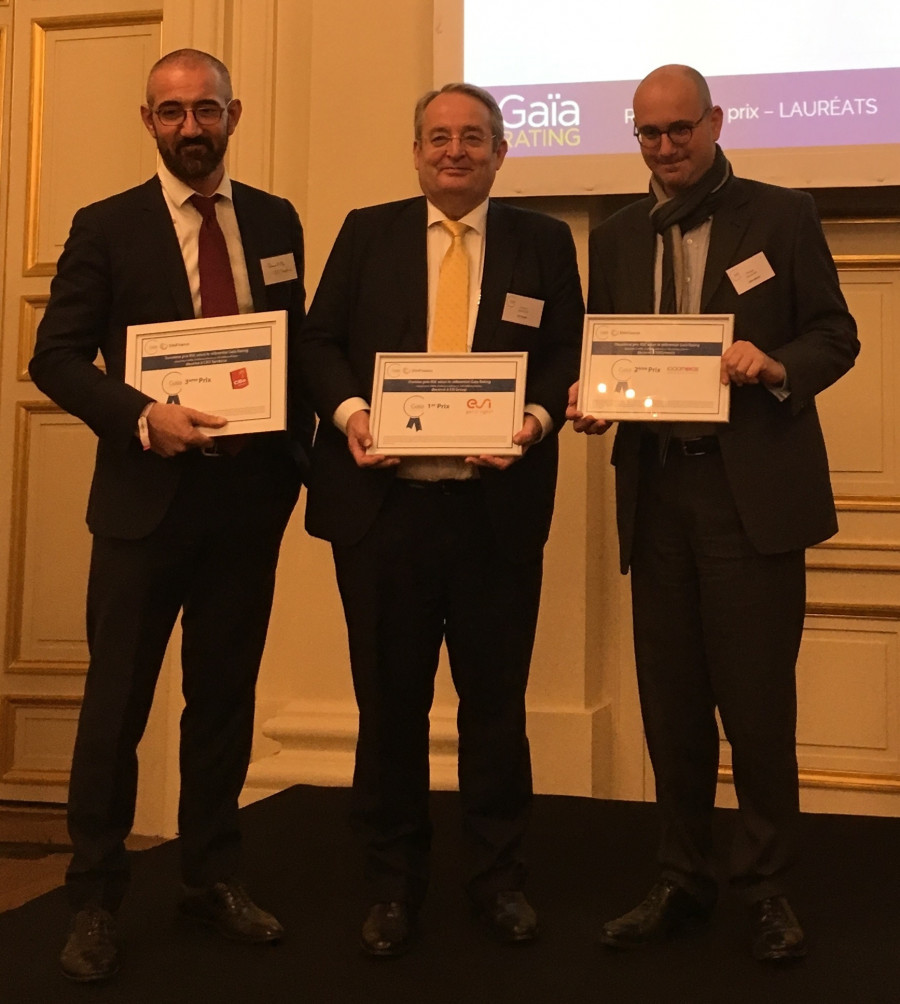 From left to right: Mr. Edouard Miffre, PR of CBo, Mr. Vincent Chaillou, Chief Operating Officer of ESI Group, Mr. Philippe Delieuvin, CFO of 1000mercis
The Gaïa Index was created in 2009 as the benchmark sustainable development index for listed French mid-caps (ETI). Developed by EthiFinance, the Index selects SMEs based on their CSR performance. The Gaïa Index has outperformed the CAC 40 and CAC Mid & Small indexes every year. The methodology uses CSR data to evaluate a companies' transparency and maturity in terms of CSR policies, best practices and performance.
Today's Quotation
112.50 €
(
+2.27%
)
02/06/2023 17:35:00
More
---