Live Demo: Smart Manufacturing- Casting Solution for Sandcasting to keep up with production and design during Pandemic
25th June 2020 - 11:00 am (IST)
Casting simulation helps industrial manufacturers and foundries comply with new and increasingly stringent market expectations and achieve the highest quality and productivity possible. ESI ProCAST / QuikCAST enables foundries to predict casting defects early-on, improve the design and process, without the need for costly physical try-out, achieving lower scrap rates and delivering quality parts in a consistent way.
This webinar from ESI is dedicated to demonstrate Live Sandcasting process with the aid of QuikCAST simulation suit and how industries can take advantage of work from home or keep up the pace in design and manufacturability of Iron, Aluminium and other castable products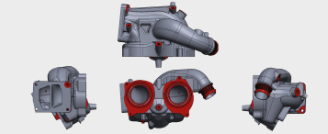 In case you don't see the form or can't register please follow this link.