Design and Manufacturing Simulation to Optimize Electric Vehicle Performance, Range, and Safety
28 September 2021 - 26 October 2021
Worldwide
1h

Vibro-Acoustic Simulations Address
PBN & AVAS Regulations for EVs
DATE
: Sept 28th       
TIME
: 10am CET       
LENGTH
: 1h
Meeting new regulations for reducing electric vehicle Pass By Noise (PBN) and introducing acoustic vehicle alerting systems (AVAS) are key challenges for EV makers today. More rigorous targets and tighter legislation put enormous pressure on the automotive industry. Join this upcoming webinar to see how enabling early-stage qualification allows you to design right - the first time.   
Webinar Highlights
New simulation-based methods that
Improve vehicle acoustic design performance
Enable virtual regulation testing and qualification
Reduce design and verification cycle

EV makers will be able to understand
The impact of vehicle speed, tires, and power train contributions to exterior noise
The effectiveness of various AVAS location strategies to ensure regulatory compliance
Using Simulation to Optimize
EV interior Noise and Sound Packaging Design
DATE
: Oct 26th   
TIME
: 10am CET   
LENGTH
: 1h
The elimination of engine noise along with the emerging dominance of tire and wind noise results in new challenges for lightweight sound packaging for electric vehicle acoustic design.

Simulation solutions to optimize cabin acoustic comfort reducing the cost and time of expensive testing are critical to ensuring interior noise target are achieved.
Recent developments with the CFD solvers and new extraction algorithms now make Aero Acoustics a cost-effective possibility that can provide accurate noise calculations.
Virtual prototyping enables you to rapidly iterate quickly on the design & propose then test multiples innovative concepts without impacting the final delivery schedule.
In this webinar we will introduce advanced techniques deploying vibro acoustic and CFD simulation to provide accurate and cost-effective solutions for virtual design space exploration.
Speakers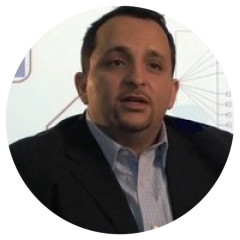 Fadi Ben Achour
Electronics Business Development VP, ESI Group