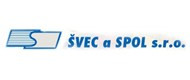 ŠVEC a SPOL speeds up deep-drawing automotive project with PAM-STAMP 2G
With its decision to implement PAM-STAMP 2G, ŠVEC a SPOL s.r.o. was able to rank among the most successful tool producers. We considerably increased our quality standards and gained new experience that helped us to attract new customers and new orders.

Lubomír ŠVEC, Owner and General Manager of ŠVEC a SPOL, s.r.o.