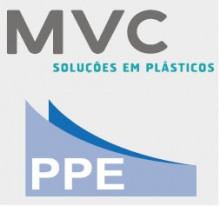 MVC and PPE "Get it Right" on the First Try with ESI's Composites Simulation Solution
Composites
Ground Transportation

In this project, the RTM simulation helped us to secure and to optimize the process. Today, we are using ESI's PAM-RTM from not only to assess process parameters, including injection time and pressure in mold, but also to fine-tune mold design.

Jérôme RAYNAL

Sales and Export Director/ Pôle de Plasturgie de l'Est (PPE)
Manufacturing a fairly large composite product which satisfies automotive expectations in terms of appearance and structural robustness is a challenge in itself. Achieving it in a single, short production cycle called for a collaboration of experts. MVC and PPE resorted to simulation and met all specifications on the very first try. PPE is a French technical center specialized in the development of manufacturing processes for composite parts, including Liquid Composites Molding processes.
MVC and PPE joined forces to create a Light Resin Transfer Molding (LRTM) process, with the support of ESI PAM-RTM, in order to define and optimize an injection strategy for the body side of a bus.
Based on this specific job, MVC developed a concept called the "SOFIA Project" – a 100% composite product development solution, including manufacturing and assembly processes for industries such as transportation and construction. The SOFIA Project's first application was this bus.
MVC called upon PPE not only because of their expertise in LRTM, but also because of their know-how in the measurement of the reinforcements' permeability, a key parameter when developing RTM processes.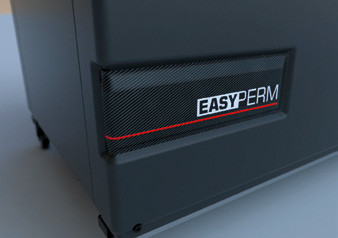 PPE had developed a fully integrated permeability bench, EASYPERM, able to make permeability measurements through a central injection and to automatically process measurements to create a material file in PAM-RTM format.
MVC had made no attempt to manufacture this part or use an LRTM process prior to commissioning PPE, therefore ESI's PAM-RTM was put to contribution in the process design right from the start.
The part was nearly 13 feet long by 6.5 feet tall. The reinforcement was fiberglass Chopped Strand Mat (CSM) with integrated flow media and the matrix was a thermoset resin polyester. The area around the window frame was locally reinforced with woven fabric.
In order to define the best injection strategy, including the location of injection gates and vents or the injection pressure, and to optimize the mold design, ESI's PAM-RTM was put to work. The software allows for the definition and optimization of injection or infusion as well as curing processes. Among other benefits, it allows for quick and inexpensive iterations to reduce the risk of creating dry zones, to minimize porosity levels and injection times, and to determine the temperature cycle.
With the input from simulation, a peripheral injection strategy with an inner injection channel was identified as the most appropriate. The strategy was validated by PPE in their facility in France with the use of a half size part.
Ultimately, MVC and PPE, succeeded in achieving all of the goals they had set for this project. Most importantly, they were able to develop a high quality part with an injection time in the range of 15 minutes. This was made possible because ESI's PAM-RTM gave them the ability to test their initial mold design, to determine the best strategy to inject the part, and then to optimize the product quality before any prototype was built. Both partners played a pivotal role in the successful outcome as they were able to meet all specifications on the first try.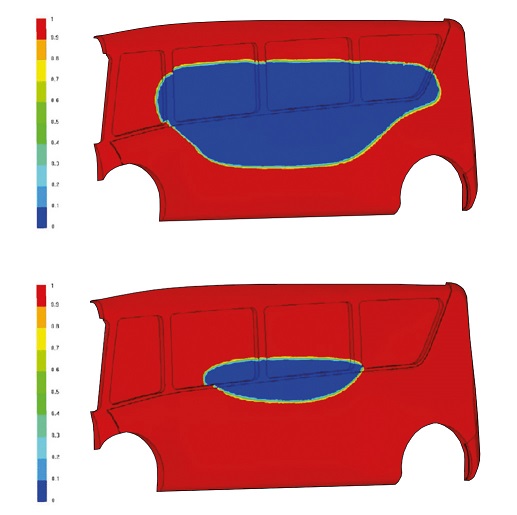 MVC is internationally recognized as an innovative company with a great ability to apply advanced processes and materials in the engineering plastics segment. They develop products with complete and customized solutions for the automotive, transportation, agribusiness, wind power, and construction markets. MVC has 7 plants in Brazil, operating in São José dos Pinhais (PR), Caxias do Sul (RS), Camaçari (BA), Maceió (AL), Catalão and Itumbiara (GO), Sete Lagoas (MG). In 2013, MVC grew 78% and reached net sales of US$140 million.
PPE is a technical center specialized in LCM technologies, pioneer in process simulation and permeability measurements. They launched EASYPERM, a 3D permeability bench, in November 2014.
EASYPERM is a reliable, compact and easy-to-use permeability bench based on more than 10 years' experience in permeability measurements.
For more information visit PPE