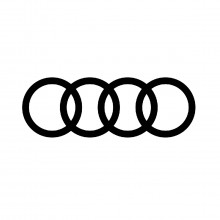 Audi excels in Safety standards with support from ESI Group and HP
Virtual Performance
Ground Transportation

Providing Audi with a high-performance computing solution helps them design better and safer cars while reducing their power consumption and costs. HP has a long history of knowledge and expertise in providing automotive customers high-performance computing that fosters innovation.

Christine Martino

VP & GM, Scalable Computing & Infrastructure Organization / Hewlett-Packard Company
Audi AG is a premium luxury automobile manufacturer and also one of the oldest-established German car manufacturers. Since 1899, Audi has been proposing attractive and sophisticated car models that embody technological perfection. In 2008, Audi delivered over 1 million vehicles worldwide, up 4.1% compared to 2007
Ensuring Optimal Safety Standards
It is crucial for car manufacturers to ensure that their safety standards are always at an optimum to meet the stringent safety requirements of today's automotive industry. Audi, one of the safest vehicle manufacturers, is constantly implementing enhanced technology to perfect the safety of its cars.
Benefiting from the Best Hardware and Software Technologies to Build the Fastest Supercomputer
Audi has recently invested in hardware and software to build the automotive industry's fastest supercomputer. This new system is based on ESI's PAM-CRASH simulation software and HP Cluster Platform 3000BL BladeSystem providing 29.18 teraflop/s of computing performance for Audi's crash simulation models. The HP Message Passing Interface (HP-MPI) provides the critical layer of middleware between PAM-CRASH and the InfiniBand fabric.
PAM-CRASH, ESI's flagship solution for crash simulation, offers realistic virtual testing across the extended enterprise. Audi's partnership with ESI Group has been primarily aimed at establishing and driving its global vehicle safety projects all over the world. Audi has recognized the unparalleled computing efficiency and ease-of-use of PAM-CRASH and, as a result, the implementation has improved the reliability of its crash, safety, and impact simulations.
Improving Product Lifecycle
ESI's software also helps industrial partners improve their product lifecycle while saving time and money. PAM-CRASH enhancements combined with compact, fast, and power-efficient HP hardware have enabled Audi to run its refined models overnight, thus guaranteeing an effective design process that includes analyzing vehicle safety elements. The latest algorithms in the software have also encouraged Audi to raise its expectations for Simulation-Based Design.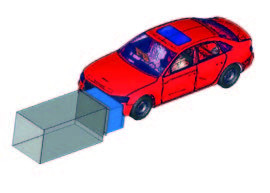 For example, airbag models now routinely take into account fluid-structure interactions, leading to realistic interactions of the airbag with structures and occupants. In addition, prediction testing for material rupture, which usually requires high-resolution models, can now be treated using a multi-scale approach. All this helps save days of computing time and unnecessary costs.
HP support has also been essential in implementing technology that provides enhanced reliability, high server density, and the tremendous computing power required to process the volume of simulation data generated. Audi installed the HP Cluster Platform 3000BL, a system built using 320 nodes based on HP ProLiant BL460c server blades and the InfiniBand cluster interconnect, as well as HP-MPI. This allows for high performance and production quality implementation of the MPI standard for the HPC (High-Performance Computing) server. With this HPC system, the supercomputer implemented requires a quarter less floor space and consumes a quarter less power than a traditional rack-based configuration. In addition, the blade configuration provides simple hardware maintenance, cabling, and system administration and has outstanding scalability
The combination of ESI software and HP hardware has enabled Audi to implement the automotive industry's fastest supercomputer and at the same time maintain its position as one of the safest vehicle manufacturers in the world.
AUDI AG is a premium luxury German automobile manufacturer which is part of the Volkswagen Group since 1964. It manufactures exquisite cars – attractive, sophisticated and technically perfect. Audi's corporate tagline worldwide is "Vorsprung durch Techn" meaning "Advancement through Technology.
For more information visit Audi