Discover ESI's immersive Virtual Reality solutions at Hannover Messe
The fair's 'Digital Factory' will showcase IC.IDO, leader in real time 3D solutions for manufacturing industries
ESI Group, pioneer and world-leading solution provider in virtual prototyping for manufacturing industries, announces its participation in Hannover Messe, taking place 23-27 April in Hannover, Germany. Following the acquisition of 3D visualization company IC.IDO during the last summer, ESI will be part of the fair's 'Digital Factory' ̶ one of the world's most important showcases of IT solutions for production and product development. This includes over 500 square meters dedicated to Virtual Reality and 3D visualization, where ESI will present its new range of Virtual Reality solutions. Under the brand "IC.IDO", ESI offers immersive 3D visualization, enabling decision-makers to experience their product in real time.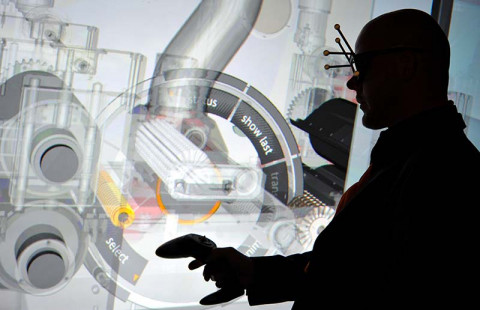 Vincent Chaillou, President and COO of ESI Group, declares: "This high performance 3D visualization technology is key for our customers to bridge the gap between the virtual and physical prototyping worlds. We combine a remarkably intuitive and robust immersive user interface with unique real-time physics for contact detection and flexible connections".
IC.IDO Virtual Reality solution – ESI's Visual Decision Platform - opens new doors for product development. It enables customers to present their virtual product, manipulate it in real time, exchange information across virtual teams, and resolve manufacturing and serviceability issues in an immersive and distributed environment.
IC.IDO minimizes risks, reduces failure costs and decreases the use of resources. It also allows for faster and easier global collaboration and communication, ensuring better visibility and visualization of early stage products. At the end it integrates customers, partners and other departments in the product lifecycle.
IC.IDO customers include world-renowned companies in the automotive and aerospace sectors as well as in mechanical and system manufacturing
Industries (OEMs). Representative customers and strategic partners include Audi, Airbus, BMW, Boeing, Bombardier, Caterpillar and John Deere.
ESI's booth at Hannover Messe will be located in Hall 7 of the Digital Factory in the Technology Cinema 3D arena. The booth will feature a 'black box' – a dark environment providing the optimal setting to perform IC.IDO demonstrations.
For enquiries about ESI's attendance at Hannover Messe and to book an appointment for a group demo, please contact Christina Theuerkauf, Events Specialist, ESI Group: Christina.Theuerkauf [at] esi-group.com'; // --> //-->
Download PDF version
---