Planning for MRO Engineering Virtually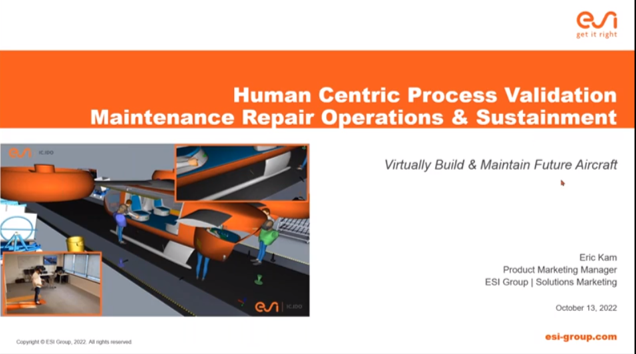 Click to view recording
When eXtended Reality, XR, is discussed for service and maintenance, one of the first topics that comes to mind is the use of Augmented Reality (AR) devices serving digital work instructions or real-time state reports. AR can overlay 3D views and work instructions onto real-world views, which is a tremendous value to enterprises the world over. However, where do those instructions come from and how did the authors validate them?  
Conventionally, maintenance and service processes would be evaluated using pre-production prototypes and physical mock-ups constructed during product development. With digital transformation reducing or eliminating physical builds, a new risk emerges that digital work instructions defined at launch might be incomplete, create new risks, or impossible to perform. Finding out that a new product is unserviceable in the field after S.O.P., start of production, could derail an entire program and/or ground an entire fleet.
Join us Oct 13th as we look up to the addressable challenges in effective Maintenance Repair Organization planning and dig deeper into the service of long-life capital goods like aircraft and off-highway heavy machinery.