HATEBUR Gives Life to High-Performance Manufacturing Machines Through Innovative Hydraulic Technology
System Modeling
Heavy Industry & Machinery

"We had to be sure it would work before we built a prototype. The results of the simulations gave us the confidence we needed to proceed with the commissioning. It was fascinating to follow the correlation between the previously simulated behavior and the measurements!"

Dr. Mihai Vulcan

Strategic Projects / Hatebur Umformmaschinen AG, Switzerland
Smart and high-performance manufacturing is based on smart technologies and smart engineering. HATEBUR – a well-established metal forming machine manufacturer – trusted in virtual function assessment to validate innovative, highly precise, and powerful hydraulic impulse technology for clean shearing of bar material in record time.
HATEBUR sets the bar for innovative technology through virtual prototyping
HATEBUR manufactures hot and cold massive forming machines with high output density and longevity. Their customers expect efficient, material saving processes as well as long, reliable operation with tens of millions of work cycles without disruption. These characteristics are what sets HATEBUR apart from competition. To maintain this competitive advantage, HATEBUR uses state-of-the-art simulation methods to validate the feasibility of innovative technological concepts to achieve the highest performance and maximum reliability of their forming machines under all working conditions.
The challenge in developing a new shearing device for forming processes
Round steel, which is used as bar stock for forming processes, must be cut for further processing into pieces of a defined length and volume, without deformation. Very high shearing speeds offer a particularly precise and clean cutting pattern. HATEBUR developed an innovative high-performance impulse shearing device actuated by hydraulics to achieve high shearing speeds (more than 15 m/s). It works with very high hydraulic pressures (up to over 1000 bar) and high accelerations (up to over 1000 g). The problem with such high pressures and dynamics is the danger of cavitation: the formation of small vapor-filled bubbles in the fluid that can implode, leading to noise, loss of efficiency, and the risk of seriously damaging the machine over time. Therefore, to ensure durability and reliability, cavitation must be strictly avoided.
Since each physical machine prototype costs a significant amount of money and ties up time and staff, HATEBUR went into this development with the goal of only producing a single real prototype. This prototype must deliver the required performance without cavitation in the hydraulic system.
A signal control with servo-hydraulics does not make sense due to high speeds and the short pulse duration of ~3 ms. Therefore, the control and drives of the impulse are purely hydraulic, which means that proper functionality must be achieved by the design and cannot be adjusted by a control system. If the machine does not function as desired, a costly and time-consuming rebuild of the prototype is necessary. Again, with the goal of only building one real prototype, HATEBUR needed to be sure that their concept was working before building the first machine – trial and error with a hardware prototype was not an option.
HATEBUR gets it right on the first try with virtual prototyping
Based on experience from previous projects, HATEBUR knew that a well-modeled representation of their machine in ESI's system simulation solution, SimulationX, would bring reliable, physics-based results. The engineering experts at HATEBUR and the modeling and simulation experts at ESI formed the perfect team to build a fully virtual prototype of the machine's functionality. This helped HATEBUR test, optimize, and validate the hypothesis that their design meets the desired functionality without cavitation.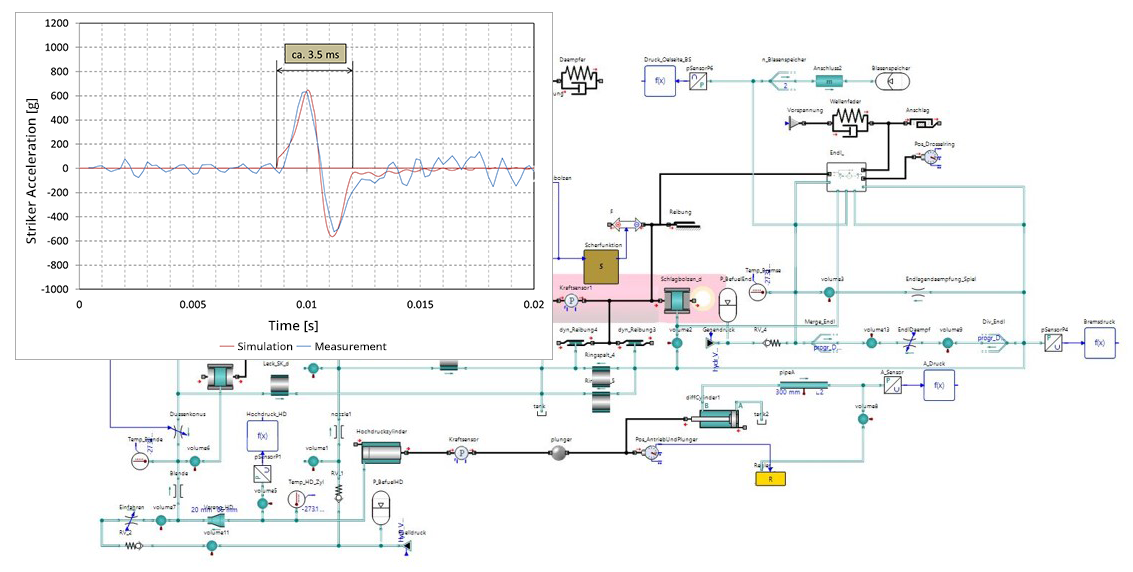 The model grows with the project progress and the system understanding grows with the model
For HATEBUR, system simulation is not just used for final design validation and tuning of parameters but has also proven its role in understanding all physical interactions in such a complex, high-performance system. To be truly innovative and a leader in their industry, engineers must understand all the influences and interdependencies in the functional system to find cutting-edge solutions to their challenges. Therefore, it is essential to accurately model all relevant physical phenomena. In case the machine does not behave as expected, a system simulation model provides unique insights into the physics of all functional subsystems and components, which greatly facilitates troubleshooting and helps to overcome these challenges.
"You get an understanding of how the system works. While modeling, you grow with the system and you see the influences and physical interactions. There are many physical influences you can only see when you model the machine."

Dr. Mihai Vulcan

Strategic Projects / Hatebur Umformmaschinen AG, Switzerland
Good preparation is key: Speed up your commissioning processes
Investing in a system model for functional validation and optimization pays off, not only through a reduced number of prototypes but also through accelerated machine commissioning. The behavior of the machine can be reliably predicted, regardless of its degree of production and assembly. This applies to purely mechanical, electrical, and hydraulic controls as well as electro-hydraulic and electro-mechanical controls.
A virtual prototype enables automated optimization studies to be carried out in a controlled and reproducible environment to find the optimal control settings, even for behavior that only occurs after extended operating periods (e.g. due to temperature changes in the hydraulic fluid). This cuts commissioning times to only a fraction compared to using a hardware machine. 
 

 

 

"This was the fastest commissioning we have ever performed in our company. Good preparation pays off – and ESI's SimulationX is an essential part of it."

Dr. Mihai Vulcan

Strategic Projects / Hatebur Umformmaschinen AG, Switzerland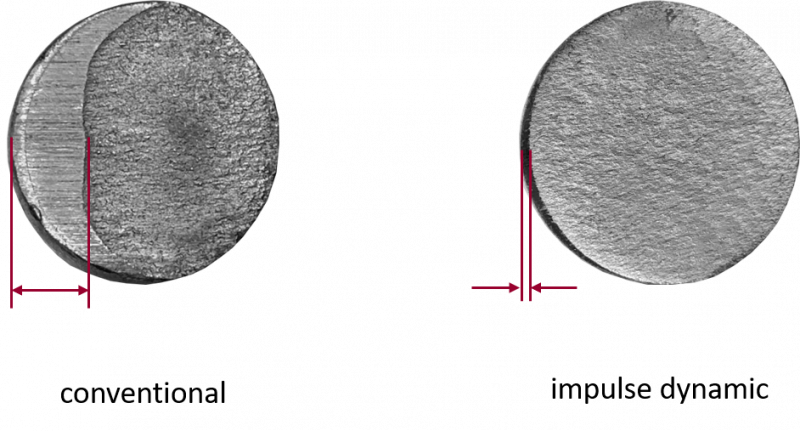 Innovative ideas need the right tools to turn them into reality
It can be a long road from an idea to a finished product. At ESI, we take great pride in enabling smart minds through Virtual Prototyping and Smart Factory to demonstrate the feasibility of their concepts, bring them to life with minimal investment and quick turnaround time, thus empowering a true Smart Manufacturing revolution.
Hatebur is a global developer of and solution provider for machines, tools and procedures for hot and cold forming. The company, with its head office in Reinach, Switzerland, was founded in 1930 and is 100% family owned. Around 300 employees in Switzerland, Italy, USA, UK, China, Japan and Germany ensure the company's leading position on the market and in technology.
For more information visit HATEBUR