VIRTUAL PERFORMANCE

SOLUTION
Software to Simulate Battery Safety
With electric vehicles emerging in the market, battery safety has become a crucial certification requirement. Suppliers and OEMs must demonstrate compliance with ever-changing safety standards and ensure strong performance in terms of range. Battery manufacturers and OEMs use virtual performance simulation to achieve regulatory certification right first time, enhance battery safety, satisfy the demand for environmentally friendly engineering processes, and reduce overall R&D costs.
Unique VPS capabilities that

ease the complexity and time of battery simulation
The power of VPS for battery safety is substantially shortening the time needed for iterative simulations and durability analyses. This is grounded on the following key features: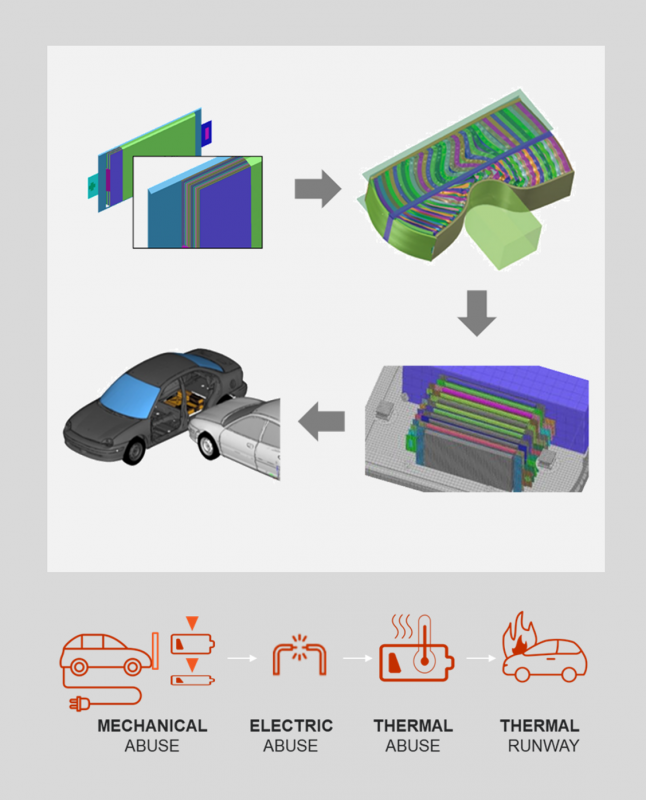 Comprehensive safety and performance assessments covering micro-scale cell analysis to macro-scale full-car crash scenarios including cell short-circuit prediction and fire risk analysis in full-vehicle crash scenarios.
Single-source battery model enables concurrent engineering across different domains for parallel simulation and assessment of

regulatory crush
cell short-circuits
stiffness, shock, and swelling

Co-simulation with system simulation software SimulationX to assess complex electrochemical processes and virtually optimize battery size, thermic control, system layout, and subsystem integration.
Quickly adapt to the complex and evolving landscape of certification requirements and guidelines by virtually demonstrating the compliance with stringent safety standards and regulations

easily provide the data and testing results to prove the batteries' reliability and performance in various scenarios
How a Virtual Prototype of an EV Battery Surpassed OEM's Expectations
In just 8 months, we went from limited Virtual Prototyping capability to winning those bids. The head of the whole program conducting the bidding process went out of his way to tell us that the mechanical simulation was an instrumental part in helping us get the design approved. We could not have done that without ESI. Our partnership with ESI is truly strategic in bringing our simulation capabilities to a global leading standard.

Dr. Matt Klein, 01/2020

Manager for Engineering Analysis and Modeling at Farasis Energy, Inc.