VIRTUAL PERFORMANCE

SOLUTION
Software to Simulate Airbag Folding & Deployment
Airbag development poses significant challenges due to the intricate and non-linear nature associated with airbag folding and deployment in various crash scenarios. These hurdles are amplified by the ever-evolving and increasingly rigorous safety certification requirements. VPS provides safety engineers with a complete end-to-end airbag development solution offering precise folding and dynamic deployment simulation. Accurate fluid/structure interaction assessment, advanced folding capabilities, and high-fidelity results ensure the safest, best-performing airbags for any new mobility device.
Unique VPS Capabilities for Efficient and Accurate Airbag Development
VPS is known for being the market's most precise deployment simulation software and for its unique capabilities in combining this with folding simulation. By incorporating VPS into their workflow, airbag manufacturers and OEMs can develop safer and higher-performing products within the required timescales, thanks to the software's advanced capabilities and comprehensive folding solution.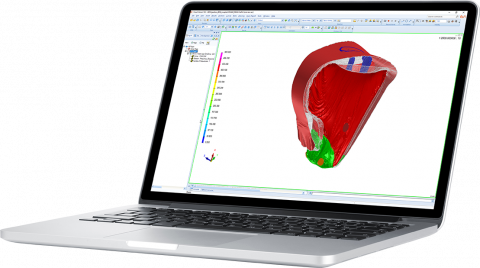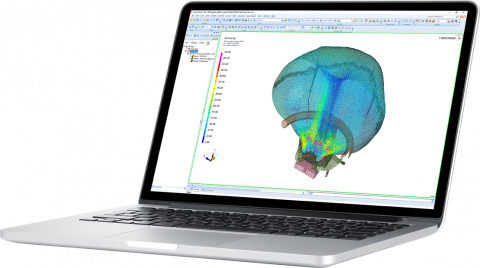 These key features highlight the strengths of VPS in providing a robust and efficient simulation platform for airbag development, covering both folding and deployment aspects with a focus on accuracy, speed, and safety:
Complete end-to-end airbag simulation: Comprehensive solution for airbag development, covering the entire process including specific folding capability via Sim-Folder and deployment simulation using FPM technology
Effective assessment of the interaction of fluid and structure (FSI): coupling of Finite Pointset Method (FPM) with VPS solver enables accurate assessment of fluid/structure interaction, allowing for a thorough understanding of the relationship between airbag material and gas as well as the impact at any point of deployment
Fully integrated analysis: a more streamlined and accurate simulation process, by combining FPM for gas flow and Finite Element Analysis (FEA) for airbag analysis into a unified platform, eliminates the need for separate analysis.
High-fidelity and fast results: VPS offers highly precise prediction of airbag deployment by combining non-uniform pressure simulation at the initial stage and uniform pressure at the later stage. This approach allows for both high fidelity and efficient results, even in scenarios involving out-of-position occupants.
Comprehensive simulation capabilities: VPS, combined with its viscous flow capabilities, enables simulation of airbag deployment with truly accurate dynamics, even in complex scenarios such as side and side curtain airbags.
By using ESI Virtual Performance Solution's airbag module for airbag folding and sewing, the accuracy and lead time for developing complex Knee Airbag (KnAB) have improved drastically. Besides the advanced and user-friendly software products, ESI's outstanding support allowed Toyoda Gosei Europe to further improve our simulation-driven development process significantly.

Alexander Diederich

Group Leader at CAE Toyoda Gosei Europe
Dive Deeper into VPS Applications for Strength & Dynamics